If you opened a shop, what would you call it? Here are
amusing and
memorable names collected by site visitors and Guardian readers.
Funny Shop
Names
There's
a mobile snack caravan on Dartmoor named : 'The Hound of the Basket Meals'.
There is a bakery in Sutton called 'Agatha Crustie'.
In Turnham Green, Chiswick we find a dry cleaner called 'Turn 'em Clean'.
[Nick Robinson]
'A Pane in the Glass' is the amusing name of a glazier's
in New York State, USA.
I have seen two of his examples, one in Croydon named 'The Vinyl Frontier'; a shop which sells second hand records;
Another example is a restaurant in Belfast
called 'Thai Tanic'.
Teddy bear shop in Penge called 'Bearly Trading'. [Isabel Radage]
Fish and chip shop in Santa Ponsa, Mallorca named 'Oh
My Cod'. [David Harries]
Will has found a bakery in Albert Road, Southsea called 'Upper Crustie'.
Bob Forster from
Shipton-under-Wychwood in Oxon, UK has found a local plumber whose van announces:
'The Lone Drainer - he come pronto.'
Other funny shop names such as Vinyl Frontier (Final frontier) can be found at a website called
Shop Horror owned by Guy Swillingham.
Funny Chip Shop
Names
Fish and Chip shops are a particular rich seam of funny shop names.
We have savoured the hake and chips at a shop called: 'A Fish called Rhondda'. We were on our way to Caerphilly and found the chippy in Ton Pentre, South Wales.
Not far from the golf course in Santa Ponça, Mallorca there is chip
shop called: 'Oh My Cod'.
There are a number of 'Codfather' chippies, most notably:
'The Codfather', Camps Bay, Cape Town, South Africa.
'A Salt N Battered' is to be found in London road, Sheffield,
England.
Nearby in Walkley, Sheffield is Codrophenia. (Quadrophenia
by The Who)
There is also an Indian restaurant in Ayr in Scotland called "AYR
INDIA.
There was another Indian
restaurant in Radford, Nottingham, UK which went under the name of 'Balti Towers'. [Probably only appreciated by British readers
who like Fawlty Towers]
Once again Shop Horror has
a good collection of funny names of fish and chip shops: see below:
Battersea Cod's Home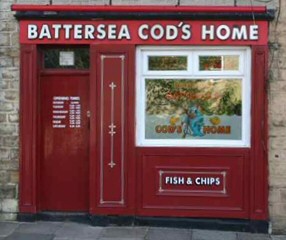 We thank Guy Swillingham, author of 'Shop Horror: The Best of the Worst in
British Shop Names', see more at
Shop Horror. In fact this
book of funny shop titles would make a wonderful present.
... and also the Frying Scotsman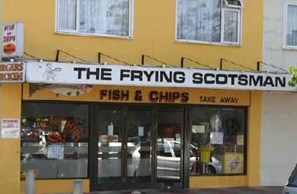 More Funny Shop Names in England
Sofa So Good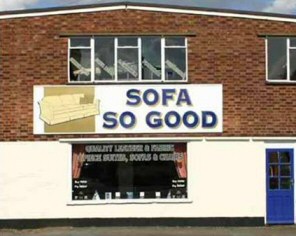 Cycle Paths - (If you
read this shop sign quickly do you hear - 'Psychopaths'?)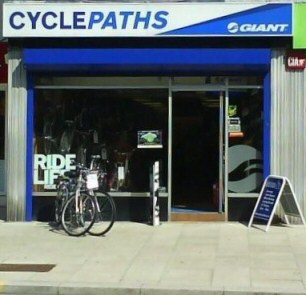 Bread of Heaven
Eating Out? Soon Fatt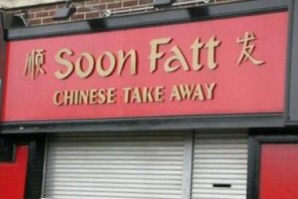 Meating Place
Joanna tells us there is a butcher's shop called Meating Place in
Armidale NSW, Australia. Joanna herself has a shop called 'Sticky
Fingers', where she sells lollies.
Open 24 Hours?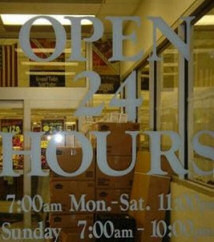 7 to 11 Mon-Sat - Open 24hrs?
Here is Another Collection of Funny Shop Names
Would you believe a driving school in the Merseyside area called 'L Passo'.
[David Percy]
Fruit, vegetable and flower shop in
Aylsham and Reepham, Norfolk goes by the droll name of 'Meloncaulie Rose'.
[Mary + John Longhurst]
Barbers shop named
'Herr Kutz'. [David Percy]
The village of Knockin, in Shropshire has to have a
'Knockin Shop' naturally. What it sells is not given.[Peter Smith]
There is, apparently, a mobile snack bar in Cornwall, UK which goes by the name of,
'The Star Chip Enterprise.'
[John Aikman]
On a butcher's
van on Dartmoor - 'Tor to Tor Delivery. '[Roger McCann reports]
A hire van company in Kent called 'Van Gough'.
[Bob Humm saw]
In
the town of Havant, Hants, UK a greetings card shop can be found that goes by the name of
'Havant
Forgotten'.
[Nick Morris]
Between Tenby and Pembroke can be found a specialist horticultural nursery boasting a sign
reading: 'Your fuchsia is in our hands.' [Tim Large]
There is a whole-food shop in Argyll called
'Oban Sesame'. [Cyril Bailey]
Drop your pants here, and you will receive prompt attention.
An eye-catching sign on
a dry cleaners.
I am led to believe that in Dulmen,
Germany, there is a flower shop named 'Blumen Ecke'.
[Sent in by Nigel McNeilly, who suspects that the humour may be lost on the owners.]Footnote:
Lana wrote: I am living in Germany and
I can vouch for it, 'Blumen Ecke' is true. Not only in Dulmen but
in almost any town in Germany you can see that name for flower shops, or
flower isles at supermarkets. In the German language 'Blumen Ecke'
simply means, "Flower Corner" thus: die Blume (noun, singular, female),
die Blumen (noun, plural, female) = the flowers. die Ecke (noun,
singular, female) = the corner.
Then
There is Always:
The Lunatic Fringe!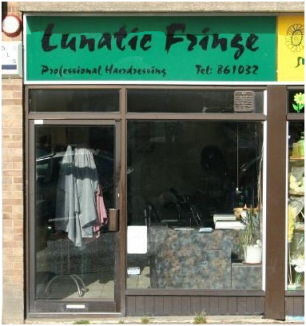 We thank Guy Swillingham, author of 'Shop Horror: The Best of the Worst in
British Shop Names', see more at
Shop Horror.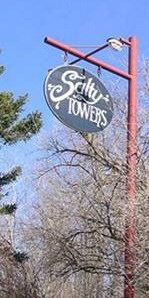 Funny Names of Restaurants and Hotels
Guy spotted there is a restaurant in Halesowen, Birmingham, England called:
'Balti Towers'. Mary Maddocks wrote to say there was another curry
house called Balti Towers in Burton-on-Trent in Staffordshire, England.
Chip n' Dales - Fish Restaurant in New Jersey
There is also a Thai Phoon in Dupon Circle, Washington, DC
Footnote:
Please send in your funny shop names, for
example:
In St. Andrew's By the Sea, New Brunswick, Canada, we have a bed
and breakfast called, "Salty Towers".
(Kindly sent by Keith M.)
Also, we hear rumours of a butchers called:
'The Meating Place'.
See more humorous names:
•
Humorous names •
Funny Words •
Collective nouns •
Funny English words •
Neologism words
•
Funny children's names •
Really funny surnames •
Humorous shop names
• Home - Clean jokes
•
Funny pub names •
Funny house names •
Funny websites •
Toponymy •
Funny name and job