Let us start with a brief reminder of the Christmas story where Mary and
Joseph are staying at the inn at
Bethlehem, and then we will move on to modern parables about Christmas.
A Reminder of the
Nativity Story
A True
Story About No Room At the Inn
Funny School Nativity
Play
A
Modern Story About Christmas with a Happy Ending
A Reminder of
the Nativity Story from the Gospel of St Luke
So Joseph went from the town of Nazareth in Galilee to Judea,
to Bethlehem the town of David, because he belonged to the house of David. He went there
to register with Mary, who was pledged to be
married to him and was expecting a child.
While they were there, the time came for the baby to be born, and she gave birth
to a son. She wrapped him in clothes
and placed him in a manger, because there was no room for them in the
inn.
No Room At The Inn -
A True Story About
the Spirit of Christmas
In England, the 'Travelodge' hotel chain is going to atone for the
'no room at the inn' by offering couples named Mary and Joseph free
accommodation for Christmas night.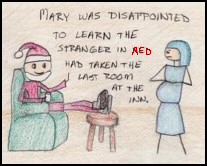 Married couples with the correct names are invited to a nights stay
free of charge at any Travelodge hotel from Christmas eve to twelfth
night 2008. Naturally, those couples who apply for the 'no room at
the inn' offer must be married,
register online and produce proof of their names.
Will and Guy heard that Travelodge operations director, Jason Cotta,
said, 'The phrase "no room at the inn" is something that resonates with
us in the hotel business. Therefore this year we have decided to
evoke the true spirit of Christmas and invite Mary and Joseph couples as
our guests.'
Funny School Nativity Play
Never act with Children or animals (some schools use real donkeys!).
School plays can be a bitter sweet experience, and occasionally a source
of unexpected mirth.
No Room at the Inn
Place: The St Martins school nativity play
Scene: The inn at
Bethlehem on Christmas Eve
Joseph: Do you have any room at the inn?
Inn Keeper: Oh yes, we have plenty of room,
DO come on in.
Shepherd's Call
Did you hear about the Worcester First School's nativity play?
The two main child actors are dressed up as Joseph and Mary. They cross
the stage on their way to the inn at Bethlehem.
Meanwhile back of stage, a boy in a shepherd's
costume is on his mobile phone, calling the inn to make a reservation.
A New Nativity Headdress!
For the Christmas nativity play the Virgin Mary will be forced to wear a
riding helmet during a nativity play to comply with health and safety. The
girl picked for the part of Mary in the play, will have don a riding hat in
order to ride through Neath on the back of a donkey. It was the owner
of the donkey who insisted that Mary, wear the hat to comply with his
insurance policy.
Footnote
Please send us your funny nativity play
story.
A
Modern Story About Christmas with a Happy Ending
Rebecca and Benjamin, a young couple, were touring the Holy Land over
the Christmas holiday period and decided it would be very meaningful to
them to spend Christmas Eve in Bethlehem, the birth place of Jesus.
When they arrived they searched high and low all day for a room for
that night. Finally Rebecca and Benjamin drove to the plush and rather
expensive 'Intercontinental Hotel' in Bethlehem.
'I'll pop in and see what I can do,' said Benjamin feigning
confidence for his, now exhausted, young wife.
Benjamin approached the desk and the receptionist told him there were
no rooms in the hotel and probably no rooms in the whole of Bethlehem.
'Sorry, sir. It's Christmas Eve, it's probably our busiest time.'
No matter how much Benjamin offered to pay, the receptionist still
replied that said he had no available rooms.
Finally, Benjamin said, 'I bet if I told you my name was Joseph, that
the woman waiting in the car was called Mary, and that she had a newborn
infant, you'd find us a room for the night.'
'Er....well,' stammered the receptionist, 'I.....I suppose, in that case,
I would.'
'OK, then,' said Benjamin determinedly. 'I guarantee you, they're not
coming tonight, so we'll take their room.'
Funny Chav Nativity Play
There's this gal called Mary, yeah? She's a virgin (wossat then?)
She's not
hitched or
anyffink, but she's got this dude name of Joe. He does joinery and
stuff. Mary lives with him in a crib dahn Nazereth.
One day Mary meets this bloke
called Gabriel. She's like
'Oo ya lookin at?' Gabriel
just goes 'You got one up the duff, you have.' Mary's totally gobsmacked. She gives it to him large 'Stop dissin' me yeah? I ain't no slapper. I never bin wiv no one!'
So Mary goes and sees
her cousin Liz, who's six months gone herself. Liz is largin' it. She's filled with spirits, Barcardi Breezers an' that.
She's like 'Orright, Mary, I can feel me bay-bee in me tummy and I reckon
I'm well blessed. Think of all the extra benefits an' that we are gonna get.' Mary goes 'Yeah, s'pose you're right'
Mary an' Joe ain't got no money so they have to ponse a donkey, an' go dahn
Bethlehem on that. They get to this pub an' Mary wants to stop, yeah? To have her bay-bee an' that.
But there ain't no room at the inn, innit? So Mary an' Joe break an' enter into this garridge,
only it's filled wiv animals. Cahs an' sheep an' that. Then these three geezers turn up, looking proper bling, wiv crowns on their 'eads. They're like
'Respect, bay-bee Jesus', an' say they're wise men
from the East End.
Joe goes: 'If you're so wise, wotchoo doin' wiv this Frankenstein an' myrrh? Why dincha just bring gold, Adidas and Burberry?' It's all about to kick off when Gabriel turns up
again an' sez he's got another message from this Lord geezer.
He's like 'The police is comin an' they're killin all the bay-bees. You better nash off to Egypt.' Joe goes 'You must be monged if you
think I'm goin' dahn Egypt on a minging donkey'
Gabriel sez 'Suit yerself, pal. But it's your look out if you stay.' So they go dahn Egypt till they've stopped killin the first-born an' it's
safe an' that.
Then Joe and Mary and Jesus go back to Nazaref, an' Jesus turns water into Stella.
'APPY CRIMBO
Grandpa's Christmas Tale
Grandpa decided that shopping for Christmas presents had become too
difficult. All his grandchildren had everything they needed, so he
decided to send them each a cheque (check).
On each card he wrote:
'Happy Christmas Grandpa'
P.S. 'Buy your own present!'
Epilogue
While Grandpa enjoyed the family festivities, he thought that his
grandchildren were just slightly distant. It preyed on his mind into the
New Year. Then one day he was sorting out his study and under a
pile of magazines, he found a little pile of cheques for his
grandchildren. He had completely forgotten to put them in with the
Christmas cards.
Footnote:
See another story about
Christmas
History of the
Christmas Advent Calendar
From the point of view of the Christian faith, Advent starts 4 Sundays before
Christmas. Advent also marks the start of the nativity play season. It was probably
the German Protestants or Lutherans who invented the idea of Advent Calendar
as running from December 1 - 25.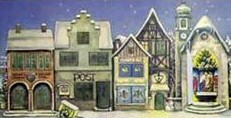 As a child, Gerhard Lang's mother had made him a basic advent calendar so
that he could count down the days until Christmas. She placed 24 sweets onto
a piece of cardboard and each day the young Gerhard would take and eat a
sweet. When he grew up Gerhard Lang made the first printed advent calendar
in 1908.
Later, in 1946, we see Richard Sellmer producing almanacs in
Germany. The US authorities had to grant him a license in the now post war
Germany which led to his advent calendars becoming known and indeed very
popular in the USA.
Sellmer's first advent calendar was called 'The Little Town'. The
calendar had pictures of many buildings in the town and you would open the
windows and the doors to find nice things underneath for each day of advent.
Although these are not funny advent calendars, they are interesting, in
particular Sellmer produced a very popular lamp shade advent calendar that would fit
any lamp and would revolve under heat with 24 windows to open. These
calendars can still be purchased from the Sellmer organisation today.
By
the end of the 1950s, chocolate advent calendars had appeared, and by the
following decade they had become widespread. People still make or buy advent
calendars nowadays, with hundreds of different varieties appearing across
the globe. A Carols' Calendar was created with a carol for each day of
advent. In 1954 they produced the 'White House calendar' with the scenery of
the White House in Washington. They then produced many varieties of pull out
advent calendars.
Today, the most typical advent calendar is printed on cardboard with
twenty four small doors. These calendars have many themes from religious
ones with Mary and Joseph travelling to the stable, nativity scenes, church
scenes, Bethlehem, winter wonderland and many more. A Santa stocking advent
calendar offers a different idea. The stocking has a picture of a Christmas
tree on it and you hang an ornament on the tree on each day of Advent.
Celebrating advent with an advent calendar is an ideal way to prepare for
Christmas especially with children.
See more Advent calendars »
Footnote:
Please send us your funny nativity story.
See more funny Short Christmas stories:
∗
Short Christmas stories ∗
Funny Xmas stories ∗
Christmas kids stories ∗
Christmas news stories
∗
Religious Christmas story ∗
Christmas children's
stories ∗
Christmas tree stories ∗
Xmas Stories
∗
Naming Jesus ∗
Modern Christmas Story ∗
Funny religious jokes ∗
Christmas angel stories