Will and Guy are building up a collection of funny follies and strange
structures. We only wish we had the spare money to commission such an
indulgent building!
What Is a Folly
House, and Why Were They Built?
Follies can regularly be found around the UK write Will and Guy. They are
fascinating remnants or relics from the past and often point to the
idiosyncrasies of their builders or owners. Furthermore, many British
follies can be viewed from a passing car or by exploring on foot. So what
are these strange monuments?
A folly is often described as a building built for fun rather than
for a purpose.
Some follies were built to commemorate particular events or
battles, but occasionally they were built merely to keep the workers
busy during periods of unemployment.
Another reason to build a folly house was as an "eye catcher". Often
grand looking structures, or buildings made to look like ruins, were
built in parkland to improve the view from a large country house.
A popular name for any costly structure considered to have shown
folly in the builder.
A great useless structure or one left unfinished, having been begun
without a reckoning of the cost.
Funny, Amusing and True Folly Stories
1. Jack the Treacle Eater - Funny Folly House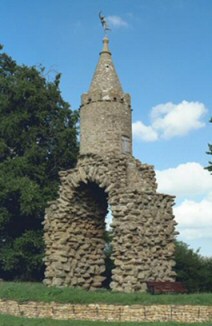 One
story heard by Will and Guy is that of "Jack the Treacle Eater". The
legend tells us that Jack
was a local runner whose role was to carry messages for the Messiter family
of Barwick Park, to London and back; we were told that he trained on
treacle, to keep him going and hence his name.
Now, his commemorative tower can be found in Barwick Park, Somerset,
England. Does the picture to the right remind you of a man with
huge thighs? Or can you imagine those stones in the garden folly
to be the messages?
2. Eyecatcher
Below we have searched out an "eyecatcher" folly
which still may be seen at Upcott House, North Devon, England. Built round
about 1800; it can be seen from the main house and was built in the style of
a *Gothic ruin. The idea of erecting a "ruin" causes some mirth in Guy and
Will's households.
*Gothic: Gothic architecture is a style of architecture which flourished
during the high and late medieval period. It evolved from Romanesque
architecture and was succeeded by Renaissance architecture. It originated in
12th-century France and continued into the 16th century; many churches and
cathedral were built in this style.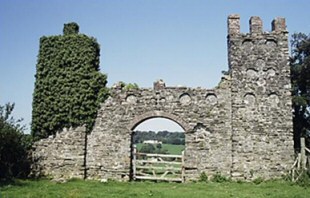 More Follies Which Defy Logic
The most common of all follies is to believe passionately in the palpably
not true. It is the chief occupation of mankind. H. L. Mencken
3. Faringdon, South West Oxfordshire, England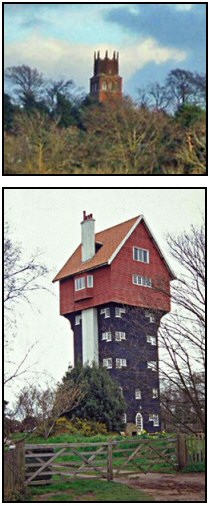 The
100ft Folly Tower lies to the east of the market town of Faringdon, in
Oxfordshire, England.
Farington is claimed by some to be the last true folly built in England.
What makes this folly curious is that at the insistence of Lord Berners it
was topped with gothic flourishes and mock battlements, and this was 1935
and not 1635.
Check out the fantastic views over 5 counties and find out about the
history of Folly Hill, Henry James Pye (of Sing a Song of Sixpence fame),
Oliver Cromwell and the very eccentric Lord Berners (the creator of the
tower). See more on the
Faringdon Folly Tower
4. The Folly House in the Clouds
The house
in the clouds is one of Britain's best known follies and can be found in the
beautiful countryside near the village of Thorpeness, north of Aldeburgh,
Suffolk. Now a holiday letting; people come from far and wide to stay in the
property.
It was built in 1923 as the Thorpeness water tower, disguised as a house
to avoid it being an eyesore. Originally it was a five storey house
underneath the water tank, which itself was hidden by enclosing it in a
house-like structure complete with pitched roof. We were impressed
with the neat

room alignment on the corners. Later, when Thorpeness was
linked to a mains water supply, the tank inside was dismantled and the space
turned into additional living accommodation making the folly house you see today.
5. Goring-by-sea Grotto

A recent addition to the world of follies can be
seen in West Sussex, in Goring-by-sea, a picturesque Sussex village. A
retired teacher living in Goring-by-Sea spent more than a year creating a
strange combination of tower, summer house and grotto in his back garden.
The art form, although less popular in these days, has not entirely
disappeared.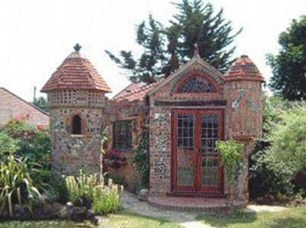 6. Racton Folly


When Will was young he often went into the countryside. It was on
one of these excursions that he found Racton ruin. It can be seen close to
the village of Funtingdon, near Chichester, West Sussex, England. We have
established that its original purpose is uncertain, but it might have been
intended as a summerhouse to complement the main Stansted House, nearby.
An alternative possibility, which we favour, is that it was built by the
then owner so that he could see his trading ships berth at Emsworth, then a
major port and now a beautiful small town worth visiting. Either way,
some folk have told us that it perhaps qualifies today more as a curiosity
than a folly.
While this is a sad picture, it does stimulate the imagination.
Firstly there is a play on words, Racton - rack and ruin, then thoughts turn to what
happened in those great holes that were once windows ......
A man's home is his castle, in a manor of speaking.
Further Funny Follies from the USA
This is a sunset over the Folly River, which flows next to Folly Beach, a
beach town, near Charleston. This picture was taken by Sasha Azevedo of
Charleston, South Carolina, USA.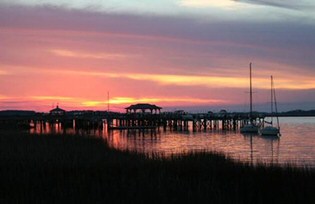 To read more

about follies:
Largest Garden Folly for
100 Years
William Gronow-Davis saw an opportunity to build the largest folly in
Britain for a century. O2, the phone company, planned to build a nest
of radio masts in Dorset England. When they pulled out of the deal, Mr
Davies saw the chance to erect a wonderful new garden folly on his Rushmore
Estate in Dorset, England. He settled on the design of an Indian mogul
gateway, topped by five large copper domes. The base of the folly is
made from Turkish limestone and is decorated with the family's crest.
Mr Gronow-Davis reflected, "I would say that 99 per cent of the feedback
I have had has been positive. Natural England has said it enhances the
landscape. You don't have to be rich to have a folly, it is not about
extravagance, it is about beauty. I like the look of Mr Gronow-Davis' one
and can't wait to see it.
Will and Guy's Top
Ten Folly Quotations to Set You Thinking
I prefer the folly of enthusiasm to the indifference of wisdom. -
Anatole France
He who is slow to anger has great understanding, but he who has a
hasty temper exalts folly. - Proverb
Folly is the direct pursuit of happiness and beauty. - George
Bernard Shaw
A fool's brain digests philosophy into folly, science into
superstition, and art into pedantry. Hence University education. -
George Bernard Shaw
The most exquisite folly is made of wisdom too fine spun. -
Benjamin Franklin
Anger begins with folly, and ends with repentance. - Beverly
Sills
The folly of one man is the fortune of another. - Sir Francis
Bacon
Answer a fool according to his folly. - Bible
Do not let me hear Of the wisdom of old men, but rather of their
folly. - TS Eliot
Love is the wisdom of the fool and the folly of the wise. -
Samuel Johnson

Jealous Wall, Belvedere House, Mullingar, County Westmeath, Ireland
The word "Folly" is commonly used to describe an ornamental building
serving no useful purpose - some were designed as "sham ruins" while others
were built simply to adorn the landscape. On the estate are the famous
Jealous Wall built in 1760 in the style of a ruined medieval abbey to block
the view of a larger house nearby, the Gothic Arch and Octagonal Gazebo.

In Georgian times the inclusion of such follies as part of the overall
improvements to the landscape were to provide subjects for melancholic
contemplation of the triumph of civilisation over barbarity.
Footnote: The Jealous Wall was kindly sent in by Eddie
Flynn
Another Type of Folly?

The Folies Bergère is a Parisian music hall which was at the height of
its fame and popularity from the 1890s through the 1920s. It opened on
2 May 1869. You can visit the Folies Bergère in Paris, France, at 32
rue Richer in the 9th Arrondissement, it was built as an opera house by the
architect Plumeret.
Famous painting opposite: LaDanse du Feu by Jules Cheret
Not Another Folly - Just
Weird Cubic Houses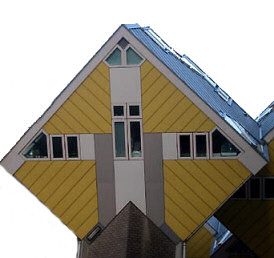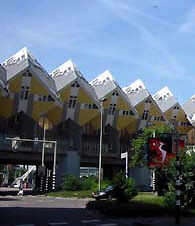 These cubic houses came about from a design by Piet Blom in Rotterdam,
Netherlands. The concept is of a forest, thus to get the full effect you
need to view a street of these cubic houses. (See photograph to the right)
The cubes are split into three levels. The triangle-shaped lower level contains
the living area. The windows on this level open onto the environment below due
to the slope of the tilted cube. The middle level contains the sleeping area and
a bathroom, while the top triangle becomes an extra bedroom or a living space.
The columns holding up the cubes allow for a staircase that leads to the
entrance. Some of the cubes in the 'forest' have shops on the
promenade level
See
the world's 42 more unusual structures
Footnote:
Please send us your funny pictures of funny folly houses
See our collection strange structures, funny houses and weird buildings
• Funny folly houses •
Jerry builders •
Amazing staircases •
Funny bridges
•
Funny buildings •
Eric's mural •
Prison or work? Difference? •
Crazy stairs
•
Perspective •
42 Unusual Structures •
Garage doors •
Home