Fishing will do a lot for a man, but it won't make him truthful.
Clever Pelicans - Enquiring about the best fishing grounds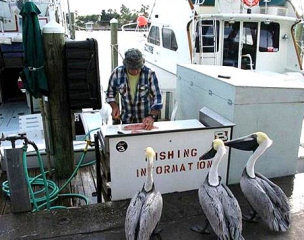 Faithful Pelican Friends - Waiting for Dinner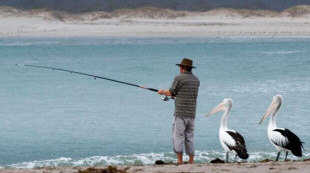 The Pelican
A wonderful bird is the pelican,
His mouth can hold more than his belly can,
He can hold in his beak,
Enough food for a week!
I'm damned if I know how the hell he can!
The above limerick was written by Dixon Lanier Merritt in 1910.
Clever Fishing Technique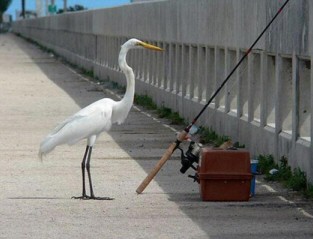 Amusing fishing picture, but what is that bird? At first Guy thought
it was a stork, but further research indicates it's an egret. Please
let us know if you can identify the bird in the above picture.
Cats Fishing - One of Our Favourite Funny Fishy
Pictures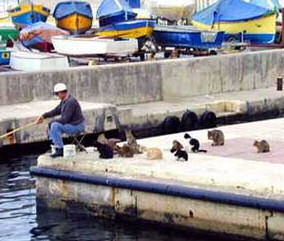 Funny Fishy One-liners
Fishing will do a lot for a man but it won't make him truthful.
The least experienced fisherman always catches the biggest fish.
The
worse your line is tangled, the better is the fishing around you.
Catfish have taste buds located on their whiskers.
I got a new fly rod, and a reel for my wife.... best trade I ever made.
Want a
Scratch?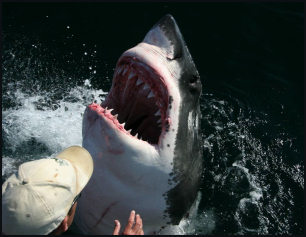 That Was a Nice Smile - Show Me Again?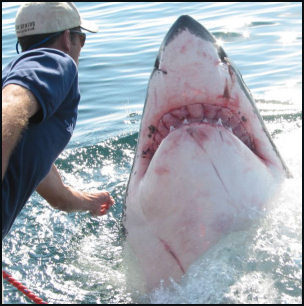 You Tickle My Ribs, and I will
Tickle Yours!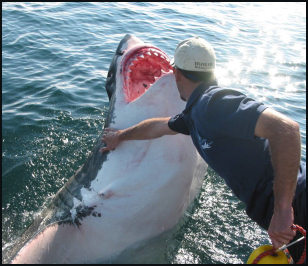 The Bishop Takes a Stroll
The Arch Bishop of Canterbury was walking along the cliffs at Dover. He
came upon two men hauling a third man ashore on the end of a rope. 'That's great
compassion,' said the bishop, 'A man helping his fellow man stop him committing
suicide'.
As he was walking away, one man whispered to the other, 'Well, the bish sure
doesn't know the first thing about shark fishing.'
Big Fish
A fisherman usually laughed at for his terrible luck was left reeling,
when he landed Britain's biggest ever freshwater fish.
James Jones, 31, was stunned when he hooked the monster wels catfish,
which weighed a whopping 144lb (65.3kg).
The father of three, of Essex, spent two hours fighting to bring the
giant into the bank with the help of two other fishermen.
See more funny pictures of
fish.

Footnote:
Please send us your funny fishy pictures.
See more funny fishy pictures, clean jokes, hunting tales and stories
•
Fish for ticket •
Funny fish pictures •
Fishy stories •
Bill Dance fishing video •
Catfish •
Home
•
Hunting & fishing jokes •
Hunting & shooting •
Shooting self •
See more animals •
Funny stones
•
Funny farmer stories •
Jackson jokes •
Countryside jokes •
Hiking jokes •
Skimming stones