Doggy Driver?
What intrigues us with this picture is whether the dog is
coming out of the driver's
door or the passenger's
door?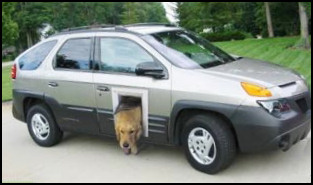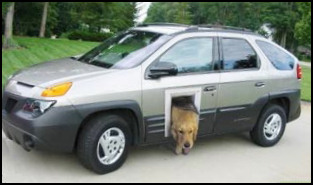 A further complication is whether you, or your dog drives on the left or the right?
Whatever, the picture tells the story. Words only confuse.
See more funny pictures of dogs
Car After 6 Months of Dodgy Dog
Travel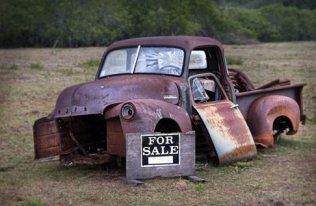 Dodgy Driver
A
Strange But True Funny Story:
To all those who smirked at this week's
news that male drivers waste six million hours a year by
refusing to admit they are lost, we reply with the salutary tale of Michael Chapman, arrested and charged with stealing a car after stopping to ask for directions at the house of the car owner's
father.
Chapman, 54, allegedly stole the motor in Hopedale, some 130 miles from Columbus, Ohio, and drove it for three miles before stopping randomly to ask the way at the house of Thomas Eltringham, who instantly
recognised the gold Buick as his daughter Norma's.
See where admitting your ignorance gets you?
Footnote:
I am from a town very near Columbus, Ohio.
We often said Columbus was the only town where you could buy a baby grand
piano and the seller would throw in a shot gun. Joy S. (Website
visitor)
See more funny dog pictures, videos, jokes and stories
•
Funny dog pictures •
Dog rocket •
Smart 'Blackie' •
It's a dog's life •
No Dogs Allowed
• Funny dog stories •
Dogs like owner •
Give dog a break •
Doghouse •
Cat in dog basket
•
Funny dogs videos •
Dog & cat fight •
Fight back •
Dog video •
Guard dog •
True friends