Here is Will and Guy's collection of pictures showing baby elephants playing,
having fun and being naughty.
Baby Elephant
Picture - Calf Having fun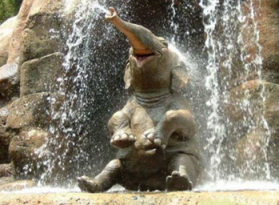 What joy. Wouldn't you love to be that baby elephant playing in the
water? Incidentally adult
elephants can hold up to 10 litres of water in their trunks.
Rare Picture of an Elephant Swimming
Laughing? Or Crying?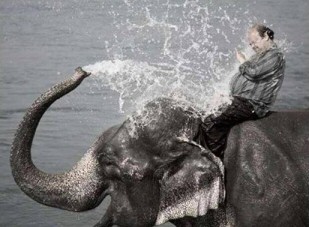 I do believe this elephant is laughing .....
Baby Elephant Plays in the Sea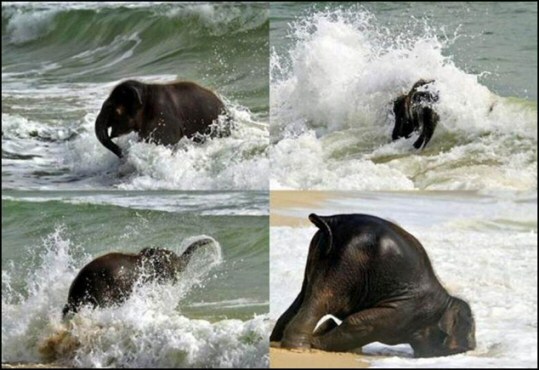 Baby elephant having fun in the sea.
What did the hotel manager say to the elephant that couldn't pay his
bill?
'Pack your trunk and clear out.'
Baby Elephant Playing Football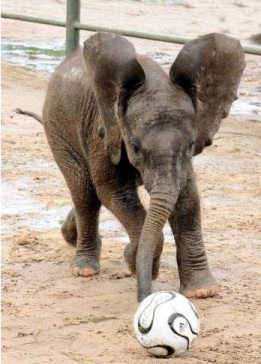 The baby elephant brings an extra dimension to football - his trunk. Will he play better when his tusks arrive? Or would they puncture the football?
Judging by the large ears, this footballer is an African elephant. The baby elephant playing in the water (top of page) maybe an Indian elephant, however I find it difficult to be sure because of the
angle of the ears.
Elephants Playing Ball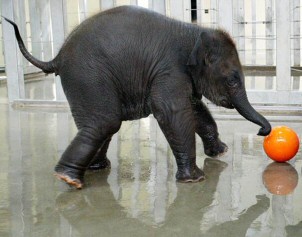 Malee, a three-month old Asian elephant, plays with her ball after
cooling off in her wading pool at the Oklahoma City Zoo.
Picture of Baby Elephants Keeping Fit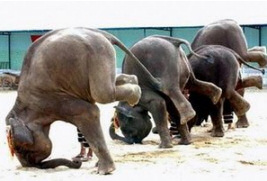 This baby elephant still has a lot to
learn! See the funny picture below.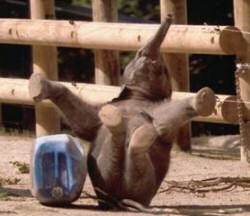 Talking of Learning ...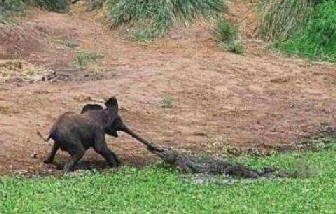 While this is not so funny for the baby elephant, it does reminds us of
Kipling's story 'The Elephant's Child. The classic 'Just So' story
explains how the elephant got its trunk.
'Come hither, Little One,' said the Crocodile, 'for I am the Crocodile,' and
he wept crocodile-tears to show it was quite true.
Read more here.
Baby Elephant with Carer
Best Elephant Joke
Nick is standing at the customs desk at the ferry
port with a large crate.
'Anything to declare, jewellery, alcohol, livestock?' barks the Customs officer. 'Nothing', replies Nick.
The Customs officer opens the crate, and there inside is an
elephant between two slices of bread. 'I thought you said no livestock?' explodes the customs officer.
Nick looks at him with surprise and answers mildly, 'What's it to you what I have in my
sandwiches?'
Cringing Elephant Joke
The town's bank manager called the police station to report a robbery.
'You'll never believe what happened, Sergeant. A truck backed up to my
bank, the doors opened. Out comes these robbers and they lead an elephant out of the truck. The elephant then breaks through my plate glass window, sticks his trunk in, sucks up all the money. Then the gang lead
the elephant back into the truck. The robbers close the truck doors and the truck pulled away.'
The desk sergeant said, 'Could you tell me, for identification purposes, whether it was an African
elephant or an Indian elephant?'
'How can you tell the difference?' asked the bank manager.
'Well,' said the sergeant, 'The African elephant has great big ears whereas the Indian elephant
has little ears. So which kind of elephant was used in the robbery?'
'How should I know? I couldn't see his ears,' said the bank manager. 'He had a stocking over his head.'
Seeing Pink Elephants
If a friend tells you they are "seeing pink elephants", then this is
serious. What it means is they are suffering delirium tremens.
The condition and the accompanying hallucinations are caused by alcohol
poisoning.
Baby Pink Elephant
However, this cameraman, Mike Holding, had definitely not been drinking
when he captured these photos of a pink elephant in northern Botswana,
Africa. Experts believe it is probably an albino, which is an extremely rare
phenomenon in African elephants. While albinism is thought to be fairly
common in Asian elephants, it is much less common in the larger African
species.
Here we see the baby pink elephant attempting to shelter under its mother
because surviving is very difficult in the harsh African bush as the glaring
sun may cause blindness and skin problems.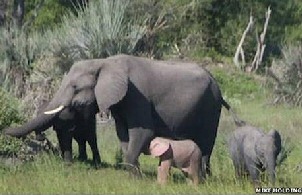 Rare baby pink elephant, incidentally, his brother looks like dumbo!
See more elephant stories.
Not Seeing Pink Elephants!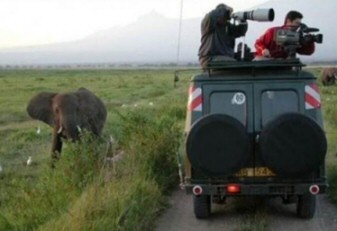 Guy thinks this is a wonderful, mesmeric picture. What are those
men filming?
Footnote:
Please send us your funny baby elephant
pictures.