Here is Will and Guy's selection of Father Christmas photos in a variety of
outfits and amusing situations.
Father
Christmas in Training for Christmas
Father Christmas - A Personal Reminiscence
More Funny
Pictures of Father Christmas
Father Christmas Race
Other names for Father Christmas
- Santa Claus
Father
Christmases in Training for Christmas Day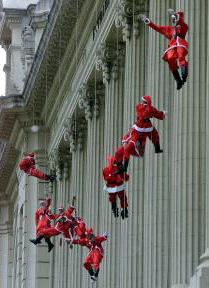 Will and Guy think that the plural of Father Christmas should be Father
Christmases (and not Fathers Christmas).
Father Christmas Relaxing After the Big Event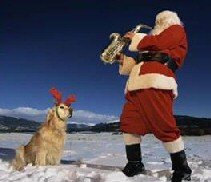 Father Christmas wears a Red Suit, so he must be a communist. And
he sports a beard and long hair, so he must be a pacifist. What's in
that pipe that he's smoking? Arlo Guthrie
Mr and Mrs Santa Claus Pics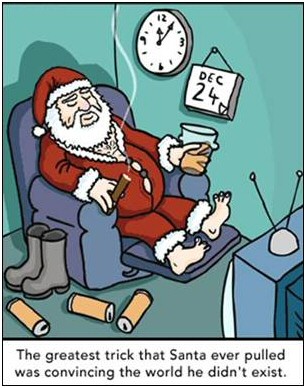 Father
Christmas Drinks Will and Guy's Mulled Wine - Now You Know Why Santa
is Red!
I never believed in Santa Claus because I knew no white man would be
coming into my neighborhood after dark. Dick Gregory
See more funny Santa Claus pictures
Guy and Father
Christmas - A Personal Reminiscence
As a boy of about five, I was taken into the
big city to meet with Father Christmas. He had his elf grotto in the big department store.
My mother and I had to queue, but
eventually I reached Father Christmas and he asked me, 'Guy what would you like for Christmas?'
I dumbfounded, then I surprised my Mother by saying: 'Nothing'.
Footnote 1
Well for the next fifty years, when
asked, 'What would you like for Christmas Guy', I repeated the same record: 'Nothing'.
Amazingly, nobody listens, and have to say that every year I get the most delightful presents.
Footnote 2
I stopped believing in Santa Claus when my mother took me to see him in a
department store, and he asked for my autograph.
Shirley Temple
Santa Claus Computing his Present list
A modern
Santa hard at work on
his keyboard -->
Question:
What's the best Christmas present a child
could get?
Answer:
A broken drum - you can't beat it!
Father Christmas Opens
His Own Presents
Letters To Santa
Dear Father Christmas,
You can send me one of everything from the
boys' section of the Sears catalogue. But nothing from the girls'
section. I can't wait for Christmas to come.
Kent
See more funny Father Christmas letters.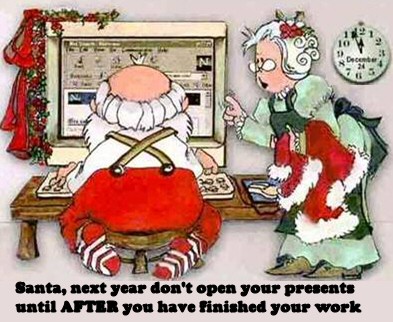 Other Names for Father Christmas
The personification of Christmas can be traced back to the
Puritans in the early 1600s. Possibly it was Ben Jonson who
first created the name 'Father Christmas' in December 1616
20 years later, Thomas Nabbes, refers to Father Christmas as
'An old reverend gentleman in furred gown and cap'. Other
common names from this period were Lord Christmas and Sir
Christmas.
Names for 'Father Christmas' in over 20 Other Languages
Language
Father Christmas
United Kingdom
Father Christmas, Santa Claus
Estonia
Jouluvana
Finland
Joulupukki [Old Man Christmas]
France
Père Noël
Germany
Weihnachtsmann [Christmas Man], Christkind
Greek
Kala
Christouyenna!
Hawaii
Kanakaloka
Hungary
Mikulás (St. Nicholas) or Télapó ("Winter Father")
Iceland
Jólasveinninn
Mexico
San Nicolás, Santa
Netherlands
Kerstman
Norway
Julenissen [Christmas gnome!]
Poland
Swiety Mikolaj [St. Nicholas]
Portugal
Pai Natal
Russia
Ded Moroz [Grandfather Frost]
Serbia / Croatia
Bozic Bata. Sveti
Nickola
Sweden
Jultomten [Christmas Brownie]
Spain
Papa Noel
Switzerland
Saint Nicholas, Chriskind
USA
Santa
Wales
Siôn Corn
Coca Cola and Santa
Haddon Sundblom made the character
of Santa popular in 1931. As
an
illustrator from Chicago, USA, Sundblom designed a Coca-Cola advertisement which
contained an image of Santa with a red suit and a white beard. Since then
Santa has been a major part of Christmas in the UK and the USA. However,
while children today can recognise Victorian Santa pictures easily, they be
surprised to see older pictures showing Saint Nicholas (Santa) in green or
blue attire.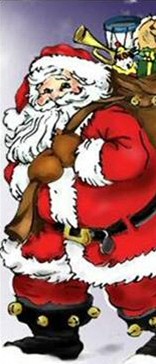 The
Ideal Funny Father Christmas
Father Christmas must be at least 5ft 10in
- It looks incongruous if the child is bigger than Father Christmas.
Father Christmas should
smell of Old Spice and peppermints. (Brandy or Whisky is a no-no)
The white beard should be stuck to the face with glue.
He should have the full red suit, which fits properly. See pictures
below.

Weihnachtsmann Shortage in Germany for Christmas 2008
GERMANY is facing a Weihnachtsmann (Christmas Man) shortage in December
2008. The problem is that prospective Father Christmases fail to meet
standards of jollity and expertise. Naturally, Santas must be friendly
to the children, yet have the gravitas of a grandfather or benign uncle.
'It takes a lot to be a good Santa,' said Tarik Kilinc of the
Heinzelmaennchen agency in Berlin. 'About 10% don't make it through the
casting process. 'Just handing out presents isn't enough. Our Santas
have to sing songs with the families and talk to the parents about their
children and the evening's arrangements,' he added.
Frankly Will and Guy don't know many people who would make a good Father
Christmas, thus can understand the shortage. However, for $80 per hour
we wonder if the role does not tempt 'resting' actors. We are also
surprised that demand for Father Christmas is holding up in the recession.
Apparently Berlin needs about 500 Weihnachtsmann to cover the 5,000 private
parties.
Jens Wittenberger, who is in charge of recruitment at the Jobcafe in
Munich, said the demanding standards 'put people off' wanting to be Father
Christmas. His recruits are rigorously schooled; learning, for
example, how to deal with tricky questions from children such as 'Where do
you keep all the reindeer'
Hide and Seek in Town Centre Christmas Tree
Extremely funny, yet serious, immigration issue unfolds in Northampton,
England
Will and Guy have learned from the UK authorities that four men have been
arrested after they allegedly entered the country illegally by hiding in a
32-foot-tall fake Christmas tree. Apparently, the men were hiding
inside an aluminium and nylon tree ordered for the town centre's Christmas
display.
The men, believed to be from Iraq and Iran were spotted by eagle-eyed
Northampton council staff hiding at the depot in the back of a lorry.
Immigration officers were informed and the men taken into custody. It
is not thought they were intending to look for work as Father Christmas as
they had no red coats or false beards.
The driver of the lorry, from France, has stated that he knew nothing of
the stowaways.
More Funny Pictures
of Father
Christmas - Working? or Relaxing?
Father Christmas Skiing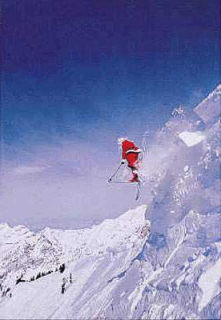 See more snow pictures
Santa Claus Waterskiing
Mother Christmas and Father Christmas on Their Holiday!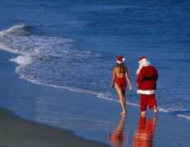 Funny
Father Christmas Race
The 4.5-mile race took place in Newton in Powys reports the BBC. The town currently holds the world record for the world's
biggest Santa gathering.
What surprises me of the Santa Claus picture is that they are all wearing Santa hats.
Organisers are hoping it will have broken another
world record this year - for the number of Santas yo-yoing at the same time. The annual Santa run is organised community transport charity Newtown & District Dial A Ride.
Jo Corfield, one of the race's
organisers, said; 'The Santa Run started just because we were on our last legs and wanted one event that would be a good fund-raiser and keep us going.'
'Since it's
grown into the biggest event that Newtown
hosts and we estimate it brings £150,000 into the local economy in just one day.'
The first Santa across the finishing line was Darren Hisscock from Aberdare in the Cynon Valley who completed the course in
18 minutes.
Father Christmases Set
a World Record
A new world record has been set for the most Father Christmases
congregated in one place.
Over 14,200 Santa Claus's paraded through the streets of Porto, in
Portugal, to raise money for charity Will and Guy have discovered. They sang
songs and danced through the inclement weather - drizzly rain and cold.
To go with the spirit of Santa's gift-giving, every Pai Natal [as he is
known in Portugal] also donated 1 € [euro] to buy presents for the needy
children in Porto, to which the general fundraising also contributed.
The last world record for the largest gathering of Santa Clauses was set
in 2007 in Northern Ireland, where 12,965 people took part, dressed either
as Santa or as Santa's helpers. Word has come from the city of Derry, last
year's winners; they have promised they will attempt to beat Porto in 2009.
Will and Guy say, 'Watch this space.'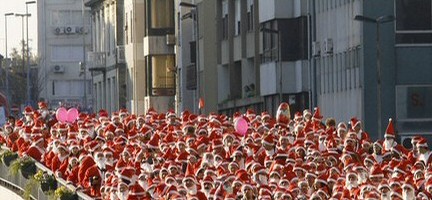 Santas in Liverpool England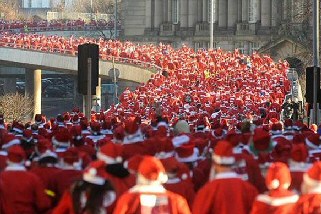 More than 7,000 Santas run through Liverpool to raise money for charity.
Footnote:
Please send us your funny Father Christmas
pictures and stories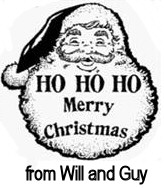 See more funny Santa Claus pictures
See more funny Santa jokes and funny pictures.
Also snowman pics
∗ Funny Santa Claus
pictures
∗ Father Christmas
∗ Funny Santa cartoons
∗ Funny Santa sleigh
∗ Children with Santa ∗
Santa Shot
∗ Snowman jokes
∗ Santa Claus history
∗ Kids jokes
∗ Santa pictures kids ∗ Santa Banta jokes
∗ Funny snowmen
∗ Santa sculpture
∗ Santa quotes