Orange Mouse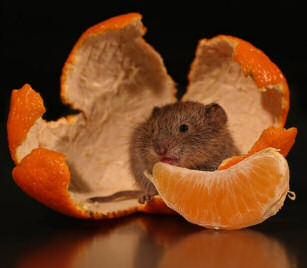 Mrs Dormouse was stealing food from the kitchen with her children, when Slats, the cat pounced. Encouraging her children to run, Mrs Dormouse shepherded them towards the mouse hole but it was obvious she wasn't going to make it.
In desperation, she turned to face Slats the cat and shouted 'Bark, Bark' extremely loudly.
Slats the cat skidded to a halt, turned and ran away.
Mrs Dormouse turned to her children and said, 'You see how important it is to learn a foreign language.'
Owl Post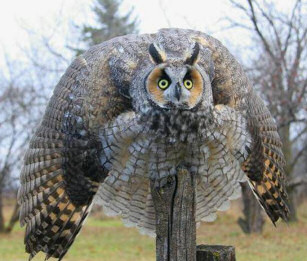 Allegedly a true story told to Will by Christine Green:
Each evening bird lover Tom Rowe stood in his backyard in Devon, England, hooting like an owl - and one night, an owl called back to him.
For a year, the man and his feathered friend hooted back and forth. Rowe even kept a log of the 'conversation.' Just as Rowe thought he was on the verge of a breakthrough in inter-species communication, his wife had a chat with next door neighbour, Nancy Hollis.
'My husband spends his nights ... calling out to owls,' laughed Mrs. Rowe.
'That's odd,' Mrs. Hollis replied. 'So does my John.'
Then it dawned on them.
Funny, laid back tawny owl thinks he's human

Treacle the owl goes for a bike ride Apparently hand reared owls can think that they are, in fact, human. Treacle, a six year old tawny owl brought up by his keeper, Jenny Smith in Eccleshall, Staffordshire, UK, is one such bird.
Jenny has let Will and Guy know that because he is a rather lazy and laid back owl she allowed him to ride on the handlebars of her bike.
M/S Smith commented, 'I think Treacle likes being on the bike because owls are notoriously lazy. So this way he doesn't have to do any exercise and he can sit around and look at his surrounding area to see what's going on. We do fly him and he does enjoy flying but I suppose the bike feels like he's flying but without putting in the effort.'
We have discovered that the Gentleshaw Wildlife Centre, where Treacle lives, also has a monkey that likes scribbling and a hawk that only likes women.
Owls' Natural History
Owls are an order of birds of prey. Most are solitary, and nocturnal. Owls mostly hunt small mammals, insects, and other birds, though a few species specialize in hunting fish. They are found in all regions of the Earth except Antarctica, most of Greenland, and some remote islands.
What did the owl say to the other owl?
Whooo are yoou?
Squirrel Love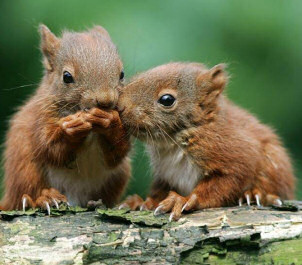 Red squirrel (Sciurus vulgaris)

Fascinating Fact: Squirrels are able to swim and they are either left handed or right handed.
The red squirrel is native to Great Britain, but its future is increasingly uncertain as the introduced American grey squirrel expands its range across the mainland. There are estimated to be only 140,000 red squirrels left in Britain, with over 2.5 million greys.
The British Forestry Commission is working with partners in projects across Britain to develop a long-term conservation strategy that deters greys and encourages reds.
Red Squirrel Conservation in Anglesey
Anglesey is the island at the top left of Wales, UK. See map opposite.
Will and Guy, along with many others in the UK, would love to see more red squirrels. Being an island, Anglesey is an ideal place for studying and experimenting with red squirrel conservation.
At the start of the conservation project, in the year 2000, there were about 40 adult red squirrels in the 240 hectare conifer plantation on Anglesey. Once the grey squirrels were killed off, the population of red squirrels increased until it doubled to about 80 by 2002.
Conservation experts are very pleased with the project and think that the red squirrel population size has reached it's natural peak for an area of this size. Other conservation schemes in Anglesey include otters and water voles.
Anglesey's claims to fame are:
Land of Welsh mythology - the home of Merlin and his spells. The Holyhead ferry to Ireland.
The longest place name with a railway station in the United Kingdom: Llanfairpwllgwyngyllgogerychwyrndrobwllllantysiliogogogoch
Antelope and Friend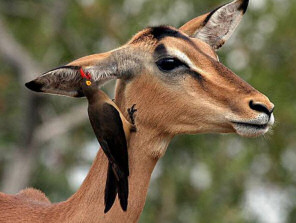 It's not just hippos that benefit from the tick birds cleansing their skin of parasite, antelope and gazelle also host these benign birds.
PowerPoint Presentation of our Animal Odyssey
How to Create a Great PowerPoint Presentation
Making presentations in PowerPoint is satisfying, moreover, it's easy to get started. The PowerPoint program is intuitive to learn and easy to create your own PPT slides and build them into a slide show.
If you have Microsoft Office you may find that you already have PowerPoint along with Word and Excel.
One way to begin is simply to open any example presentation. Just download one of our free PPT files and open it with PowerPoint. As you examine the slides, so it will become obvious how to add pictures and titles, if you do get stuck, ask the wonderful built-in 'Help'. To
make a great slide show requires these skills;
Imagination - Think of an idea, build a themed slide set
Artistic - An eye for a good picture
Wordsmith - Choose a catchy title for each slide
Humour - Your viewers will appreciate a funny PowerPoint Presentation
PowerPoint mechanics - Actually, this is the easiest skill of them all, the program is so intuitive.
Good luck with creating your great PowerPoint Presentation