Here is Will and Guy's selection of funny ice scenes, and interesting vistas.
Amusing Ice Scene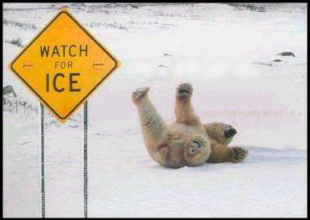 Ice Sculpture of Horse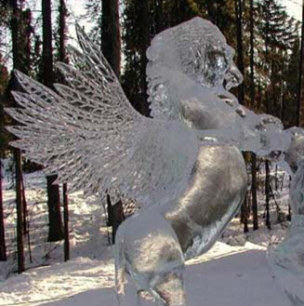 This ice horse is from the World Ice Art Championships in Fairbanks, Alaska.
Lighthouse Coated In Ice on Lake Erie

High winds and sub-zero temperatures have caused crashing waves to turn the Cleveland Harbour West Pierhead Lighthouse into a larger than life ice sculpture.
Niagara Fall Freeze 1911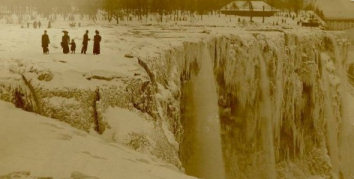 Situated on the America / Canada border, the Niagara Falls often get snow, but it's extremely rare for it to be cold enough for the falls to freeze. Sadly the phenomenon is never likely to happen again, partly because of global warming and partly due to man-made dam to control the flow. To be accurate, it was the American falls that froze and not the larger Horseshoe falls, also at Niagara.
Nevertheless, we are impressed by these frozen snow pictures with their giant icicles.
Click on the picture to see an enlargement of the snow scene. Incidentally the Niagara is an American Indian word meaning 'Strait'.
Icy Boat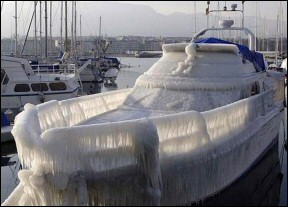 Two Idiotic Reactions to Freezing Weather: [Don't try these at home]
1) This is a true story about John Porter, from New York State, USA, whose pipes in his home froze one winter. Anxious to unfreeze them, Mr Porter backed his car up to an open window so that the exhaust would warm up the house.
A little while later and Porter, his wife and their three children had to be rushed to hospital suffering from carbon monoxide poisoning.
2) George Gibbs, 23, suffered second and third-degree burns on his head in Columbus, Ohio one freezing cold winter. Unable to start his car, he diagnosed the problem as a frozen fuel line which he thought he could correct by running warm petrol through it. He then tried to heat a two-gallon can of petrol on his gas stove in the kitchen.
Not So Much Christmas Ice Scenes - More New Year Chinese Ice Festival

The 27th Harbin International Ice and Snow Festival begins on Jan 5th, 2011. A worker shapes a snow sculpture prior to the Harbin
International Ice and Snow Festival in Harbin, Heilongjiang province.
Can you see a man in this picture? - It tells you the scale.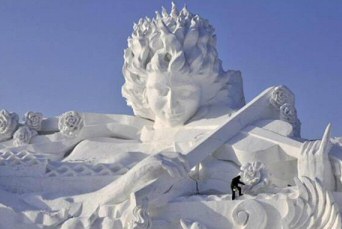 A worker installs lights on a snow sculpture prior to the Harbin International Ice and Snow Festival in Harbin, Northeast China's Heilongjiang province.
Ice Mobiles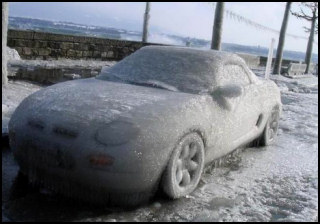 Question. How do Snowman travel around?
Answer. By riding an icicle.
Pictures of Ice Balls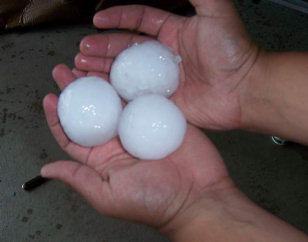 Where Did These Ice-balls Come From?
We know a farmer who grows snowballs just outside Tinseltown, Vancouver, Canada.
They are a difficult crop to grow and amazingly, the snow balls are ready for harvesting every year on April the first. The farmer is working on a variety of snow balls that he can grow in December so that they are ready for Christmas, unfortunately he cannot get the fairies to plant them at the right time, would you believe they are complaining that Christmas time is too cold to work.
Ice Scene of the Crime!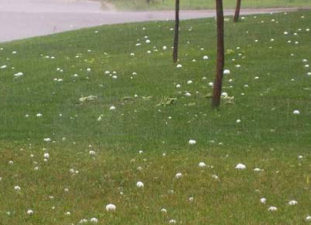 Facts and Trivia About Ice and Snow

Did you know that snowflakes are made up of ice crystals. This is a close up photograph (below) of a snowflake forming out of ice crystals and was taken by JJ Schad.
Every snowflake has its own unique shape and is different than all other snowflakes.
Billions of snowflakes fall during one short snowstorm.
The average snowflake falls at a speed of 3.1 miles per hour. [5kph]
It is a blizzard when you can't see for ¼ mile; the winds are always 35 miles an hour or more, and the storm must last at least 3 hours to be classed as a blizzard. If any of these conditions are less, it is only a snowstorm.
The largest snowflakes ever recorded fell in the state of Montana in the United States of America. The snowflakes were 15 inches in diameter.
Icelandic Family Travel by Ice Flow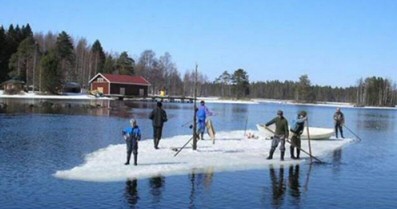 A Backdrop of the Partially Frozen Multnomah Falls, near Bridal Veil, Oregon, USA.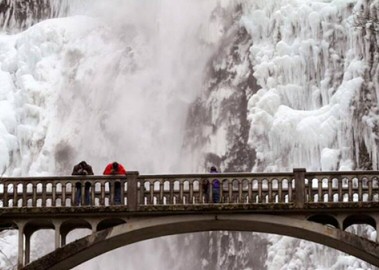 A Frozen Waterfall in Huangshan City, Anhui Province, China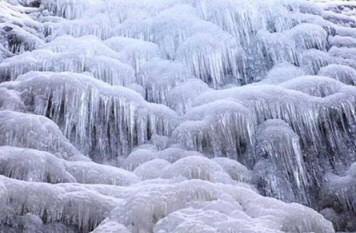 Lights Reflect in the Ice Covering a Tree on the Grounds of the Indiana War Memorial in Indianapolis, USA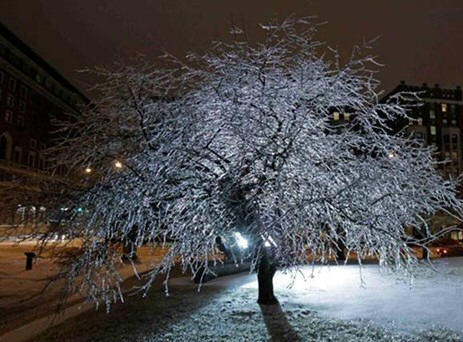 Footnote: Please send us your funny ice scene.