Here is a video to get you in the Christmas mood. The short clip has all the festive ingredients, snow, snowballs, that
carefree Christmas feeling. After the horses have finished their exertions, I can imaging them hanging up their Christmas stockings.
Funny Horses Snowball Fight
Here below, is a funny snowball video clip which shows a clever mixture of animation and film.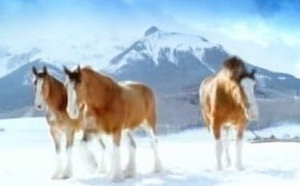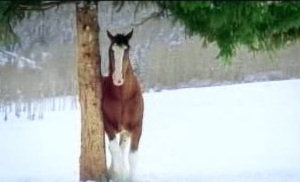 Butter would not melt in the horses mouth, but look at that hoof back-heeling a snowball.
N.B. With some browsers you need to click twice on the Play arrow

to start the video.
Nuns Indulge In Snowball Fight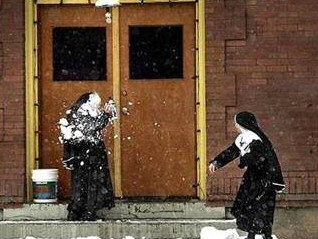 Gotcha!
Hell Freezes

Funny icicle picture take at Hell in Michigan (55 Miles west of Detroit).
What's the difference between an iceberg and a clothes brush?
One crushes boats and the other brushes coats!
Where Did These Snowballs or Ice-balls Come From?
We know a farmer who grows snowballs just outside Tinseltown, Vancouver, Canada. They are a difficult crop to grow and amazingly, the snow balls are ready for harvesting every year on April the first. The farmer is working on a variety of snow balls that he can grow in December so that they are ready for Christmas, unfortunately he cannot get the fairies to plant them at the right time, would you believe they are complaining that Christmas time is too cold to work.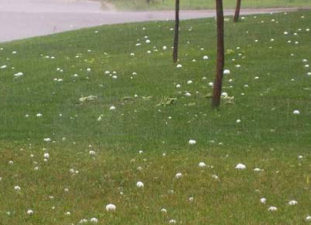 Snowman Joke:
What sort of ball doesn't bounce?
A snowball.
Jockey - In trouble with the Stewards
Riding the favourite at Cheltenham, a jockey was well ahead of the field. Suddenly he was hit on the head by a turkey and a string of sausages.
He managed to keep control of his mount and pulled back into the lead, only to be struck by a box of Christmas crackers and a dozen mince pies as he went over the last fence.
With great skill he managed to steer the horse to the front of the field once more when, on the run in, he was struck on the head by a bottle of sherry and a Christmas pudding.
Thus distracted, he succeeded in coming only second. He immediately went to the stewards to complain that he had been
seriously hampered.
Pictures of Rare 'Snow Rollers'
Will and Guy can bring you this special report. On the evening of 31st March, 2009, Tim Tevebaugh was driving home from work east of Craigmont in the southern Idaho Panhandle. Across the rolling hay fields, Tim saw a very unusual phenomenon. The snow rollers that he took pictures of are extremely rare because of the unique combination of snow, wind, temperature and moisture needed to create them. They form with light but sticky snow and strong (but not too strong) winds. These snow rollers formed during the day as they weren't present in the morning on Tim's drive to work.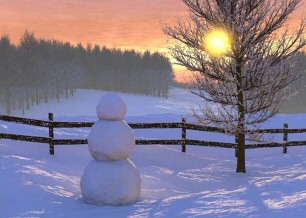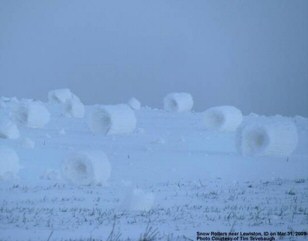 Snow rollers are a curious meteorological phenomenon where cylindrical snowballs form as a gentle wind blows the snow once it's settled on the ground. The result is the snow forms a ball and increase in diameter as it collects snow. It's as though nature mimics the way children make snowmen. However these snow rollers look more like logs than snowman, and unusually, a snow roller may be hollow in the middle. To get an idea of the scale, snow rollers can be as small as a tennis ball, or as large as an oil drum. However, they are mostly about 8 to 15 inches in diameter.
Funny Snowman Pictures

Baby Snowball - From the Cradle ...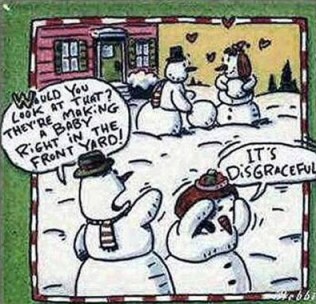 Footnote: If you have any pictures of snowball fights please send them to us.