This video clip reminds Will and Guy of a quote by Broderick Crawford in a 1960's T.V. programme called Highway Patrol. 'It takes 20,000 bolts to make a car, but only one nut to spread it all over the road'.
Here is a Citroen Saxo on a rally stage
We think this car is the 200 bhp s1600 model of the Citroen Saxo.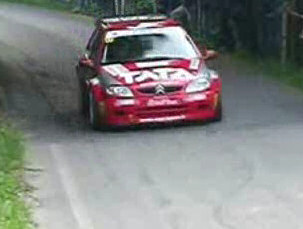 Car turns into a hairpin bend
The person on the near side looks as if he is reading, thus we suspect he's the navigator and it's a left hand drive car. We were wondering if the video was taken in Italy - possibly during the famous Mille Miglia rally?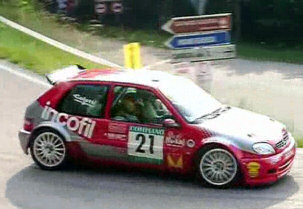 Rear steering
According to Nigel, our car expert, rear steering is not standard on the Citroen Saxo. Check out the video and see if Nigel is right, or if the car has had a modification.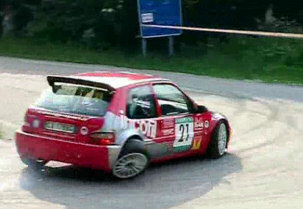 N.B. With some browsers you need to click twice on the Play arrow

to start the video. N.B. Help for Mozilla browsers