This page is a mini sitemap for Will and Guy's New Year Humour. Enjoy our jokes, riddles and funny New Year pictures.
New Year Humour - Topics
New Year Jokes
New Year - Key Questions
New Year Resolutions - Diet Diary
New Year - Traditions
Welsh New Year - Mari Lwyd
Happy New Year in 50 Different Languages
World-wide New Year
Customs
Lunar New Year
Chinese New Year 2015 February 19th in
A Bad Dream?
Jemima was taking an afternoon nap on New Year's Eve before the festivities. After she woke up, she confided to Max, her husband, 'I just dreamed that you gave me a diamond ring for a New Year's
present. What do you think it all means?'
'Aha, you'll know tonight,' answered Max smiling broadly.
At midnight , as the New Year was chiming, Max approached Jemima and handed her
small package. Delighted and excited she opened it quickly. There in her hand rested a book entitled: 'The meaning of dreams'.
New Year's Day Party - That Never Was?
As in many homes on New Year's Day, Janet and Jim, a happily married couple, faced the annual conflict of which was more important: the football match on television, or the lunch itself.
Hoping to keep the peace Jim ate lunch with the rest of the family, and even lingered for some pleasant after-lunch chat before retiring to the lounge to turn on the television.
Some minutes
later, Janet looked in to see how he was and graciously even bought a cold beer for Jim. She smiled, kissed him on the cheek and asked what the score was. Jim told her it was half time and that the
score was still 0-0.
'See?' Janet said happily, 'You didn't miss a thing.'
See more New Year jokes
Introduction to the Mari Lwyd Tradition
The custom of the Mari Lwyd
(Grey Mare) is unique to Wales.
What happened on or around New Year's Eve was this, a group of friends would dress up in costume with the star attraction being a real horse's head. What distinguishes the Mari Lwyd celebrations from other types of New Year
merriment is that the revellers challenge house-holders to a singing contest in Welsh. In a nutshell the Mari Lwyd tradition is wassail singing par excellence, with mummer animal head costumes,
coupled with trick-or-treat menace. See more about the Mari Lwyd
Maeshowe Orkney Isles (Scotland) Cairn built 5,500 years ago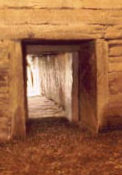 At the winter solstice, the sun is so low in the Orkney islands that it's rays light up the back wall of the cairn. This only happens once a year on the shortest day - weather permitting.
It's fascinating to think how our ancestors not only calculated what would happen, but had the time and patience to construct the aperture.
New Year - Key Questions
How to tell that you have entered a new year:
You pull up in your own driveway and use your cell phone to see if anyone is home.
The concept of using real money instead of credit or debit to make a purchase is foreign
to you.
Your daughter just bought a CD of all the records your college roommate used to
play.
Ode To The New Year
'Twas the month after Christmas, and all through the house Nothing would fit me, not even a blouse.
The
cookies I'd nibbled, the eggnog I'd taste At the holiday parties had gone to my waist.
When I got on the scales there arose such a number!
When I walked to the store (less a walk than a lumber).
I'd
remember the marvellous meals I'd prepared; The gravies and sauces and beef nicely rared,
The wine and the rum balls, the bread and the cheese And the way I'd never said, 'No thank you, please.'
As I
dressed myself in my husband's old shirt And prepared once again to do battle with dirt - I said to myself, as I only can 'You can't spend a winter disguised as a man!'
So - away with the last of the
sour cream dip, Get rid of the fruit cake, every cracker and chip
Every last bit of food that I like must be banished 'Till all the additional ounces have vanished.
I won't have a cookie - not even a lick.
I'll want only to chew on a long celery stick.
I won't have hot biscuits, or corn bread, or pie, I'll munch on a carrot and quietly cry.
I'm hungry, I'm lonesome, and life is a bore But isn't that what
January is for?
Unable to giggle, no longer a riot.
Happy New Year to all and to all a good diet!
Top 10 New Year's Resolutions
Spend more time with the family.
Take more exercise - Get fit.
Lose (loose!) weight.
Give up smoking (again).
Get out of dept.
Learn a new skill, take up a new hobby.
Put something into the community -help others.
Get organized. Else buy shares in diary, or companies selling
electronic planners!
Become more security conscious.
Give up drinking, at least for the first week of January!
Footnote:
Please write to Will and Guy if you have any examples of funny New Year pictures or jokes
See more New Year jokes and funny pictures:
• New Year
• New Year Jokes
• Traditions
• Funny New
Year Resolutions
• Key Questions
• Chinese
New Year Jokes
• Chinese
New Year Stories •
New Year quotes
• Mari Lwyd
• Happy New Year different languages
•
Chinese New Year Masks • World-wide New Year
customs