Fish is like no other animal when it comes to humour. You only have
to mention the word fishy and the brain thinks, 'here comes a joke'
.
1) What
Do You Do in Your Spare Time?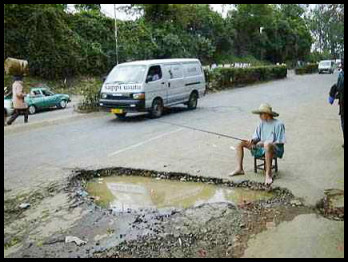 2) A Fish Tale
Name three fish beginning and ending in the letter 'k'
Killer shark
Kwik-save frozen Haddock
Kilmarnock
[Kilmarnock is a plaice in Scotland!]
Guy
says: The above is one of those jokes that makes you cringe, but you cannot get it out of your mind. Kindly sent in by Martin Williams and his grandson.
3) The Ones that Got Away
After a Tuesday fishing on the River Test, near Southampton in Southern England, Trevor is walking from the pier carrying two brown trout in a bucket.
He is approached by a Water Conservation Officer
who asks him for his fishing license.
Trevor replies to the environmentalist, 'I was not fishing and I did not catch these brown trout, they are my pets. Every day I come down to the water and put these fish
into the water and take them for a walk to the end of the pier and back. When I'm ready to go I whistle and they jump back into the bucket and we go home.
The officer, obviously, does not believe him and he
reminds Trevor that it is illegal to fish without a license. The fisherman turns to the warden and says, 'If you don't
believe me then watch, 'and he throws the trout back into the water.
The warden says, 'Now whistle to your fish and show me that they will jump out of the water and into the bucket.'
The fisherman turns to the officer and says, 'What fish?'
4) Learning to Fish
Mrs Baker wanted to go ice fishing. She had read
several books on the subject, and finally, after getting all the necessary equipment together, she made her way out onto the ice.
After positioning her comfy stool, she started to make a circular cut in the
ice.
Frighteningly, from up above, a voice boomed, 'There are no fish under the ice.'
Startled, Mrs Baker moved farther down the ice, poured herself a large coffee, and began to cut yet another hole.
Again, from the heavens, the voice bellowed, 'There are no fish under the ice.'
Mrs Baker, now became very concerned so she moved way down to the opposite end of the ice, set up her stool, and began again to
cut her ice-hole.
The voice rang out once more, 'There are no fish under the ice.'
Mrs Baker, stopped, looked upwards and said, 'Is that you, Lord?'
The voice replied, 'No, this is the Ice-Rink Manager.'
5) Fishy Tale?
Give a man a fish, and he'll eat for a day. Give a fish a man, and he'll eat for
weeks!
Toshihiro Kawabata
Footnote:
Please send us your fishy tales.
See more funny fishy pictures, clean jokes, hunting tales and stories
•
Fish for ticket •
Funny fish pictures •
Fishy stories •
Bill Dance fishing video •
Catfish •
Home
•
Hunting & fishing jokes •
Hunting & shooting •
Shooting self •
See more animals •
Funny stones
•
Funny farmer stories •
Jackson jokes •
Countryside jokes •
Hiking jokes •
Skimming stones