Amusing pictures and funny stories about brides and their weddings.
A New
Meanings To: 'Take the Plunge'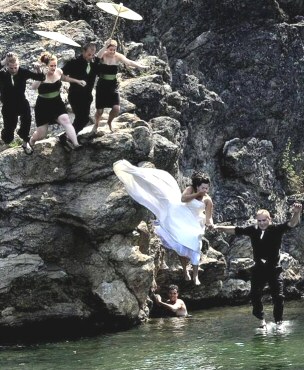 Amateur Rock Climbers' Wedding
It's not every bride who wears huge boots beneath her wedding dress say
Will and Guy. However, that's what Hana donned along with her delicate pink
gown. Meanwhile, her husband-to-be swapped his usual climbing gear in favour
of a smart black suit and pink bow tie.
Rather than hold the ceremony in a church the couple swapped vows while
perched on a tall, sandstone rock in Mseno in the Czech Republic. While the
official conducting the service stayed on firmer ground, the bride, groom
and bridesmaid nimbly leapt from one rock to another.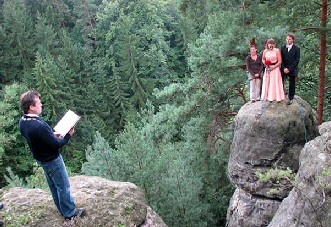 Bride Wears Dress Made of Wool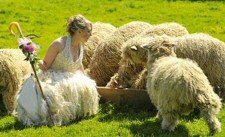 Shepherdess Louise Fairburn loves her sheep - so got married in a woollen
wedding dress made entirely from shearing some of her own flock.
Louise also carried a Bo-beep style crook instead of a bouquet, guests
were given chocolate sheep-shaped favours and the ring bearer's cushion was
made from a fleece. Mrs Fairburn, amazed guests with the unique gown she
designed herself made with wool from one of her Lincoln Longwools called
'Olivia'. She extended the woolly theme to the rest of her big day with
groom Ian, 42, also wearing a woollen waistcoat made from one of the
couple's flock.
Photo: Raymonds
The Latest Way of Making
Wedding Vows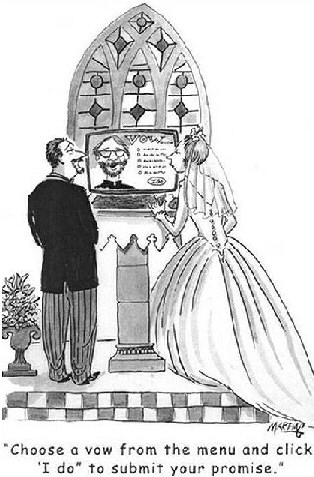 Choose a vow from the menu and then click 'I do' to submit your promise.
Bride Was a Picture
A Texan woman had a wedding cake made into a life-sized model of herself. Chidi Ogbuta, 35, had the 5ft cake made to renew her vows after 10 years of
marriage to husband Innocent.
The £3,000 cake took five weeks to make, needed two gallons of amaretto,
50lbs of sugar, 200 eggs and weighed a whopping 400lb.
It needed four men to lift it into the wedding venue.
The Most Popular Names for a Bride
Sarah
Laura
Emma
Claire
Rebecca
Helen
Rachel
Victoria
Kate
Jennifer
The list was compiled by John Lewis in England October 2010.
Not So Funny Bride Pictures and Cartoons
Mind You - It Could Be Worse!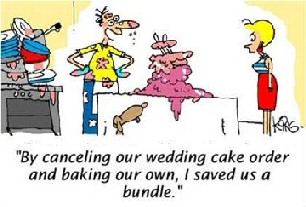 Hilarious, Side-Splitting Wedding Day Jokes

The Brooms
Two brooms were hanging in the cupboard and after a while they got to
know each other so well, they decided to get married.
One broom was, of course, the bride broom, the other the groom broom.
The bride broom looked very beautiful in her white dress.
The groom broom was handsome and suave in his tuxedo.
The wedding was lovely.
After the wedding, at the wedding dinner, the bride-broom leaned over and
said to the groom-broom,
'I think I am going to have a little broom.'
'Impossible,' said the groom broom.
'We haven't even swept together.'
More Funny Bride Pictures and Stories
The New Bride: A Clean, Funny and Silly Story
Sarah new young bride calls her mother in tears. She sobs, 'Richard
doesn't appreciate what I do for him.'
'Now, now,' her mother comforted,
'I am sure it was all just a misunderstanding.'
'No, mother, you don't
understand. I bought a frozen turkey roll and he yelled and screamed at me
about the price.'
'Well, the nerve of that lousy cheapskate,' says her mum. 'Those
turkey rolls are only a few dollars.'
'No, mother it wasn't the price of the turkey. It was the aeroplane
ticket.' "Aeroplane ticket...." What did you need an airplane ticket for?'
'Well mother, when I went to fix it, I looked at the directions on the
package and it said "Prepare from a frozen state," so I flew to Alaska.'
Funny Wedding Vows
During the wedding rehearsal, the groom, Alex, approached the minister
with an unusual offer.
'I'll give you £100 if you'll change the wedding
vows. When you get to me and the part where I'm to promise to "love, honour
and obey and forsake all others," I want you to just leave that part out.'
Alex gave the puzzled minister the cash and walked away satisfied.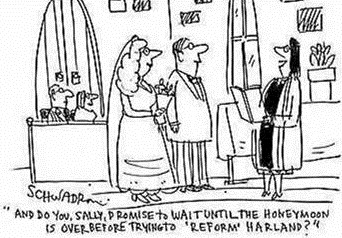 On the wedding day, when the minister came to the groom's vows, he looked
Alex in the eye and said, 'Will you promise to prostrate yourself before
her, obey her every command and wish, serve her breakfast in bed every
morning of your life and swear eternally before God and your lovely wife
that you will not ever even look at another woman, as long as you both shall
live?'
Alex exhaled, then gulped, looked around at the guests, and managed to
answer, 'I will.' Then he leaned toward the minister and hissed, 'I thought
we had a deal.'
The minister slipped the £100 into his hand and whispered back, 'She made
me a much better offer.'
The Newly Wed Couple's Disastrous Evening
After shopping for most of the day, a couple returns to find their car
has been stolen so they go to the police station to make a full report.
A detective drives them back to the parking lot to see if any evidence
can be found at the scene of the crime and to their amazement, the car has
been returned.
There is an envelope on the windshield with a note of apology and two
tickets to a music concert. The note reads, "I apologize for taking your
car, but my wife was having a baby and I had to hot-wire your ignition to
rush her to the hospital. Please forgive the inconvenience. Here are two
tickets for tonight's concert of Lady Gaga the singing star."
Their faith in humanity restored, the couple attend the concert and
return home late. They find their house has been robbed. Valuable goods have
been taken from throughout the house, from basement to attic. And, there is
a note on the door reading, "Well, you still have your car. I have to put my
newly born kid through college somehow, don't I?"
See our funny
wedding pictures »
Footnote:
Please send us your funny bride pictures.
Get your MC Wedding Joke book
only $19.99