Here are unusual cases of cat and dog co-operation.
Cat and Dog Sharing

A cat and a dog, which have recently given birth in China, are taking it in turns to look after the "kids" for each other. Both animals are owned by Gao Shunhong, of Fushun, Liaoning province, China, who adopted the dog two years ago and the cat one year ago.
'They get along together incredibly well for a cat and dog,' he told the Fushun Daily newspaper. Two weeks ago, the cat gave birth to a litter of two kittens, and three days later, the dog produced a litter of six puppies.
'Both mothers put their cubs together in the same box, and rotate in nursing them,' said Gao. 'When the dog is out, the cat will lie down
and nurse the kittens and puppies, and when the dog came back, the cat would go out, leaving the nursing job to the dog. If both mothers are in, the cubs can get quite mixed up, with the cat nursing the puppies, and the dog nursing the kittens. It's really odd - but a great picture of harmony.'
Cat or Dog - Which Are You Like?

There is much you can learn from dogs: loyalty, courage, and an unconditionally loving and positive attitude.
Cats teach you independence, dignity, mutual respect and being yourself, for instance.
Will and Guy believe there lots to learn from both these pets.
Chinese Dog Adopts Kittens

Here is a true cat and dog story where a bitch is nursing a litter of kittens which were orphaned when their mother died.
Their owner, Cai, of Jiangmen, China said he has been raising cats and dogs together for more than 10 years, and they all got along together well, however, this was the first time he had ever seen kittens being nursed by a dog.
The four kittens seemed happy and content with their new mother's milk, while the dog was tending to its adopted family with love and care. 'Several days ago, the kittens' mother died after eating a poisoned rat, leaving behind a litter of kittens without a source of milk,' Cai volunteered. 'The kittens' cries may have stirred the dog's maternal nature, since it too had recently given birth. It volunteered to take over and feed the kittens of its old friend.'
The dog's own puppies had been taken away by one of its grown-up offspring. Cai mused, 'That's perhaps another reason why the dog adopted the kittens. She lost all of her own children.'
Cat Outwits Dog
The usual story, the cat outmanoeuvre the dog.
Differences in Cat and Dog Diaries
Dog's Daily Diary:
8:00 am - Dog food! My favourite thing!
9:30 am - A car ride! My favourite thing!
9:40 am - A walk in the park! My favourite thing!
10:30 am - Got rubbed and petted! My favourite thing!
12:00 pm - Lunch! My favourite thing!
1:00 pm - Played in the yard! My favourite thing!
3:00 pm - Wagged my tail! My favourite thing!
5:00 pm - Milk bones! My favourite thing!
7:00 pm - Got to play ball! My favourite thing!
8:00 pm - Wow! Watched TV with the people! My favourite thing!
11:00 pm - Sleeping on the bed! My favourite thing!
Cat's Diary:
Day 683 of my captivity:
My captors continue to taunt me with bizarre little dangling objects. They dine lavishly on fresh meat while the other inmates and I are fed hash or some sort of dry nuggets.
Although I make my contempt for the rations perfectly clear, I nevertheless must eat something in order to keep up my strength.
The only thing that keeps me going is my dream of escape.
In an attempt to disgust them, I once again vomit on the floor. Today I decapitated a mouse and dropped its headless body at their feet. I had hoped this would strike fear into their hearts, since it clearly demonstrates what I am capable of. However, they merely made condescending comments about what a "good little hunter" I am. The audacity!
There was some sort of assembly of their accomplices tonight. I was placed in solitary confinement for the duration of the event. However, I could hear the noises and smell the food. I overheard that my confinement was due to the power of "allergies." I must learn what this means, and how to use it to my advantage.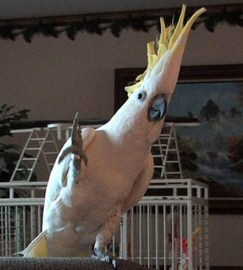 Today I was almost successful in an attempt to assassinate one of my tormentors by weaving around his feet as he was walking. I must try this again tomorrow - but at the top of the stairs.
I am convinced that the other prisoners here are flunkies and snitches.
The dog receives special privileges. He is regularly released - and seems to be more than willing to return. He is obviously retarded!
The bird has got to be an informant. I observe him communicating with the guards regularly. I am certain that he reports my every move. My captors have arranged protective custody for him in an elevated cell, so he is safe ...
for now!
Video of Cat and Dog Playing
Footnote: Please send us your cat and dog stories.