Whopper Burger Eating
Competition
Denny's
Beer Barrel Pub, in Clearfield, Pennsylvania,
already held the title by eating a 6lb burger; owners thought a 15-pound burger
eating competition would prove an even bigger attraction, reports the Pittsburgh Post-Gazette.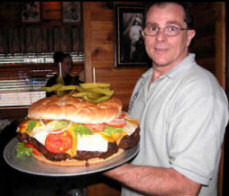 Diners who can finish the £25 [$44USD]
whopper burger in under
five hours win £200 [$350USD, a T-shirt and their name posted on the pub's
wall of fame. They also got the burger for free.'
Every restaurant needs a gimmick - ours is big burgers', said Dennis Liegey III, son
of the restaurant's
owner.
Visitors come from as far away as Australia and California just to see the 6-pounders and try
eating burgers this big. The new burger, dubbed the Beer Barrel Belly Buster, is as big around as
the inside of a car tyre. Each one comes with a cup and half of mayonnaise, mustard and ketchup, a head of lettuce, two onions, three tomatoes and 25 slices of cheese.
Denny's Beer Barrel Pub - Whopper Burger Eating Follow-up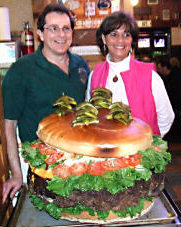 Mayor Patty Gilliland poses
with Denny Leigey, owner of Denny's Beer Barrel Pub, and the restaurant's record-breaking
whopper burger in Clearfield, Pennsylvania, USA.
The newest addition to the menu at Denny's Beer Barrel Pub is one meaty
monstrosity of a burger. The Beer Barrel Main Event Charity Burger weighs in at 123 pounds.[8st.11lbs] The sizable sandwich features an 80-pound beef patty, along with a pound each of lettuce, ketchup, relish,
mustard and mayonnaise, 160 slices of cheese, up to five onions and 12 tomatoes records the Houston Chronicle.
It's topped with a couple of pounds of banana peppers and 33 pickles, then sandwiched into a
30-pound bun. There's a large price tag, too for eating a burger like this: $379.[Almost £200]
The Clearfield pub unveiled the menu item over the weekend. Restaurant owner Denny Leigey said he plans to submit paperwork on his colossal
culinary creation to the Guinness Book of World Records. The burger's cooks maintain it shatters the world record of 105 pounds shared by two restaurants in New Jersey and Thailand. Leigey said he didn't know
how many calories were stuffed into his latest gigantic entrée.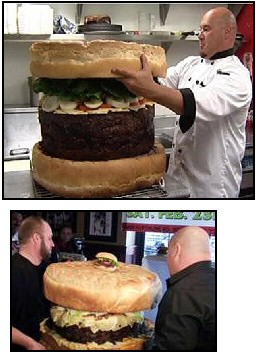 Whopper Burger
World Record September 2009
This vast, terrifying meat pile is officially the world's biggest burger,
as certified by the Guinness Book of World Records - weighing in at more
than 13st.
The stomach-busting whopper burger sells for a wallet-busting $499 USD
[£300 GBP] at Mallie's Sports Grill and Bar in Southgate, Michigan, USA.
Restaurant owner Steve Mallie said it took eight hours to bake a bun big
enough to hold the 185lb [84kg] burger.
See right how it dwarfs the previous whopper burger record holder.
Previous Whopper Burger Record February 2008:
Denny's Beer Barrel Pub in Pennsylvania may have lost its claim to be the
makers of the largest burger if Steve Mallie of Mallie's Sports Bar and Grill in
Detroit, Michigan, USA, has any say in the matter.
Steve's burger weighs in at a hefty 134lb for the burger, slapped inside a
50lb bun, and needs to be ordered 24 hours in advance and eating the burger will cost $350
[£176 in the UK].
The mighty meal was dubbed 'The Absolutely Ridiculous Burger'. Will and Guy wonder how far this whopper burger eating competition will go.
Another Kind of Whopper!
Burger King's
Left-handed Whopper:
In 1998 Burger
King published a full page advertisement in USA Today announcing a new item to their menu: a 'Left-Handed Whopper' specially designed for the 32 million left-handed Americans. According to
the advertisement, the new whopper included the same ingredients as the original Whopper (lettuce, tomato, hamburger patty, etc.), but all the condiments were rotated 180 degrees for the benefit of their
left-handed customers.
The following day Burger King issued a follow-up release revealing that although the Left-Handed Whopper was a hoax, thousands of customers had gone into restaurants to request the
new sandwich. Simultaneously, according to the press release, 'many others requested their own 'right handed'
version.'
Trivia about McDonald's
McDonald's sell more than 1/3 of all the French fries sold in restaurants in the U.S. each year.
McDonald's restaurants will buy 54,000,000 pounds of fresh apples this year. Two years ago, McDonald's
purchased 0 pounds of apples. This is attributed to the shift to more healthy menu options.
Nearly one in eight workers in the US has at some time been employed by McDonald's.
In India the 'Big Mac'
is changed into the 'Maharaja Mac', a mutton burger in deference to religious injunctions against the consumption of beef and pork.
Sälen in Sweden opened the first Ski-through McDonald's in the world.
More than 50,000 students from all over the world have graduated with 'Bachelor of Hamburgerology' degrees from McDonald's 'Hamburger University.'
McDonald's three kosher restaurants in Israel are the
only McDonald's in the world where you cannot buy a cheeseburger.
Since its founding in 1955, McDonald's has sold well over 100 billion hamburgers.
The northernmost McDonald's restaurant is located on
the Arctic Circle in Rovaniemi, Finland, while the southernmost franchise is located in Invercargill, New Zealand. Also, the world's easternmost McDonald's is located in New Zealand, in the city of Gisborne;
the westernmost restaurant is in Western Samoa, as they are the closest to either side of the International date line.
Naturally some of the numbers quoted above are out-of-date, however they do give the scale of the McDonald Operation.
Did You Know?
McDonald's Sponsored Iwo Jima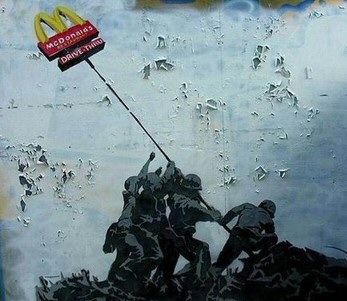 Real Life at Drive Thru
Burger Bars
6 of one half a dozen of the other
Yvette arrived at the whopper burger bar and read on the menu that she could order 6,
9 or 12 chicken nuggets. She promptly and politely requested half a dozen
nuggets.
'We don't do half a dozen nuggets,' responded the teenager at the counter rather
tersely.
'You don't?' Yvette inquired quizzically.
'We only have six, nine, or twelve,' came the reply from the youngster.
'Right,' said Yvette with a broad smile, 'Let me get this straight. I can't
order half a dozen nuggets, but I can order six?'
'Correct,' was the bland reply.
Yvette shook her head rather sadly and ordered six nuggets.

Meanwhile, Back to McDonald's - This Time It's Mexico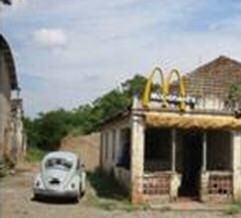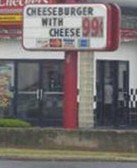 Cheeseburger?
Will went into a burger bar and ordered a cheeseburger to take away and he
was asked by the counter staff, 'Do you want cheese with that?'
You couldn't invent it, Will and Guy say.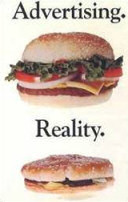 Fried or Frazzled?
When driving home from Plymouth to Cheltenham, Jerry had an enormous desire
to eat some chips. He pulled his car over into a 'drive thru' burger place with
an internationally recognisable name and logo.
Jerry's conversation then went as follows:
Jerry: 'I'd like a large fries please.'
Counter staff: 'Would you like fries with that?'
Jerry was somewhat confused with this response so he told the staff no. Jerry
was then told to pull ahead which he did and then the staff member asked Jerry
why he was still waiting there.
Counter staff: 'I thought you didn't want fries.'
Jerry: 'No, I ordered a large fries.'
Counter staff: 'OK. Do you want fries with that?'
Exhausted by now with the circulatory nature of the conversation Jerry decided
that since saying no the last time had got him nowhere he thought he'd better
say yes this time. When the food arrived Jerry was given two large fries.
Throwaway Burger
Throwing a cheeseburger at a doctor because he is driving too slowly is not an
offence say the Czech police after Dr Hannes Kohl complained about a lorry
driver. Dr Kohl, who was hit on the head by the burger thrown from the truck,
was outraged by what he considered an unprovoked attack.
'I complained to the Czech police but they told me it was not an offence to
throw a burger at someone, and my insurance company also refused to recompense
me even though there was melted cheese and ketchup on my suit and all over my
car,' the Austrian doctor complained bitterly.
Mobile McDonald's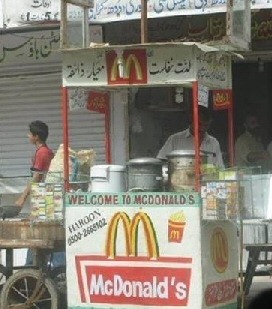 Could this McDonald's on wheels be in Panaji, Goa, India? Or is it
in Karachi Pakistan?
McDonald's Takeaway Ireland?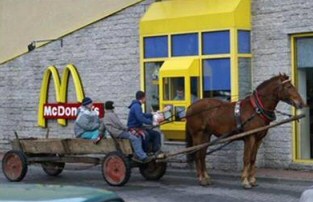 Burgers Plus Creates
Wedding Bliss For Couple

'Aren't People Funny?' say Will and Guy.
Tom and Kerry Watts from Poringland, Norfolk, England, held their wedding
reception at Zaks American Restaurant and so it was totally appropriate, say
Will and Guy, that their wedding cake should be a giant cheeseburger made
from a secret Zaks recipe.
The mammoth 19kg [42lb] cheeseburger, which was nearly half a metre wide
and weighed the equivalent of about 100 quarter-pounders, was the highlight
of the couple's wedding reception after they got married at nearby All
Saints Church. It was garnished with 12 iceberg lettuces, 12 onions, 30
tomatoes, 48 slices of dill pickle, and 2kg of cheese, along with a litre of
ketchup and a litre of mayonnaise. The finished burger had to be cooked for
three hours. Three chefs were needed to lift it out of the oven before it
could be put into the specially made sesame seeded bun, from Merv's Hot
Bread Kitchen, in Wymondham. The bun weighed 5kg and staff had to cut it in
half using a saw.
It took butcher John Baxter, from Burgers Plus, in Norwich, a whole day
to create and shape the giant beef patty, weighing 400oz when uncooked. He
said, 'It was the biggest burger I have ever made. It looked like a big car
wheel! It was two-and-a-half inches thick and I had to have a special
stainless steel tin made for it.'
Mr Watts, a 36-year-old fire-fighter,
laughed, 'Not only did I get to marry the woman of my dreams but I also got
to have the burger of my dreams in the same day. I could not believe the
size of the burger. It was just incredible. Everything has just been
amazing. It was the best day ever.
Guy and Will are hopeful that they will discover the cost of creating
such a monstrosity.
Hot Dog Champion
Joey Chestnut, from the USA has been named world hot dog eating champion.
He broke his own world record by swallowing 66 hot dogs in 12 minutes [one every 10.9 seconds]
in Coney Island, Brooklyn, New York reports The Guardian newspaper.
2009 Update: Joey Chestnut successfully defended his world
hot dog championship on July 4th, 2009. He managed to neck 68, thus breaking
his own world record.
2011 update: Joey Chestnut
wins fifth consecutive July Fourth hot dog contest
Joey 'Jaws' Chestnut won his fifth consecutive July Fourth hot dog eating
contest held at Coney Island in New York. This year Joey scoffed 62
wieners in the 10 minute competition.
Dual Champion
Not content with being the hot dog eating champion, Joey Chestnut is also the burger king. Chestnut finished
off 103 hamburgers in just eight minutes to set a new record and win the 'Krystal Square Off IV' World Hamburger Eating Championship.
The 23-year-old from San Jose, California, surpassed the previous
world record of 97 'Krystals' held by Japan's Takeru Kobayashi, set at last year's Krystal Square Off.
Hot Dog Bike
Will and Guy suspect that Joey may have ridden home on this bike,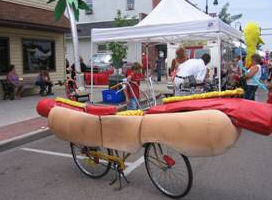 Or perhaps on this motorised hamburger trike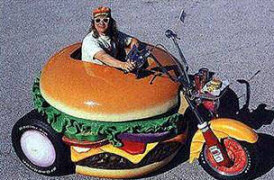 After The
Burger - Will and Guy Suggest Dessert

How about a 1,224-pound [555-kilogram] triple vanilla cupcake with pink
frosting? It is, in fact, Will and Guy can confirm, the largest
cupcake ever made in the world. This massive sweetener was unveiled
recently event in Michigan, USA.
A Guinness World Records adjudicator was on hand to certify the cupcake's
girth. It was more than eight times the size of the previous record holder.
The colossal cupcake took 12 hours to bake and included 800 eggs and 200lb
[90 kg)] each of sugar and flour.
A breast cancer organization benefitted from the sale of slices bought by
the public.
In case you were wondering about eating the whole cupcake; the number of
calories you would consume is estimated at about 2 million.
Where Are We?
A British couple, Sonia and Ray, from Manchester were driving across Wisconsin one holiday and were nearing a town with the name of Oconomowoc. They discussed such a strange and funny name and decided that
the sign was probably written by someone playing a joke.
Sonia and Ray continued their conversation as they drove into town about the pronunciation of such an unusual name. As they were hungry, they
pulled into a place to get something to eat. At the counter, Ray said to the waitress, 'My wife, Sonia and I can't seem to be able to figure out the name of this place. Will you tell me where we are and say it
very slowly so that I can understand.'
The waitress looked at him, somewhat perplexed and said, 'Buuurrrgerrr Kiiiinnnng.'
Chicken Wing Champion
Sonya Thomas wins Buffalo wing eating
contest. A
7.5 stone woman ate 173 chicken wings in 12 minutes to win a US competitive eating contest. Sonya Thomas munched her way past dozens of beefy rivals at the National Buffalo Wing Festival.
'That's 2.35kgs of
wings,' said Brian Kahle, spokesman for the annual event in Buffalo, New York. Ms Thomas, 40, originally from South Korea who now lives in Alexandria, Virginia, also held the festival's previous record of 161
wings in 12 minutes, set in 2004.
'She's the crowd favourite,' Mr Kahle said. 'It was 12 huge guys and her.' Ms Thomas has set numerous records in competitive eating events, including 37 hot dogs in 12
minutes, 35 bratwursts in 10 minutes, 11-pounds of cheesecake in nine minutes and 44 lobsters in 12 minutes. She is ranked number five by the International Federation of Competitive Eating.
New world ice cream eating record
A cookery student has eaten his way to victory at the first ever World Ice Cream Eating Championship in America. Ice cream competitors had to get through as many tubs as possible in eight minutes.
Patrick Bertoletti from Chicago was crowned the winner. He wolfed down 8.0 litres (1.75gallons) to become the ice cream champion.
The event took place at a restaurant and 13 fanatics took part. Second place
went to 'Crazy Legs'
Conti who ate 6.8 litres (1.5 gallons). Conti is apparently a familiar face in the field of competitive eating, having won a hot dog eating competition in Florida.
See also Tesco
horse burgers »
Footnote
Please send us your news of eating contests.