The Vale of Glamorgan council is pioneering a new road sign, which is designed to stop lorry drivers with Satellite Navigation from getting stuck in its country lanes.
The new Sat Nav road sign
features a lorry with a red line
through it, this is a familiar no-entry convention. What's new is the is a picture of a satellite hovering above the vehicle. It should not take long for drivers to understand the sign, especially
as lorry drivers have the world's best grape-vine for traffic news.
St. Hilary in the Vale of Glamorgan, South Wales, will be the first village to benefit from the trial of the Sat Nav (Satellite
Navigation) road sign. The story within the
story is that Guy lived in this village of St. Hilary, Glamorgan, Wales, UK for 20 years.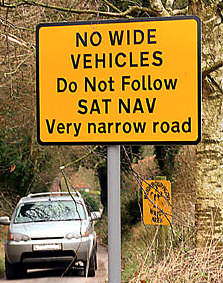 Residents in the area called for more signs, saying it was the third time that roads leading to St Hilary had been blocked in recent months.
Although marked on the satellite maps as roads, the routes are little more than lanes. A related problem is that these lanes meander through steep sided cuttings, and a lorry cannot force its way
through. More foolishness is that the Sat Nav tries to direct 32 ton lorries through narrow roads with 90 degree bends flanked with stone walls.
Bill Clay, of Coed Hills farm, St. Hilary said, 'I feel very sorry for them because they just don't understand the signs.'
Hopefully, publicity such as this will enlighten the lorry drivers. Bill added, 'There was a Spanish chap who had driven from Poland who was stuck in the lane
near our home for over two hours once.'
The signs will be monitored and maintained for a year, and there a plans to erect more Sat Nav signs in other locations in Wales (United Kingdom not New South Wales
Australia).
Will and Guy wonder why the Sat Nav companies don't re-program their systems, and advise drivers of long, wide and heavy vehicles to take the perfectly good alternative route. If the
Welsh Assembly know about the problem, why cannot they liaise with suppliers and ask the programmers to change a few lines of code?
Example: if vehicle width is greater than 2 Metres then don't go through
St. Hilary. Or if road has Sat Nav sign then take route B.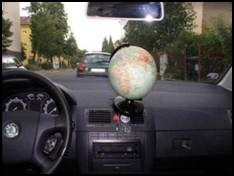 Ever the joker - here is Will's international Sat Nav. Latest I heard
he was in the South American jungle.
Another sat nav blunder is pointing hundreds of drivers to a bridge that has never existed. According to the dashboard devices, it is possible to drive down a country lane to cross the River Severn at
Hampton Loade, Shropshire. At the end of the road, however, there was only a ferry for foot passengers - as a sign at the top of the lane has warned drivers for years.
The foot passenger ferry has been
closed since May 2007.
Drivers
visiting Luckington, Wiltshire, have been getting that
sinking feeling after trying to find a detour around a road closure in Sherston. Satellite navigation systems, together with misleading signs have been blamed after dozens of motorists tried to drive through a ford at Brookend in Luckington.
Several lorries and vans have got stuck in up to three feet of water. Enterprising farmers have been towing out stricken vehicles at £25 a time.
One local resident has been helping stranded
drivers to dry out. The lady said: 'The other day my husband came home and I had to explain why there was a van driver's trousers in our tumble dryer. He was sitting in his cab, shivering in his boxer
shorts.'
Fancy Pants or Smart Alec?
The motor manufacturer - SEAT, claimed its new SEAT Media Audio
Recognition Technology (SMART) was set to shake up the sat nav market. It
boasts of Automatic Regional Speech Equivalence [ARSE] software that adjusts
dialogue to the local dialect.
For example, a driver navigating his way through East London might be
treated to the following sound bite by the SMART system, 'Awright geezer,
it's straight on at these lights, innit?'
A lorry driver who was led off course by his sat nav got his HGV so
tightly wedged in a narrow country lane he had to spend three nights sleeping in his cab before being rescued.
Residents living near the scene in Ivybridge, near Plymouth, Devon, were astonished when the
LGV became wedged in the wooded lane last Friday evening. The Czech driver, who was in his forties and called Yuri, was on his way to pick up a consignment of TVs from a depot at nearby Lee Moor and was led up
the lane which runs between the A379 and the A38 by his sat nav.
Unfortunately Yuri who was driving a Kohlman and Hasek articulated lorry was unable to speak enough English to ask directions when he
suspected he was being led into difficulty.
Mat Auburn, 19, whose family live within yards of the scene said that there had been similar sat nav blunders in the past with delivery lorries - but nothing on
this scale. Mat said: 'What happened was he came up to one of the lanes leading off the A379.
'He said the sat nav told him to come up the lane and he actually stopped near a house to ask directions but
the woman couldn't understand him so he carried on along the lane,' he said.
'But you wouldn't drive any sort of lorry up there - it's got a 90 degree turn. 'The lorry was stopped in its tracks by an
overhead pipe but could not back up. 'When he tried to reverse the wheels just skidded - he just couldn't get any grip,' Mr Auburn said.
...(vidFL2)
It was a lucky coincidence that Yuri's truck had got stuck right
in front of the Auburn family house as mum Marina, is Croatian and could speak enough Croat and Slavic-based language to understand him.
Over the course of the two days Mrs Auburn and husband, Tim, a
university lecturer, hosted lorry driver, Yuri, for breakfast, lunch and dinner and struck up a friendship, which they plan to continue. However, Yuri, who has a wife and two children in the Czech Republic,
slept in his cab, as it had a bed.
'The nearest village is about a mile away and there were no B&Bs close,' Mat said. 'He slept in his cab. It had a bed in it so it made sense. 'We looked after him
for the rest of the time. He came in to eat.'
Mat said the Czech haulage company decided to wait until a weekday rather than attempting an expensive weekend rescue. Eventually a tractor was hired to
pull the lorry out of the lane, with the help of a tree surgeon, who made sure minimal damage was done to vegetation.
Mat added: 'The lorry was a nuisance while it was there because locals do use it a lot.
'The diversion put a few miles on people's journeys.'
Read on for a true, hilarious and funny story:
This tale is almost
impossible to believe but Will and Guy have been assured of its veracity.
Reported in the British Daily Telegraph newspaper we have discovered a lorry
driver who, after trying to drive from Turkey to Gibraltar using sat-nav,
finds himself some 1600 miles off course.
Necdet Bakimci was driving his 32-tonne lorry, carrying expensive cars,
from Turkey to Gibraltar when he fetched up, lost, in Skegness, England.
Apparently, there is a Gibraltar POINT in Skegness.
Eventually, Mr Bakimci arranged for his firm in Antakya, Turkey, to ship
the cars to the correct destination from Birmingham and he began his journey
home.
The blunder is one of a series that has prompted calls for drivers to use
more common sense and less technology when taking to the roads. We must say
that we agree with this sentiment entirely and we suggest that a modicum of
planning might have helped.
Will and Guy don't think we have heard the last of these Sat Nav problems, meanwhile check out our video.
I have a little Satnav
It sits there in my car
A Satnav is a
driver's friend
It tells you where you are
I have a little Satnav
I've had it all my life
It's better than the
normal ones
My Satnav is my wife!
It gives me full instructions
Especially how to drive
"It's thirty
miles an hour", it says
"You're doing thirty five"
It tells me when to stop and start
And when to use the brake
And
tells me that it's never ever
Safe to overtake
It tells me when a light is red
And when it goes to green
It seems
to know instinctively
Just when to intervene
It lists the vehicles just in front
And all those to the rear
And
taking this into account
It specifies my gear.
I'm sure no other driver
Has so helpful a device
For when we leave
and lock the car
It still gives its advice
It fills me up with counselling
Each journey's pretty fraught
So
why don't I exchange it
And get a quieter sort?
Ah well, you see, it cleans the house,
Makes sure I'm properly fed,
It washes all my shirts and things
And - keeps me warm in bed!
Despite all these advantages
And my tendency to scoff,
I do wish
that once in a while
I could turn the damned thing off!
Author Unknown
Please send us your funny Sat-Nav pictures