Will and Guy are building a collection of amusing, witty and droll names of
houses, flats and bungalows. Our only criterion is
that the name brings a smile to our faces.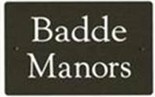 Folly in the Clouds
Strange Names for Public Houses
Funny Names of Shops
See More
Funny House Names
Will and Guy's Top Ten Funny House Names
Bogg View has been seen; it is, apparently opposite a public toilet
Costa Plenty can be viewed outside Beckenham, Kent, England
Esso View is opposite a petrol [gas] station in England
Rosa told us she saw a picturesque row of thatched cottages and the
one on the end was called 'The Last Straw'
Ersanmyne is a house name outside Ferndown, Dorset, England
Of course there are the old faithfuls: Dunroamin; Dunworkin;
Dunwhining; Dunin; Dunkerrin; all over the UK and Ireland
Hodge Podge Lodge was sent to Will by Fred from Glasgow
Badde Manors
Windy Heights was spotted in Somerset, England on a house at the top
of a hill
John and Maureen Franklin's home is named 'Moonraker' * because they
both originate from the county of Wiltshire, England
*The term Moonraker is used for Wiltshire people. It is thought to
indicate that they are a bit challenged when it comes to the intelligence
department. However all is not quite as it seems.
The term originated as a result of a raid by customs men on a Wiltshire
village. They suspected the locals of illegal distilling. The raid took
place at night and the local people had a tip-off that it was to take place.
They disposed of the illegal stills, associated equipment and booze in the
mill pond.
It was a still, moonlit night when the customs men raided the village,
and the equipment and all could be seen at the bottom of the pond through
the glassy surface. The locals fetched rakes and other farm implements and
pretended to be stupid by trying to rake the reflection of the moon off the
surface of the pond in order to disturb the surface so that the customs men
could not see what was hidden at the bottom.
Thus the name Moonraker was born. Wiltshiremen are not as stupid as their
reputation would have us believe!
Items that Missed the Top Ten Funny House Names
In Isleworth, London Will saw a house, near the sewage plant, called
'The House at Poo Corner'.
Llamedos has been spotted in Yorkshire, England
We suspect there are more, so if you see any amusing house names, please
send them in!
Folly in the Clouds - Windy House!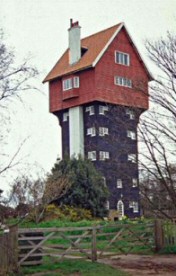 Who Could be Living in These Houses?
Here are the amusing names of people living in such houses.
Pearl Button - Threadneedle House
Rose Bush - Garden Cottage
Norman Knight - Castle Court
Jonah Wales - Sea View
See more amusing names.
House Buyers' Terms Explained
Going to take advantage of the slow late summer housing market to buy a
house? There are all kinds of terms that are used to describe real estate,
so be prepared! Before you go out, check this list of House Buyers' Terms
and what they really mean:
"Price recently reduced" (It used to be priced 'way, way too high.' It is
now merely priced 'way too high.')
"Recently updated" (We hung up a new calendar in the kitchen.)
"Hardwood floors" (We had to pull up the carpets because the previous
owner totally trashed them.)
"Floor-to-ceiling windows" (Ceiling is window height.)
"Den could be a third bedroom" (If you don't mind sleeping standing up,
that is.)
"Breathtaking views" (That is meant literally, taking into account all
the Dumpsters next door.)
"A gated community" (All the residents have bars on their windows.)
"Open floor plan" (We couldn't afford walls.)
"Convenient location near the interstate" (People driving by can see into
your shower.)
"Unique windows" (They're not made of the usual glass, but rather
plywood.)
"Great starter home" (It's a halfway house.)
"Recently landscaped" (The dog just dug a whole bunch of new holes in the
back yard.)
"Fun, active area" (The house backs up to the exercise yard of the local
jail.)
"Great investment home" (You can't actually live there yourself.)
"Custom paint" (The house was painted in 1970, back when that was the
custom.)
"Huge sun room" (There's a big hole in the roof.)
"Wonderful agricultural area!" (Many of your neighbors use their
basements to grow marijuana.)
"Peaceful neighborhood" (The truce between the gangs is still holding.)
"Lovely golf course location" (If you want to step out into the back
yard, you'd better wear a helmet.)
"Seller motivated" (He's had it with all the wild neighborhood parties
and drunk college students.)
"Beautiful wood molding" (The beautiful ceiling is molding, too.)
"Fountain in back yard" (The hose leaks.)
"Wonderful old tree" (It fell on the house.)
"New driveway!" (The only thing we can really tout about this house is a
patch of concrete.)
"Minutes away from shopping, schools, and parks" (139 minutes, to be
exact.)
"A home owner's dream come true!" (A nightmare is a dream.)
"Hurry, this won't last!" (The whole place is about ready to collapse.)
Strange
Names for Public Houses
Will and Guy have a collection of amusing pub signs. Here is are
our favourites.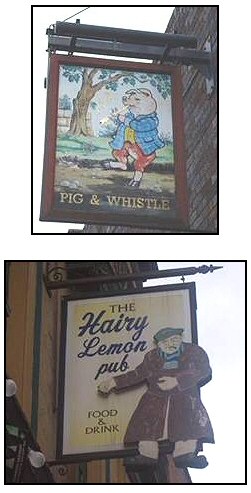 Bucket of Blood - Phillack, Cornwall
*The Fawcett Inn - Portsmouth, Hampshire
*The Ram Inn - Newark, Nottinghamshire
Moderation Inn - Reading, Berkshire
*The Pub with No Name - Priors Dean, Hampshire [known by locals as
The White Horse Inn]
The Vat and Fiddle - Nottingham
The Happy Medium - Chichester, West Sussex
The Hung Drawn And Quartered, London
*Hole in the Wall - Southsea, Hampshire; *Caernarvon, north Wales;
Little Wilbraham, Cambridgeshire; Waterloo, London; Lowside, Bowness
Windermere, Cumbria [Hole Int Wall]; and several other venues.
The Bleeding Wolf, Hale, Altrincham, Cheshire
Blooming Fuchsia, Ipswich, Suffolk
The Cow and Snuffers, Llandaff, Cardiff, Wales
Drunken Duck, Hawkshead, Cumbria
Mad Dog, Odell, Bedfordshire
The Quiet Woman - York [The sign being a woman carrying her own
severed head]
Nobody Inn - Doddiscombsleigh, Devon
* Will has sampled the beer in these pubs.
See more amusing pub names.
Funny Names of Shops
There's
a mobile snack caravan on Dartmoor, England named : 'The Hound of the Basket Meals'.
(The hound of the Baskerville is a popular local saga.)
Also, we hear rumours of a butchers called: 'The Meating Place'.
A driving school in the Merseyside area of England called 'L Passo'.
Chip n' Dales - Fish Restaurant in New Jersey
'A Pane in the Glass' is the amusing name of a glazier's in New York
State, USA
See our collection of
amusing shop names.
Footnote:
Please send us your funny
house names,
we particularly like items from far flung places.
See more humorous names:
•
Humorous names •
Funny Words •
Collective nouns •
Funny English words •
Neologism words
•
Funny children's names •
Really funny surnames •
Humorous shop names
• Home - Clean jokes
•
Funny pub names •
Funny house names •
Funny websites •
Toponymy •
Funny name and job