Golf is a day spent in a round of strenuous idleness. William
Wordsworth
Hold My Clubs
Will and Guy's Top 10
Golf Caddy Jokes
Ten Golfing
Trivia and Interesting Fun Facts
Golf One Liners
Ten True and Funny Golfing
Sayings
Hold My Clubs!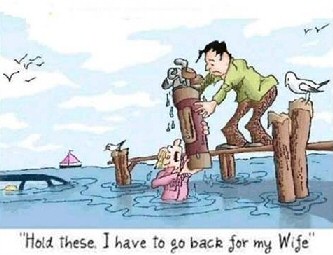 Will and Guy's Top 10
Golf Caddy Jokes
Golfer: Think I'm going to drown myself in the lake.
Caddy: Think you can keep your head down that long?

Golfer: I'd move heaven and earth to break 100 on this
course.
Caddy: Try heaven, you've already moved most of the earth.


Golfer: Do you think I can get there with a 5 iron?
Caddy: Eventually.
Golfer: You've got to be the worst caddy in the world.
Caddy: I don't think so sir. That would be too much of a coincidence.
Golfer: Please stop checking your watch all the time.
It's too much of a distraction.
Caddy: It's not a watch - it's a
compass.
Golfer: How do you like my game?
Caddy: Very good
sir, but personally, I prefer golf.
Golfer: Do you think it's a sin to play on Sunday?
Caddy: The way you play, sir, it's a sin on any day.
Golfer: This is the worst course I've ever played on.
Caddy: This isn't the golf course. We left that an hour ago.
Golfer: That can't be my ball, it's too old.
Caddy:
It's been a long time since we teed off, sir.
Golfer: Do you think my game is improving?
Caddy:
"Yes sir, you miss the ball much closer now.
Tip for Caddy?
It was a bitterly cold day on the Carnoustie golf course and Jimmy the caddy was
expecting a large tip from his rich Scottish client. As they
approached the
clubhouse, Jimmy heard the words he was longing to hear, 'This is for
a hot glass of whisky.'
So the caddy held out his hand and the Scottish client put a sugar cube
in his palm.
Will and Guy's Top
Ten Golfing Trivia
and Interesting Fun Facts
Golf balls were originally made of wood. Later, they
were made from boiled feathers stuffed into stitched leather known as "featheries".
The modern, and cheaper, golf ball filled with gutta-percha was not
developed till 1848.
There are 336 dimples on a regulation golf ball.
Balls travel significantly further on hot days. A
golfer swinging a club at around 100 mph will carry the driver up to
eight yards longer for each increase in air temperature of 25°F.
Approximately 20 million golf balls are lost in water
hazards in the UK each year.
Phil Mickelson, who plays left-handed, is actually
right handed. He learned to play golf by mirroring his father's golf
swing, and he has used left handed golf clubs ever since.
The chances of making two holes-in-one in a round of
golf are one in 67 million.
The youngest golfer to shoot a hole-in-one, known to
Will and Guy, was Coby Orr, who was five years old at the time. It
happened in Littleton, Colorado, USA, in 1975. That is unless you know
better. Tiger Woods was 8 years old says Will.
Golf was banned in Scotland from 1457 to 1502 to ensure
citizens wouldn't waste time when preparing for an English invasion.
80% of all golfers will never achieve a handicap of
less than 18.
Golfers use an estimated $800 USD million worth
of golf balls annually. [Approx £52 million GBP]
More Funny Golfing Cartoons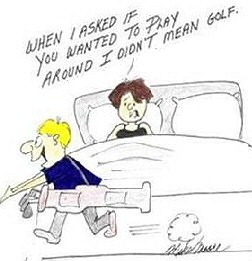 Golf
Swindler
While sitting at a table in the clubhouse after a game, Padraig remarked to a fellow club member', I'm not going to play golf with Jim Lawler anymore. He cheats.'
'Why do you say that?'
asked his friend.
'Well, he found his lost ball two feet from the green', replied Padraig indignantly.
'That's
entirely possible', commented his friend.
'Not when I had his golf ball in my pocket', retorted Padraig with finality.
Golfing Trivia From The Famous
It took me seventeen years to get 3,000 hits in baseball. I did it in one afternoon on the golf course: Babe Ruth
Columbus went around the world in 1492. That isn't a lot of strokes when you consider the course: Lee Trevino
If you think it's hard to meet new people, try picking up the wrong golf ball: Jack Lemmon
If you're caught on a golf course during a storm and are afraid of lightning, hold up a 1-iron. Not even God can hit a 1-iron: Lee Trevino
The oldest golf club in the world is St Andrews, Scotland,
which was founded in 1552.
See more great golf one liners
Mr Angry - Golfing
A very angry golfer was on his way to carding a round of 150. He turned to his caddy and said', You must be the worst caddy in the world.'
'That would be too much of a
coincidence, sir', answered the caddy in a quiet voice.
Golfing Priest
A young man and a priest are playing golf together. At a short par 3 the priest asks, 'What are you going to use on this hole, my son?'
The young man says, 'An iron, father. How about you?'
The priest says, 'I'm going to hit a soft seven and pray.'
The young man hits his iron and puts the ball on the green. The priest tops his iron and dribbles the ball out a few yards.
The young man says, 'I don't know about you, father, but in my church
when we pray we keep our heads down.'
Hole in One - Golfing Trivia
I guess golf is a lot of fun
There in the Valley of the Sun,
But it
pays to be smart like a fox
And carry an extra pair of socks,
In case
you make a hole in one.
A Classic Golf Picture - Below Par?
After a
particularly bad round of golf, Robert decided not to go to the nineteenth
hole [the clubhouse bar] and started to go straight home.
As he was
walking to the golf car park to get his Range Rover, a policeman stopped him
and asked', Did you tee off on the seventeenth hole about twenty minutes
ago?'
'Yes', Robert answered
'Did you happen to slice your ball so that it went over the trees and out of
bounds and completely off the golf course?'
'Yes, I did. How did you know?' Robert questioned.
'Well', said the
policeman gravely', Your golf ball flew out onto the main road and crashed
through the windscreen of a BMW. The car driver lost control and crashed
into six other cars and a fire engine. The fire engine was unable to reach
the fire in time and the building burned down. Now, what do you intend to do
about it?'
Robert thought it over very carefully and responded', I think I'll close
my stance a little bit, tighten my grip and lower my right thumb.'
See more funny golfing stories
Ten True But Funny Golfing Sayings
I'll always remember the day I broke ninety. I had a few beers in the
clubhouse and was so excited I forgot to play the back nine - Bruce Lansky
They say golf is like life, but don't believe them. It's more complicated
than that - Gardner Dickinson
I'm hitting the woods just great, but I'm
having a terrible time getting out of them - Harry Tofcano
Golf! You hit
down to make the ball go up. You swing left and the ball goes right. The
lowest score wins. And on top of that, the winner buys the drinks - Anon
I play in the low 80s. If it's any hotter than that, I won't play - Anon
Putts get real difficult the day they hand out the money - Lee Trevino
The best wood in most amateurs' bags is the pencil - Unknown
I'd like to
see the fairways more narrow. Then everybody would have to play from the
rough, not just me - Seve Ballesteros
If you think it's hard to meet new
people, try picking up the wrong golf ball - Jack Lemmon
Golf is a game
whose aim is to hit a very small ball into a even smaller hole, with weapons
singularly ill-designed for the purpose - Winston Churchill
More funny golf pictures
Please send Will and Guy your
funny
golf cartoon.
See more golf jokes and funny pictures:
•
Clean golf jokes • Funny golf pictures
•
Funny golf cartoons
• Golfing quotes • Sports Home
• Funny golf stories • Funny golf video
• Women's golf jokes
• Dangerous Golf Courses • Home
• Cricket
stories
• Colemanballs •
Baseball jokes •
Super Bowl jokes •
Golf phone calls