English Menu (Ingliz Menuyu)
William Dalrymple was born in Scotland and has become
an internationally acclaimed writer of many travel books. He wrote a book, at the age of 22, called 'In Xanadu'
which was published in 1989.
In his book Dalrymple recorded various experiences he and his companion had
while travelling in Asia; this example is a menu he came across in a restaurant. It's
a wonderful example of how to mangle English and is best appreciated by reading it out loud. However, the funny English idioms can be deciphered, even better, bet the food was delicious.
Kujuk Ayas Family Restrant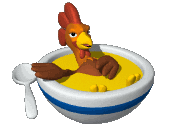 Ingliz Menuyu
Soap:
Ayas soap
Turkish tripte soap
Sheeps foot
Macaront
Water pies
Eats from meat: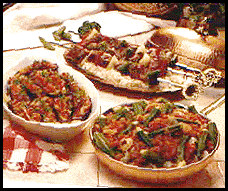 Deuner kepab
with pi
Kebap with green pe
Kebap in paper
Meat pide
Kebap with mas patato
Samall bits of meat grilled
Almb chops
Vegetables:
Meat in earthenware stev pot
Stfue goreen pepper
Stuffed squash
Stuffed tomatoes z
Stuffed cabbages lea
Leek with finced meat
Clery
Salad:

Brain salad
Cacik -- a drink made ay ay
And cucumber
Frying Pans:
Fried aggs
Scram fried aggs
Scrum fried omlat
Omlat with brain
Sweets and Fruits:
Stewed atrawberry
Nightingales nests
Virgin lips
A sweet dish of thinsh of batter with butter
Banane
Meon
Leeches
Alternative Chinese English Menu - Funny English Idioms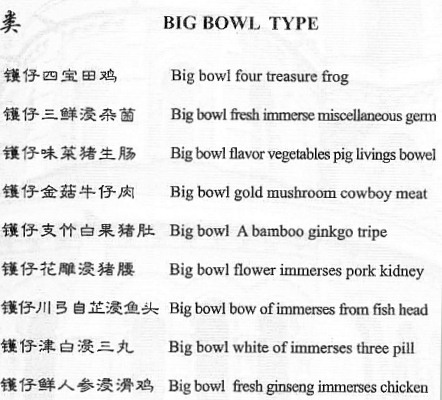 See more examples of Engrish
Restaurant Correction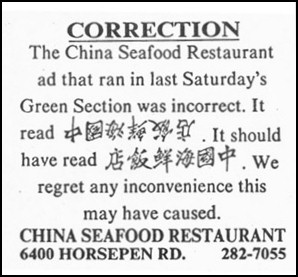 The above restaurant correction reminds me of the
reverse story. A man sent his wife into a Chinese restaurant to ask for 20 No 6. Instead of returning with one packet of cigarettes, she came out with 20 portions of egg fried rice.

Footnote
Players
No 6 was a top brand of cigarettes in the 1960s
and 1970s.
Pigeon's Milk
Pigeon's milk is one of the desserts on offer at a Latvian restaurant. According to the Daily Mirror, the menu also offers a main course of 'grilled surgeon'.
Travel Trade Gazette has collected confused hotel notices and menus that holidaymakers have spotted:
A Polish restaurant offers: "roasted duck let loose, beef rashers beaten in the country people's fashion".
While a Thai hotel told guests: 'do not bring solicitors into your room'.
Inglish Humor
Here are some Indian English funnies that arise from
shortening English words.
Subsi = subsidiary
Supli = supplementary
Soopi = superintendent
Princi = principle
Gen. Sec. or G. Sec. = General Secretary
Soc. Sec. = Social Secretary
See more Ingrish jokes
Turkey - Bodrum Airlines
...(vidFL2)
We have found a further amusing example of the way in which the English language can be mangled. These funny English idioms apparently first appeared in the New Yorker magazine in the 1980's
and is an attempt by Bodrum
airlines of Turkey to translate their regulations into English for inclusion on their passenger tickets. Despite their problems with the language nearly all of these can be understood.
1) You do not get
rezarvation with Bodrum Airlines.
2) Your ticket cann't
bu used if you be late or you miss departure time.
3) Bodrum Airlines is able to cary all passengers and baggeces but if any unusual things happen
the can pany can change schadule or find another aircraft or company.
4) You have to pay extra price if your baggece more than 10 kg. if aircraft baggece cappacity is avalleble.
5) Do not allawe to drink
alcaol and smoke cigarets on board.
6) Lost baggece insurance is 20.000 - TL (Twenty Thawzent)
7) You can not give back your ticket, but, if you annonce us before 24 hours your depart that you
cannot fly you can use your ticket with in one year. After passing one year, you can not fly with your ticket.
8) If someone gets ticket by doing tricky, Bodrum Airlines has rezerved the rights that there
is no must to give a permation that passenger gets on the board.
9) Ticket price for 0-2 year ache babys are 10% of normal price.
10) Pragnent and sick people have to have doctor's
permetion that they can
get on the board.
11) Bodrum Airlines is not able to cary out flight schadule if an unusual thinks take place like bed weather, NOTAM, float, fire, eath queke, war, gone of elefricity, natural disaster, etc.
12) You have to get in touch with contuar befe 30 mitutes of the departure, atherwine you don't
get on the board and you don't
have any rights for justice.
13) Each passangere has ensurance 25.000.000
-
TL (Twenty five milyon TL).
Footnote:
Please send us your examples of funny English idioms.
See examples of international jokes, humour and funny
pictures ....
•
Funny international jokes •
An Englishman, Irishman • Funny
hotel stories •
Engrish
•
Funny Chinese jokes •
Speak New Zealand •
Funny Australian jokes •
Franglais examples
•
Inglish Pictures •
Welsh tales •
Ingrish humor •
Irish tall stories •
Ingliz Menu •
I say