'Say what you will about the Ten Commandments, you must always come back to the pleasant fact that there are only ten of them.'
HL Mencken
Answers Given in a Bible
Knowledge Test
The first
book of the Bible is Guinness's. In the book of Guinness Adam and Eve were created from an apple
(Hmm could they mean Genesis?)
Adam and Eve were created from an apple tree. Noah's
wife was Joan of the Ark. Noah built the ark and the animals came on in pears.
Moses went to the top of Mount Cyanide to get the 10 Commandments.
The first commandment was when Eve told Adam to eat the apple.
The seventh commandment is thou shalt not admit adultery.
Lot's
wife was a pillar of salt by day and a ball of fire by night.
Samson slayed
the Philistines with the axe of the apostles.
The greatest miracle in the bible is when Joshua told his son to stand still and he actually obeyed him.
Unleavened bread is bread made with no ingredients.
A Christian should have only one wife. This is called
monotony.
Joshua led the Hebrews in the battle of Geritol.
Solomon had 100 wives and 700 porcupines.
The epistles were the wives of the apostles.
When Mary heard she was the mother of Jesus, she sang the Magna Carta.
When the three wise guys from the east side arrived they found Jesus sacked in the manager.
The people who followed the Lord were called the 12 decibels.
St. Paul cavorted to Christianity. He preached holy acrimony, which is another name for marriage.
Lot's Wife
is Turned into
a Pillar of Salt
Five year old Millie was listening to her father reading a Bible story.
He quoted from Genesis 19:26, 'The angel told Lot to take his wife and flee out of the
city. But his wife looked back from behind him, and she became a
pillar of salt.'
Now, very concerned, Millie asked, 'But Daddy, what happened to the
flea?'
Do You Know The Bible?
Our Vicar, the Reverend Thomas Lewis, told our congregation,
'Next week I plan to preach about the sin of lying. To help you all
understand my sermon, I want you all to read Mark, chapter 17.'
The following Sunday, as Thomas prepared to deliver his sermon;
he asked for a show of hands, he wanted to know how many people had
read Mark 17. Almost every hand went up.
Thomas smiled and said, 'Mark only has 16 chapters. I will know
proceed with my sermon on the sin of lying.'
Footnote:
Please send us your funny bible jokes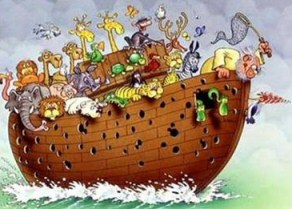 Ten
Funny Things To Learn from the Story Of Noah's Ark
Funny things that can be learned from the bible and applied to life.
Don't miss the boat.
Remember that we are all in the same boat.
Plan ahead. It wasn't raining when Noah built the Ark.
Don't listen to critics; just get on with the job that needs to be
done.
Build your future on high ground.
For safety's sake, always travel in pairs.
Speed isn't always an advantage. The snails were on board with the
cheetahs.
When you're stressed, float a while.
Remember, the Ark was built by amateurs; the Titanic by
professionals.
No matter the storm, when you are with God, there's always a rainbow
waiting.
More Funny Bible Jokes
Bible Study
Richard, my friend's
little grandson came home from Sunday School and I asked him what they had studied.
His reply was, 'Nothing.'
So I asked him, 'Didn't you study Jesus?'
Richard's
reply was,
'No, he wasn't even there.'
The Good Samaritan
Phyllis Small, a Sunday school teacher, was telling her class the story
of the "Good Samaritan," from the Bible, in which a man was beaten, robbed
and left for dead.
She described the situation in vivid detail so her students would catch
the drama.
Then she asked the class, 'If you saw a person lying on the roadside all
wounded and bleeding, what would you do?'
Zeidy, a thoughtful little girl broke the hushed silence, 'I think I'd be
sick.'
Johovah's Witness
Two women called at my door and asked what bread I ate, when I said white
they gave me a lecture on the benefits of brown bread for 30 minutes.
I
think they were just Hovis Witnesses.
Amusing, Funny and Interesting Quotes from The
Bible
Genesis 25:30 [Holman Christian Standard Bible]
He said to
Jacob, 'Let me eat some of that red stuff, because I'm exhausted.'
Proverbs 21:19 [New Living Translation]
It is better to
live alone in the desert than with a crabby, complaining wife.
Proverbs 27:15-16 [New Living Translation]
A quarrelsome
wife is as annoying as constant dripping on a rainy day. Stopping her
complaints is like trying to stop the wind or trying to hold something
with greased hands.
Family Bibles
In some families "Family" Bibles were handed down from generation
to generation, and it was, and still is, traditional to keep a
record of the family tree in its fly-leaf, to be updated by each new
generation. These bibles can therefore be invaluable sources of
information if you want to learn more about your family history.
It was the custom, particularly in Victorian times, [1837-1901]
to record births, marriages and deaths in a "Family" Bible,
sometimes photographs were also pasted in as well as newspaper
cuttings. These bibles were often quite massive affairs, thick
embossed leather covers, metal clasps and sumptuous illustrations.
Psalm 118 Provides Us with a Certain Symmetry and a Few Smiles:
Psalm 118 is the middle chapter of the entire Bible.
Psalm 117, before Psalm 118 is the shortest chapter in the Bible.
Psalm 119, after Psalm 118 is the longest chapter in the Bible.
The Bible has 594 chapters before Psalm 118 and 594 chapters after
Psalm 118.
If you add up all the chapters except Psalm 118, you get a total of
1188 chapters.
1188 or Psalm 118 verse 8 is the middle verse of the entire Bible.
And what is the message found in verse 118?
'It is better to take
refuge in the Lord than to trust in man.' - Psalm 118:8
Psalm 118
1 Give thanks to the LORD, for he is good;
His love endures forever.
2 Let Israel say:
"His love endures forever."
3 Let the house of Aaron say:
"His love endures forever."
29 Give thanks to the LORD, for he is good;
his love endures forever.
Amusing Letter Written To God by Children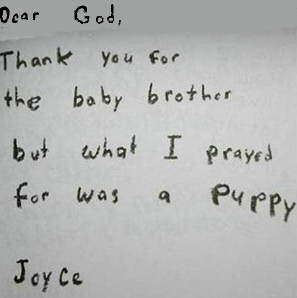 See more Clean Religious Jokes