As ever, Will and Guy have a mixture.
For Valentine's day we have jokes, funny pictures, strange but stories and even poems for romantics.
'It is better to have loved and lost than never to have lost at all'. Samuel Butler
Valentine's
Day Cards
Valentine's Day Chocolates
St Valentine's History and Customs
Valentine's Day for Cynics
Valentine's
Day Jokes
Kids Valentine Jokes
Valentine's Day Kiss
Valentine's
Day Locations
Valentine's Day True Love Stories
Valentine's Day Love Token
Valentine's Day Ideas for a Boy
Funny Pictures of
Valentine's Hearts
Valentine's Day Food
Funny Valentine Pics
Romantic Valentine
Poems
Valentine's
Quotes for February 14th
Valentine's Trivia
Valentine True Love Stories
Valentines Sayings
Valentine's Day Monday 14th
February 201
Chinese
Valentine's Day - 7th Day, 7th Month of Calendar
Love in the Animal Kingdom
The Perfect Lovers' Island Discovered

A tiny heart-shaped island in the Adriatic Sea has become a holiday hit
for St Valentine's Day after being discovered on Google Earth. Even the
uninhabited island's owner didn't realise how perfectly heart-shaped the
island off the Croatian coast was until he was swamped with requests from
lovers to stay there.
'It has been incredible. We think it is the most perfect heart-shaped
island in the world,' said Vlado Juresko, whose family owns the 130,000
square yard islet of Galesnjak, hastily renamed "Lovers' Island". 'Nobody
lives there so if lovers really do want to spend time alone it's the perfect
desert island. We always thought it looked a bit like a heart but since it's
been on Google Earth everyone else has seen it too and the whole world seems
to want to stay here.'
Valentine Quotes
'Women with pasts interest men... they hope history will repeat itself.'
Mae West.
Q: Who sends a thousand valentine's cards signed, 'guess who'?
A: A divorce lawyer.
Q: What is the difference
between a girl who is sick of her boyfriend and a sailor who falls into the ocean?
A: One is bored over a man the other is a man overboard.
Valentine Poem - My Own Sweet Valentine
Like the sweetly budding rose,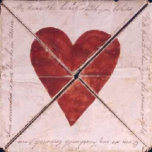 Freshened
by the gentle rain
Like the Evening Star that glows,
Brightest of the starry train
Like a well arranged Bouquet,
Where the fairest flowers combine,
Odours rich and colours gay,
Is my own
Sweet Valentine
My Love
1st time I saw u I was scared 2 touch u.
1st time I touched u I
was scared 2 kiss u.
1st time I kiss u I was scared 2 love u,
But
now dat I love u im scared 2 lose u.
Romantic Valentine's Day Quotes for February 14th
One makes mistakes; that is life. But it is never a mistake to have loved.
Romain Rolland
Love is an ocean of emotions entirely surrounded by expenses.
Thomas Robert Dewar
Love is composed of a single soul inhabiting two bodies.
Aristotle
Your words are my food, your breath my wine. You are everything to me.
Sarah Bernhardt
Love is an exploding cigar we willingly smoke.
Lynda Barry
Oscar Wilde's
Take on Marriage
Bigamy is having one wife too many. Monogamy is the same. See more of Oscar Wilde's
Quotes
Can we come back tomorrow?
A couple were having marital problems. They decided together to do the right thing and they contacted a marriage guidance counsellor.
Several visits followed when lots of questions were asked and lots of
listening carried out. Eventually the the counsellor felt that he had discovered the main problem. He stood up, went over to the women and asking her to stand up he gave her a huge cuddle.
He turned to the
husband man and said, 'This is what your wife needs, at least once every day.'
The husband frowned, considered what had been said for a moment, then replied, 'Ok, what time do you want me to bring her back
tomorrow?'
Valentine Shock
St Valentine 'Not the saint of love'
Britain's Roman Catholic Church is advising lovelorn singles to
direct their 14 February requests for love to St Raphael, rather than St
Valentine. Over the years St Valentine has come incorrectly to be
associated with finding love, the Church says. He is the patron
saint for those who have already found their soul mate. St Raphael
is the patron saint for happy encounters and it is to him those fearing
the Valentine's post should properly direct their prayers.
A
True 'Valentine' Story - Michael Young
A man who fell in love with a fellow passenger onboard a flight got the airline to help him track her down. Michael Young fell for Juliet Lever on a Flybe flight from Belfast to Newcastle. Juliet, who was in
seat 2B, and Michael, who was in 2C, hit it off instantly. Sadly, Michael was too shy to ask Juliet for her number. He confirmed this on the Victoria Derbyshire show on BBC Radio 5 Live today. [October 2006]
He pined for her so much after they parted that he contacted the airline and begged bosses to ask her to get in touch. They obliged and Juliet, 29, phoned him and they agreed to go out to dinner. A
whirlwind romance followed and they are to get married next month.
Juliet, who now lives with Michael in Manchester, said, 'Every girl dreams of a fairytale romance and you couldn't
get better than
this.'
Flybe's
Head of Customer Relations, Ella Jones commented, 'Michael's
tale pulled heart strings so we played cupid.'
Valentine Day Limerick - The Old Man of Lyme
There once was an old man of Lyme
Who married three wives at a time
When asked, 'Why a third?'
He replied, 'One's absurd!
And bigamy, Sir,
is a crime.'
Thoughtful Valentine's Present
Peter, who was in his early 20's, was buying an expensive bracelet, to
surprise his girlfriend on Valentine's Day, at a very smart jeweller's shop
in Hatton Garden, London.
The jeweller inquired, 'Would you like your girlfriend's name engraved on
it?'
Peter thought for a moment, grinned, then answered, 'No, instead engrave
'To my one and only love'.'
The jeweller smiled and said, 'Yes, sir; how
very romantic of you.'
Peter retorted with a glint in his eye, 'Not exactly romantic, but very
practical. This way, if we break up, I can use it again.'
Valentine's Day of the Week
On which day of the week will 14th of February fall?
2012 - Tuesday
2013 - Thursday
2014 - Friday
2015 - Saturday
See more Valentine's day jokes
Footnote:
Please send us your funny Valentine
stories.