Do married people live longer than single ones, or does it only seem longer? Stephen Wright
Say
It with Flower
Jeremy visited a florist's
shop which showed a large sign that read, 'Say It With Flowers.'
'Wrap up one rose, please'
Jeremy demanded of the florist's
assistant.
'Only one?'
she enquired frowning.
'Ah yes just the one', Jeremy replied. 'I'm a man of very few words.'
American Valentine Cynics
Market researchers deduced from their survey that eight million Americans
send Valentine's Day gifts to themselves. Perhaps they feel lonely, maybe
unloved, but at least they get something nice.
One of the Best, or the Worst, Examples of
Cynical Valentines
To my darling
My lover
My beautiful wife
Marrying you
Has screwed up my life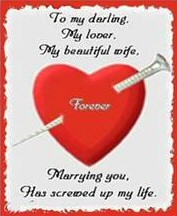 Falling
Out of Love
A Russian man divorced his wife of 18 years after finding she had been feeding him cheap pumpkins instead of courgettes. Ivan Dimitrov, 47, was devastated to find the pies
he had been eating for six months were made of pumpkins and not courgettes. Mr Dimitrov, from Voronezh, said when he realised the truth, after finding pumpkin rinds in the bin, he immediately hired a lawyer to
organise a quick divorce from wife Irena, 38. He said, "She knows I absolutely hate pumpkins and she lied to me for months about it just because the pumpkins were cheap. What else has she been lying about?
What man could trust a woman who fed him pumpkins for half a year?"
Can We Come Back Tomorrow?
A couple were having marital problems. They decided together to do the right thing and they contacted a marriage guidance counsellor.
Several visits followed when lots of questions were asked and lots of
listening carried out. Eventually the the counsellor felt that he had discovered the main problem. He stood up, went over to the women and asking her to stand up he gave her a huge cuddle.
He turned to the
husband man and said, 'This is what your wife needs, at least once every day.'
The husband frowned, considered what had been said for a moment, then replied, 'Ok, what time do you want me to bring her back
tomorrow?'
Romance At the Brentford 'Bees'
Martin Allen is Manager of Brentford Football Club, who play in the Coca-Cola Football League Division One. Allen used his programme notes to inform his wife of the significance of the 'Bees' date with top-of-the-table Southend 'Blues'
on February 14.
He said, 'I'm taking her to the theatre to see a new show. It will be passionate, it will be fiery and there could be some blood spilled. The performance that
night will start at 7.45pm.
'This will be followed by a greasy kebab at 11 o'
clock down on the A4. Pure romance.'
As reported by the Valentine's day cynics at The Daily Mirror, UK.
Girl's Can Be Valentine Cynics Too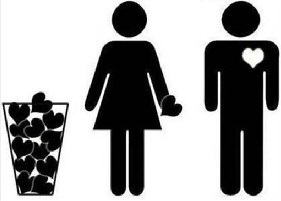 More Cynical Valentine's Day Stories
Who says Romance is Dead?
Will and Guy know a man who regularly takes his wife to his darts match to celebrate her birthday each year. We will avoid using names here to protect this dart player extraordinaire.
It's a Hot Date for Couples
A special ring that heats up to remind husbands and wives of wedding anniversaries has been created. Makers of the ring, which heats up from hand temperature to 115F-120F in
a 10-second burst on the day before the anniversary, said it could put an end to rows over forgotten dates reports the Scotsman.
The Remember Ring, which is currently a concept product not yet in stock
at Goldsmith Gallery, Sitka, south east Alaska, will eventually sell for around $700 to $850. Inventor Cleve Oines,
26, is currently working on a prototype of the ring, which should be
available soon.

More
Grounds for Incompatibility?
A Romanian pensioner asked for a divorce after only eight months when his wife's
cat ate his two pet parrots. Sandu B, 67, from Focsani, wants to divorce his wife, who is 20 years younger than him, on grounds of incompatibility.
Spirit of Valentine's
Day Dies
A 43-year-old German decided on February 14th to settle his imminent divorce by chain sawing a family
home in two and making off with his half in a forklift truck. Police in the eastern town of Sonneberg said the trained mason measured the single-storey summer house - which was some 8 metres long and 6 metres
wide - before chain sawing through the wooden roof and walls.
'The man said he was just taking his due,' a police spokesman told the New Zealand Herald. 'But I don't think his wife was too pleased.'
After finishing the job, the man picked up his half with the forklift truck and drove to his brother's house where he has since been staying.

Saudi's Ban Red Roses on St Valentine's Day
Religious police in Saudi Arabia's have banned red roses for St Valentine's
Day. The Commission for the Promotion of Virtue and Prevention of Vice has
ordered florists Riyadh to remove any items coloured scarlet, which symbolizes
love.
One report said: 'The religious police visited us last night. It is not
unusual for the authorities to clamp down ahead of Valentine's Day, which it
sees as encouraging relations between men and women outside of wedlock.
It is to be remembered that Sunni Islam prevents unrelated men and women from
mixing. It also bans women from driving and demands that they wear a
headscarf and a cloak. Relations outside marriage are punishable by law.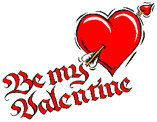 Chinese Sceptics
Using phrases such as 'foxy lady', 'handsome guy' and 'moneybags' in marriage adverts has been banned in part of China, in a campaign to stamp out fraud.
The edict against 'seductive' words by
officials in Zhengzhou in Henan province follows complaints from customers who felt cheated by some adverts placed by marriage brokers.
From October 2007 all the descriptions must be approved by the city
government.
Chinese Roo Tattoo
The official story
Joanne Raine has had her boyfriend's nickname 'Roo' tattooed on her stomach;
it was supposed to be a sign of her undying love. The 19-year-old from
Darlington, UK paid £80 [$ 156 USD]for the Chinese artwork and was delighted
with the results. That was until she displayed the tattoo in a Chinese takeaway,
locals said that it it actually spelled the word 'supermarket.'
The pair have now split up, but Miss Raine said she will keep the tattoo
because she cannot afford a new one.
The tattoo story according to Will and Guy's friend Professor Lin

'What I think happened', says Prof Lin, 'is that Joanne asked for Roo and
picked the three letters, 'R', 'O' and 'o' from the tattooist's alphabetical
chart'. The professor has kindly highlighted the three symbols in
question.
Furthermore, the professor thinks that the official story is misguided because the Chinese for supermarket would be:
超级市场
or possibly 超市
Could This Cynical Cartoon Work For Valentine's Day?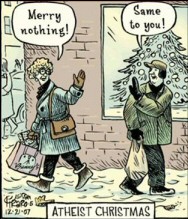 Footnote:
If you have any material to add to our cynical valentines day
stories, then please email the address below.
See more Valentines jokes, funny stories,
poems, sayings and pictures
Valentine's Day jokes
Valentines sayings
Valentine card
Valentine angel
Valentine's Day kiss
Romantic Valentine poems
Kids Valentine jokes
Cynical Valentines
Valentine stories
Valentine love stories
Chinese Valentine's Day
Romantic one-liners