Valentine's Day ideas for a boy has two connotations, Will and Guy have
concentrated on advice to girls on how to select a gift for their beloved.
However, it's not hard to switch 'girl' for 'boy', and 'she' for 'he', and thus help
boys choose a surprise gift for their girlfriend.
Ideas For a Boy on
Valentine's Day
An Interesting Love Potion
Valentine's Day Ideas
for a Girl
Ideas For a Boy on
Valentine's Day - Will and Guy Have Suggestions:
Ask the young man firstly. About a week before Valentine' s
Day, chat casually to your boyfriend and ask if he has anything
special in mind that he'd appreciate. Don't overdo it or he will
become suspicious..
Is he a romantic? Does he really appreciate a romantic
approach that will involve booking a special restaurant for a
five-course meal or filling the swimming pool with rose petals?
Or is he more comfortable with just the usual night on the town
with lots of laughter and favourite beers as the two of you in a
pub? You know best how he feels, so make use of this knowledge
to plan a special night together.
Do something rather than give something. If he has long
wanted his hair dyed black, you could buy him some hair dye and
prepare a home salon and dye it for him. Make sure you feel
confident enough to get it right! You could also do this for
home pedicures, massages, a yoga lesson etc. - anything you have
said you'd get around to helping him do or learn some day.
Always do homemade. It's not just about buying stuff.
Valentine's is really about showing that you care. Make your
boyfriend a card that says how much you love him. Write a poem
or some sweet prose. Anything to say how much you care about him
and the reasons why. Many people just love being told the exact
reasons why they matter so much; this can be the best gift of
all. Use our site ideas.
A kiss is a gift!
Bake something for your sweetheart. Bake some heart-shaped cakes
or biscuits with hundreds and thousands and "I love you" printed on
them in icing. Arrange in a box and present it to him with a card.Decorate a photo of the two of you. This is a very personalized
and caring gift.
Ultimate Valentine Gift for
a Boy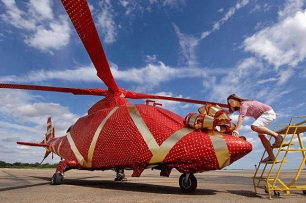 You'll never guess what I've bought you for Valentine's Day!
An Interesting Love Potion
I know that you're a little shy,
But don't let that bother you;
'Cause I've got the perfect recipe
For a very special brew!
The first few steps begin with you,
Now you really must believe...
For with a little confidence
There's so much you can achieve!
So, first you take a cup of wonder,
Blend in a little adoration,
Combine that with a dash of faith
And let this be your foundation!
Add a little splash of wisdom
And a nice big shot of fun,
Then
mix in a bit of starlight;
Soon the magic has begun!
Stir in a little twist of hope,
And a nice big dash of glee;
A
bit of luck and patience
Will help make your destiny!
Now just add a splash of truth
And pour it all into a jar,
Then
think about the one you love
And wish upon a star!
Valentine's Day Ideas for a
Girl
Background
My dearest wife is always going on and on and ON about NOT making a fuss over her on Valentine's Day. She repeats that it's the thought that counts.
Well, I put a lot of thought into
the gifts from previous February 14ths but she didn't quite take to any of them like I assumed she would. Here's my list - see what you think:
Brand new mop and bucket.
I was thinking it would be fun to see what colour the floor was because I couldn't remember.
Romantic dinner at fast food restaurant.
I was thinking that she might like to go inside for a change instead of fetching dinner at the drive through.
Chocolates left-over from last year's candy box.
I was thinking of how proud she'd be of me for not wasting food. She's been nagging me for years to recycle.
Midnight moped ride through the park.
I was thinking that I'm getting too old to be peddling on the bike.
Dozen roses printed on high quality photo paper. One of my favourites this -
I was thinking these would last a lifetime instead of just a week.
45 second back massage.
I was thinking any longer and she might think I was interested in something else.
Windows 8
I was thinking how proud she would be to be a part of the technology crowd.
Valentine Present For Her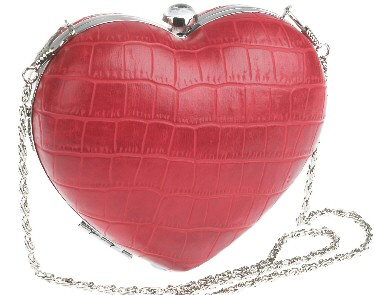 Valentine Love Handbag - courtesy of River Island.com
Footnote:
If you have a Valentine's Day idea for a boy, then please send it to us.
Page created on
See more St Valentine's Day jokes, funny stories,
poems, sayings and pictures
Valentine's Day
Valentine's Day jokes
Valentine's Day trivia
History
Funny Valentine pics
Love token
Funny Valentine card
Valentine food
Chocolate
Valentine quotes
Home
Funny Valentine places
Valentine's hearts pictures
Love in animal kingdom
Ideas for a boy