Will and Guy have collected Valentine stories of true love.
Romance, it seems, can happen in any country to all sorts of people.

True Inspirational Love Story - Marc Lachance's
Quest
A Canadian man is writing to 3,700 Belgian women called Sabine in a bid to find a sweetheart. Marc Lachance met a Belgian woman called Sabine on a bus trip to Havana while he was on holiday in Cuba.
He
told De Morgen, the online news agency, 'We liked each other and spent the day together. But I was too shy to ask her address or telephone number.'
Back in Canada, he realised Sabine could be the woman of
his life and began his efforts to track her down. 'All I know is she speaks French and she was travelling with a friend named Klara', said Mr Lachance.
'Finally, I looked up in the phonebook the addresses
of all women named Sabine. There are 3,700 of them. I was shocked it's
such a popular name.'
Mr Lachance has so far written to all the women named Sabine in Brussels. Soon he will send letters to the Sabines
in Namur, then the rest of the country.
'It is costing me a lot of money', he admitted, 'And what if her name is not in the phonebook - I dare not think of that.'
Lovelorn
Canadian Tracks Down His Sabine - Update
The Canadian Marc Lachance who was writing to 3,700 Belgian women called Sabine in a bid to find a sweetheart has struck lucky.
What seemed like love failure turned into success.
'But I didn't
find her by letter', he told De Morgen. 'Her brother had heard about my search on the Belgian radio and told her the story. I was so happy she found me', he
said. 'And she said she is still thinking about me. We had only but a very short moment on the phone but she promised to send me a large e-mail'.
'She said she wanted me to show her country. If she does, I'm on the
first plane to Belgium.'
See more short love
stories.
Another Valentine Story
of True
Love - Michael Young
A man who fell in love with a fellow passenger onboard a flight got the airline to help him track her down. Michael Young fell for Juliet Lever on a Flybe flight from Belfast to Newcastle. Juliet, who was in
seat 2B, and Michael, who was in 2C, hit it off instantly. Sadly, Michael was too shy to ask Juliet for her number. He confirmed this on the Victoria Derbyshire show on BBC Radio 5 Live today. [October 2006]
He pined for her so much after they parted that he contacted the airline and begged bosses to ask her to get in touch. They obliged and Juliet, 29, phoned him and they agreed to go out to dinner. A
whirlwind romance followed and they are to get married next month.
Juliet, who now lives with Michael in Manchester, said, 'Every girl dreams of a fairytale romance and you couldn't
get better than
this.'
Flybe's
Head of Customer Relations, Ella Jones commented, 'Michael's
tale pulled heart strings so we played cupid.'
See more inspirational stories
Couple
Pledge Their Love on Their Valentine Mountain
A True Love Story from Will and Guy
A couple who became stranded on Ben Nevis*, Scotland, overnight in a
fierce storm got engaged fearing it could be their last ever night together.
The climb left Stefan Senk, 29, and Beth Davies, 25, with no time to
descend before darkness, we have learned. Apparently, the couple sheltered
in a narrow crevice overlooking a 1,000ft drop as the temperatures plummeted
below zero and gale force winds tore their protective blankets to shreds.
Fearing it may be their last night together, Mr Senk proposed to Miss
Davies as they shivered close to hypothermia in the rain. As dawn broke,
they managed to get a signal on Miss Davies' cell phone and texted her
mother 550 miles away in Surrey who alerted local mountain rescue.
Back in the safety of their hotel, Miss Davies reminded her boyfriend, an
IT programmer, of his proposal. 'All I said to him was, 'I suppose now you'd
better get me a ring then,' and he did,' she said. The couple are now planning to get married in March 2010.
* Ben Nevis is the UK's highest mountain, this is emphasised by the fact
that it begins its rise from sea-level on the shores of Loch Linnhe, to
tower 4,406ft (1,344m) above the town of Fort William.
True Romance Blossoms in China
Couples Pledge their Love in a Funny Way
Three couples got married on a river in China while balancing on bamboo
poles Will and Guy have established. The brides [see photo ] all wore
traditional wedding dresses while the grooms wore suits for the grand
occasion on the Xiangjiang River in Zunyi city, Guizhou province.
All three couples belong to the local single bamboo rafting club, and
chose to get married on the water to show their skill at the sport. We have
heard the sport involves racing on the river while balancing on a locally
produced bamboo pole around 20cm in diameter. Their aim is to
popularise their sport. What a delightful story of true romance.
See more on Chinese
Valentine's Day
Valentine's Day in The
Country
Even Hicksville, where my uncle Tom lives, has a lingerie store.
Just before Valentine's Day it was crowded with townsmen buying gifts
for their beloved. My uncle and I drifted in, and it did not take
long for him to select a long flannel nightgown for my aunt Maria. As he
was waiting in-line at the checkout he noticed a young businessman
handing lacy black negligee to the assistant. When it was my
Uncle's turn he blurted out, "Do you have anything in black flannel?"
Valentine Stories from the Animal Kingdom
Ugly Duckling Makes Good
There once was an ugly duckling..............a story of true love?
A male swan shunned by females for his deformed neck may finally have found a girlfriend after
seven years. Crinkly the ugly swan has become well-known at a Gloucester, UK, bird sanctuary, after flying in from Russia every winter since 2001. Conservation workers have watched with dismay as Crinkly
failed miserably to attract the opposite sex. Experts at Slimbridge were amazed when Crinkly first arrived as a cygnet with parents Lucius and Coletta, with a strangely deformed neck probably caused by a birth
defect.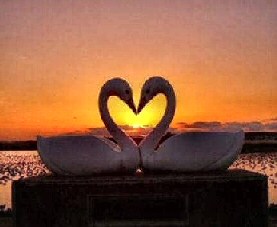 'We were worried about Crinkly because he is such a strange-looking bird,' said Jools Mackin, spokesperson for Slimbridge Wildfowl and Wetlands Trust. Until now, none of the females at the trust was
prepared to mate with him but conservation workers say they can see signs of a budding romance.
'We are delighted because we think Crinkly has finally found a girlfriend,' commented Ms Mackin. 'He appears to
be loosely associating with another Slimbridge Bewick's swan called Taciturn. It is too early to say whether or not they are mates, but we'll be monitoring them over the next few days to see. At the moment they
are associating on Swan Lake. They are flying in and out together and we do hope they will become mates.'
Early Valentine's Day for Gander and Donkey


A donkey is making a complete ass of herself after falling in love with a gander. The farm where the unlikely couple live, in the town of Cottbus, Germany, has been swamped by journalists and visitors after
the affair appeared in a local newspaper, the Lausitzer Rundschau.
The gander, whose name is Hannibal, met Heidi the donkey when he was put into her enclosure for being too aggressive to be kept with the
other birds. Staff say the couple quickly fell for each other, eating and sleeping together and are now completely inseparable. The gander jealously attacks any male donkeys who go near Heidi. Heidi in turn is
not interested in other donkeys, and follows Hannibal around all day long.
Love is in the Air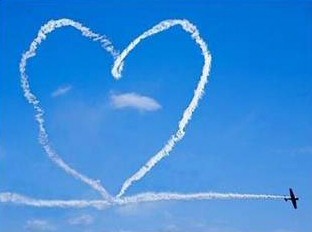 See more true love Valentine pics
Another Valentine True Love Story - Two Storks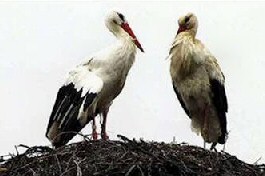 Vets who saved a female stork, shot by hunters in Croatia, thought her
days were numbered but did not take into account the devotion of her mate,
Will and Guy can report. The vets knew the female, which they called Malena,
would never fly again but put her back on her nest thinking she would not
survive the winter. When her partner, named Rodan, flew south with their
young they expected that she would eventually die and certainly never mate
again.
Their predictions were proved wrong after the Vokic family, where she had
a nest, helped to feed her through the long winter months and she survived.
Perhaps, even more amazingly, Rodan has returned every year to mate with his
partner and rear another clutch of chicks.
Rodan flies 13,000 kilometres to South Africa, each year, to spend winter
in the warm and then the same distance back again to be back with his
injured love. A local told Will and Guy, 'She was shot in 1993 by Italians -
but she didn't die and was handed over to our vet. He saved her life but was
crippled and had lost her ability to fly. The damage was too severe. Her
lover is amazing; this year when he arrived from South Africa, where he
spent the winter, despite the fact that he had travelled 13,000 kilometres
he immediately made love to Malena. It was clear they were pleased to see
each other. As she can't fly Rodan teaches the little ones to fly and
accompanies them to the south every season.'
Brilliant tale.
See more love in the
animal kingdom.
After Valentine's
Day - Story of What Becomes of the Broken Hearted
A hospital clinic for the broken hearted has been set up in Germany to give emergency treatment to those
who experience love failure, and have been dumped.


Set up by Munich based Doctor Birgit Delisle, the clinic in the Schwabing
Hospital is aimed primarily at lovesick teenagers who do not know how to cope with a broken heart.'
Having your heart broken can lead to physical and psychological problems, from loss of appetite which leads
to sudden weight loss to unbelievable pain that drives many people to take drastic measures.'
The free clinic in the Bavarian capital will have experts on hand to
advise both sexes on how to cope with being single. There is little truth in
the rumour that thousands of young people are travelling to Munich as I
write this report.
Kissing Record
More than 6,000 Philippine couples kissed simultaneously in a Manila parking lot at midnight on Saturday 10th February, and organisers of what was called the Lovapalooza event said they had
set a world record. 'More than 6,000 this time, we broke the record,' shouted Howard Benson, one of the organisers, as fireworks went off and confetti and heart-shaped red balloons filled the air, reports
Reuters.

A total of 6,124 couples kissed simultaneously for at least 10 seconds in a parking lot outside a Manila shopping mall, said Albert Almendralejo, producer of Lovapalooza.A team of independent
auditors were present to verify the number of people taking part in the event. The thousands of mostly young men and women had gathered in the early evening at the mall on Manila Bay and had danced and listened
to music until midnight. After a countdown broadcast on loudspeakers posted all around the area, they kissed exactly at midnight.
The current record is held by 5,875 couples kissing at an event organised at
the Elisabeth Bridge in Budapest, Hungary on June 25, 2005.
See more about Valentine Day kissing.
Another Story of Seeking True Love
A farmer's cooperative in North Wales offering
organic food has come out with a unique idea of finding love for its 20 farmer-members. The dairy cooperative Calon Wen is introducing "Fancy a Farmer?" campaign by placing the pictures of lonely farmers on its
milk cartons.
According to the Daily Post, the cartons of Calon Wen's organic milk will have the stickers of three men and two women looking for a date. The men and women were all members of the
cooperative, the report said. Iwan Jones, 30 of Groes Bach, Groes, near Denbigh, and a director of the Calon Wen cooperative, conceptualized the idea after
numerous love failures for himself.
He told the Post,
'It's a bit of a laugh really - but if I was approached by an attractive young lady I wouldn't turn her away.'
The 20-member organic farmers cooperative have also tied a partnership with a Welsh online
dating agency to maximize their exposure. Jones adds, 'The Welsh countryside is a great place to live, with stunning scenery, but it can be a hard place to find a date as I'm finding out!' He said the two young
women participating in the campaign only agreed 'after a bit of arm-twisting.' 'We didn't want to be accused of being sexist,' he added.
I Love My Computer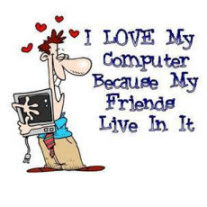 Footnote:
If you have a Valentine story of true love story, then please send it to us.
See another short love story:
• Short love stories
• Chinese love stories • Love in the animal kingdom •
Animal love stories
•
Stories about people •
Love story •
Best of love quotes •
Valentine love •
Valentine love story
•
Funny short stories
• Sisterly love •
Very short stories
• Unlikely animal friends •
Home