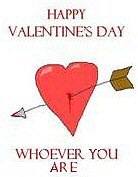 Valentine's
Day Love Stories
Will and Guy's collection of romantic tales for February 14th.
"Love is something more stern and splendid than mere kindness". C.S.
Lewis
Valentine Love
Failure - Passion Extinguished
An Austrian 'Romeo' burnt the house down after making a giant heart out of blazing candles.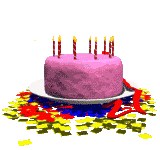 Hannes Pisek, 20, from Hoenigsberg in the province of Styria, used 220 candles to make a huge heart on the floor
of his flat. He then lit them and went to pick up his girlfriend from work - but the plan backfired when the flat caught fire.
Pisek was left out in the cold as firemen battled to bring the blaze under
control. He has now lost his home and his girlfriend - she left him afterwards and has moved back with her parents.
Valentine
Love Story - Michael Young
A man who fell in love with a fellow passenger onboard a flight got the airline to help him track her down. Michael Young fell for Juliet Lever on a Flybe flight from Belfast to Newcastle. Juliet, who was in
seat 2B, and Michael, who was in 2C, hit it off instantly. Sadly, Michael was too shy to ask Juliet for her number. He confirmed this on the Victoria Derbyshire show on BBC Radio 5 Live today. [October 2006]
He pined for her so much after they parted that he contacted the airline and begged bosses to ask her to get in touch. They obliged and Juliet, 29, phoned him and they agreed to go out to dinner. A
whirlwind romance followed and they are to get married next month.
Juliet, who now lives with Michael in Manchester, said, 'Every girl dreams of a fairytale romance and you couldn't
get better than
this.'
Flybe's
Head of Customer Relations, Ella Jones commented, 'Michael's
tale pulled heart strings so we played cupid.'
Lovely Valentine True Story
Doting Couple Have Used the Same Valentine's Day Card for 70 years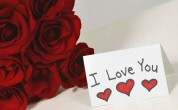 There's no danger of 88-year-old Harry Ward forgetting his wife
Doris's Valentine's Day card - the couple still use the same one he
bought her 70 years ago.
When 17-year-old Harry Ward presented his sweetheart Doris with a
Valentine's Day card as he boarded a train to join the wartime effort on
14th February, 1941, he must have been fairly confident his affections
would be requited. After all the couple had been dating since they met
in a Bristol café three months earlier. Little can he have imagined that
70 years on, not only would he still be happily married to Doris, but
that every year she would present him with the very same card he gave
her at the railway station that Valentine's day.
Now the card is set to make another appearance on the couple's
mantelpiece as Mrs Ward, 87, dusts it off in time the celebrations.
'I bring it out of the cupboard and put it on our mantelpiece every
Valentine's Day,' she said. 'It's as special to me now as it was
70-years-ago. Harry has never bought me one since, because I have this
one every year.'
The couple married in 1942 so Will and Guy have discovered; and they
went on to have two daughters, two granddaughters and four great
grandchildren. They had met in a café in November 1940 after Mrs Ward,
who was in domestic service, had missed her bus home.
Mr Ward, now 88, told us, 'I knew Doris was the one for me the moment
I met her. It was a heck of a night during the Blitz, but at least it
meant we met each other. I gave her the Valentine's card then and she is
still my Valentine now.'
Mrs Ward's card which reads, "Two hearts entwine this Valentine. True
love makes it sincere"
In addition we were told, 'The secret to our happy marriage is that
we never go to bed without a kiss goodnight. We are as still in love as
the day he first gave me this card.'
See more sad love
stories.
First Valentine Love Story
Ever
A lasting Legacy of 500-year-old Love
Love it or hate it, even the most hardened anti-Romeo will be hard
pressed to avoid Valentine's Day this year.
Here is a letter which is on show at the British Library. It is a
letter, written from a young woman to her love, and is the first
mention of the word Valentine in the English language.
The letter shows they were no different to us.
They had the same loves, desires and financial problems.
In 1477 Margery wrote a letter to her John pleading with him not to
give her up, despite her parents' refusal to increase her dowry.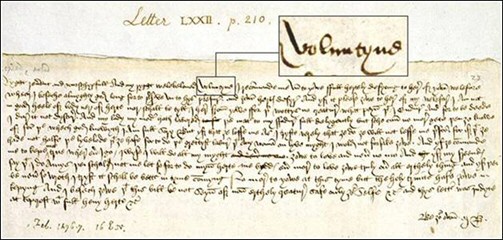 Addressing her 'ryght welebeloued Voluntyne' (right well-beloved
Valentine), she promised to be a good wife, adding, 'Yf that ye loffe me
as Itryste verely that ye do ye will not leffe me" ' (If you love me, I
trust.. you will not leave me).
While romantics 534 years later might celebrate Valentine's Day with fine
dining, chocolates and
FTD Valentines Day flowers, Margery is left pleading with her love not to
leave her while pledging her heart over all 'earthly things'.
She promises her undying love, 'Myne herte me bydds ever more to love
yowe truly' (My heart me bids ever more to love you truly), and speaks
of her ailing body and heart over her fiance's continuing silence.
However, modern-day lovers be reassured, like any self-respecting
fairytale romance the heart did rule the head and, despite her father's
stubbornness over her dowry, Margery did marry her knight and the couple
had a son, William, in 1479. Margery died in 1495, John in 1503.
While her letter is also written on paper, there is one key
difference. She didn't write it herself we have learned. It would have
been dictated to a man who would have written it for her. However, says
Julian Harrison, curator, 'The fact that she isn't writing the letter
doesn't mean she can't write, it means she can afford someone to write
for her. People have assumed that people in the past were illiterate,
but actually levels of literacy may have been higher than we think.'
A marvellous tale with which to celebrate Valentine's Day.
Say I Love You - With Post-it
Notes
Claire Northcott decided to declare her love for boyfriend Gordon Husband by
writing it on 500 Post-it notes. She then stuck them all over his pick-up truck.
Ms Northcott, 33, said, 'I spent over an hour-and-a-half writing the notes with
felt-tip.'
Mr Husband was understandably surprised when he spotted his vehicle outside
the flat the couple share in Paignton, Devon, UK. 'He said it was the most
romantic thing anyone had ever done for him,' observed Claire.
A Funny
Valentine Love Story
He loved her so very much. He wanted this Valentine's day to be
special. So he had ordered a bottle of her favourite drink, imported from
France, and it had arrived in time for the occasion. On his way home, he
stopped at the local florist. He had planned to have a bouquet made with
her favourite flowers, white anemones. To his dismay, he found that the
florist had sold all her flowers and had only a few sterns of feathery
ferns left for decoration.
In a moment of inspiration, he had the answer. He asked the florist
to make a bouquet using the flask of liquor instead of flowers and what
she produced was magnificent well beyond his expectations.
He added a card, and proceeded home. When he arrived, his wife was
beautiful in her most elegant gown, and it was apparent that she had
spent much of the day preparing a romantic candlelight dinner for the
two of them.
He presented her with his gift, and she opened the card to read,
"Absinthe makes the heart grow fonder."
With a tear in her eye, she whispered to him lovingly, "Yes, and with
fronds like these, who needs anemones."
Author unknown
Some Thoughts on Valentine's Day
Love
I love you not because of who you are, but because of who I am
when I am with you.
No man or woman is worth your tears, and the one who is, won't
make you cry.
Just because someone doesn't love you the way you want
them to, doesn't mean they don't love you with all they have.
A true friend is someone who reaches for your hand and
touches your heart.
The worst way to miss someone is to be sitting right
beside them knowing you can't have them.
Never frown, even when you are sad, because you never know
who is falling in love with your smile.
To the world you may be one person, but to one person you
may be the world.
Don't waste your time on someone, who isn't willing to
waste their time on you.
Maybe God wants us to meet a few wrong people before
meeting the right one, so that when we finally meet the person, we
will know how to be grateful.
Don't cry because it is over, smile because it happened.
There's always going to be people that hurt you so what
you have to do is keep on trusting and just be more careful about
who you trust next time around.

Make yourself a better person and know who you are before you
try and know someone else and expect them to know you.
Don't try so hard, the best things come when you least
expect them to.
Love at first sight
+ Plus ....
Love is in the eye of the beholder
A Prayer........for Women.............................
Dear Lord, I pray for Wisdom
to understand my man;
Love to forgive him; and Patience for his moods;
Because Lord, if I pray for Strength, I'll beat him to death.
Valentine's
Day in the Zebra World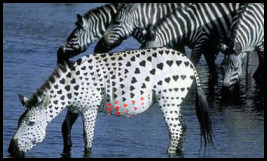 Valentine's Day Love Story - Swans
The swan that fell in love with a pedal boat is back courting its plastic lover
after spending the winter in a local zoo
Swans choose a partner for life but the rare Black Australian swan nicknamed Petra made the mistake of falling for a pedal boat designed to look like a swan; and
when Petra's pedal boat lover refused to fly south for the winter Petra also remained, a move that could have killed her as the cold weather arrived.
In the end though local zoo chiefs took pity on the swan
and gave her and her boat boyfriend a place to spend the winter, and this week the pair were once again on the lake together. According to biologists in Muenster, north-western Germany, Petra has been circling
its plastic lover, staring endlessly at it and making crooning noises, all the typical signs of a swan in love.
The boat in the meantime is still being hired out to families who want to picnic
on the Aasee lake - where the star-crossed lovers have become a tourist
attraction. Zoo director, Joerg Adler said, 'This arrangement could go on
forever, the swan obviously believes it has found a partner for life.'
See more on love in the
animal kingdom.
Love,
Love Me Do: A True Valentine Love Story

Lovers reunited after 17 years
A British man and his Spanish former love have finally married 16
years after they drifted apart, reunited by a love letter lost behind a
fireplace for over a decade, Will and Guy have discovered.
Steve Smith and Carmen Ruiz-Perez, both now 42, fell in love 17 years
ago when she was a foreign exchange student in Brixham, southwest
England, and got engaged after only a year together. Their relationship
ended after she moved France to run a shop in Paris.
A few years later, in a bid to rekindle their love, Smith sent a
letter to her mother's home in Spain. It was placed on the mantelpiece,
but slipped down behind the fireplace and was lost for over a decade.
The missing letter was only found when builders removed the fireplace
during renovation work.
'When I got the letter I knew I had to make the call,' Ruiz-Perez
said. 'When we met again it was like a film. We met up and fell in love
all over again.'
'I'm just glad the letter did eventually end up where it was supposed
to be,' Smith said, after the couple married last Friday.
What a lovely story.
Bertrand Russell's prudent words
Of all forms of caution, caution in love is perhaps the most fatal to true happiness.

The Old Man and The Dog

An Inspirational Story of Love by Catherine Moore
'Watch out! You nearly broadsided that car!' My father yelled at me.
'Can't you do anything right?'
Those words hurt worse than blows. I turned my head toward the elderly
man in the seat beside me, daring me to challenge him. A lump rose in my
throat as I averted my eyes. I wasn't prepared for another battle.
'I saw the car, Dad. Please don't yell at me when I'm driving.' My voice
was measured and steady, sounding far calmer than I really felt.
Dad glared at me, then turned away and settled back. At home I left Dad
in front of the television and went outside to collect my thoughts. Dark,
heavy clouds hung in the air with a promise of rain. The rumble of distant
thunder seemed to echo my inner turmoil.
What could I do about him?
Dad had been a lumberjack in Washington and Oregon. He had enjoyed being
outdoors and had revelled in pitting his strength against the forces of
nature. He had entered gruelling lumberjack competitions, and had placed
often. The shelves in his house were filled with trophies that attested to
his prowess.
The years marched on relentlessly. The first time he couldn't lift a
heavy log, he joked about it; but later that same day I saw him outside
alone, straining to lift it. He became irritable whenever anyone teased him
about his advancing age, or when he couldn't do something he had done as a
younger man.
Four days after his sixty-seventh birthday, he had a heart attack. An
ambulance sped him to the hospital while a paramedic administered CPR to
keep blood and oxygen flowing. At the hospital, Dad was rushed into an
operating room. He was lucky; he survived.
But something inside Dad died. His zest for life was gone. He obstinately
refused to follow doctor's orders. Suggestions and offers of help were
turned aside with sarcasm and insults. The number of visitors thinned, then
finally stopped altogether. Dad was left alone.
My husband, Dick, and I asked Dad to come live with us on our small farm.
We hoped the fresh air and rustic atmosphere would help him adjust. Within a
week after he moved in, I regretted the invitation. It seemed nothing was
satisfactory. He criticized everything I did. I became frustrated and moody.
Soon I was taking my pent-up anger out on Dick. We began to bicker and
argue. Alarmed, Dick sought out our pastor and explained the situation. The
clergyman set up weekly counselling appointments for us. At the close of
each session he prayed, asking God to soothe Dad's troubled mind. But the
months wore on and God was silent. Something had to be done and it was up to
me to do it.
The next day I sat down with the phone book and methodically called each
of the mental health clinics listed in the Yellow Pages. I explained my
problem to each of the sympathetic voices that answered. In vain. Just when
I was giving up hope, one of the voices suddenly exclaimed, 'I just read
something that might help you! Let me go get the article.' I listened as she
read. The article described a remarkable study done at a nursing home. All
of the patients were under treatment for chronic depression. Yet their
attitudes had improved dramatically when they were given responsibility for
a dog.
I drove to the animal shelter that afternoon. After I filled out a
questionnaire, a uniformed officer led me to the kennels. The odour of
disinfectant stung my nostrils as I moved down the row of pens. Each
contained five to seven dogs. Long-haired dogs, curly-haired dogs, black
dogs, spotted dogs all jumped up, trying to reach me. I studied each one but
rejected one after the other for various reasons too big, too small, too
much hair. As I neared the last pen a dog in the shadows of the far corner
struggled to his feet, walked to the front of the run and sat down. It was a
pointer, one of the dog world's aristocrats. But this was a caricature of
the breed. Years had etched his face and muzzle with shades of gray. His
hipbones jutted out in lopsided triangles. But it was his eyes that caught
and held my attention. Calm and clear, they beheld me unwaveringly.
I pointed to the dog. 'Can you tell me about him?' The officer looked,
then shook his head in puzzlement.
'He's a funny one. Appeared out of nowhere and sat in front of the gate.
We brought him in, figuring someone would be right down to claim him. That
was two weeks ago and we've heard nothing. His time is up tomorrow.' He
gestured helplessly.
As the words sank in I turned to the man in horror. 'You mean you're
going to kill him?'
'Ma'am,' he said gently, 'that's our policy. We don't have room for every
unclaimed dog.'
I looked at the pointer again. The calm brown eyes awaited my decision.
'I'll take him,' I said.
I drove home with the dog on the front seat beside me. When I reached the
house I honked the horn twice. I was helping my prize out of the car when
Dad shuffled onto the front porch.
'Ta-da! Look what I got for you, Dad!' I said excitedly.
Dad looked, then wrinkled his face in disgust. 'If I had wanted a dog I
would have gotten one. And I would have picked out a better specimen than
that bag of bones. Keep it! I don't want it' Dad waved his arm scornfully
and turned back toward the house.
Anger rose inside me. It squeezed together my throat muscles and pounded
into my temples.
'You'd better get used to him, Dad. He's staying!' Dad ignored me. 'Did
you hear me, Dad?' I screamed. At those words Dad whirled angrily, his hands
clenched at his sides, his eyes narrowed and blazing with hate.
We stood glaring at each other like duellists, when suddenly the pointer
pulled free from my grasp. He wobbled toward my dad and sat down in front of
him. Then slowly, carefully, he raised his paw.
Dad's lower jaw trembled as he stared at the uplifted paw. Confusion
replaced the anger in his eyes. The pointer waited patiently. Then Dad was
on his knees hugging the animal.
It was the beginning of a warm and intimate friendship. Dad named the
pointer Cheyenne. Together he and Cheyenne explored the community. They
spent long hours walking down dusty lanes. They spent reflective moments on
the banks of streams, angling for tasty trout. They even started to attend
Sunday services together, Dad sitting in a pew and Cheyenne lying quietly at
his feet.
Dad and Cheyenne were inseparable throughout the next three years. Dad's
bitterness faded, and he and Cheyenne made many friends. Then late one night
I was startled to feel Cheyenne's cold nose burrowing through our bed
covers. He had never before come into our bedroom at night. I woke Dick, put
on my robe and ran into my father's room . Dad lay in his bed, his face
serene. But his spirit had left quietly y sometime during the night.
Two days later my shock and grief deepened when I discovered Cheyenne
lying dead beside Dad's bed. I wrapped his still form in the rag rug he had
slept on. As Dick and I buried him near a favourite fishing hole, I silently
thanked the dog for the help he had given me in restoring Dad's peace of
mind.
The morning of Dad's funeral dawned overcast and dreary. This day looks
like the way I feel, I thought, as I walked down the aisle to the pews
reserved for family. I was surprised to see the many friends Dad and
Cheyenne had made filling the church. The pastor began his eulogy. It was a
tribute to both Dad and the dog who had changed his life. And then the
pastor turned to Hebrews 13:2. 'Be not forgetful to entertain strangers.'
'I've often thanked God for sending that angel,' he said.
For me, the past dropped into place, completing a puzzle that I had not
seen before: the sympathetic voice that had just read the right article ...
Cheyenne's unexpected appearance at the animal shelter. . .his calm
acceptance and complete devotion to my father and the proximity of their
deaths. And suddenly I understood. I knew that God had answered my prayers
after all.
Life is too short for drama and petty things, so laugh hard, love truly
and forgive quickly. Tell the people you love that you love them, at every
opportunity.
See more animal love
stories.
Footnote:
Please send us your Valentine love stories
See more Valentines jokes, funny stories,
poems, sayings and pictures
Valentine's Day jokes
Valentines sayings
Valentine card
Valentine angel
Valentine's Day kiss
Romantic Valentine poems
Kids Valentine jokes
Cynical Valentines
Valentine stories
Valentine love stories
Chinese Valentine's Day
Romantic one-liners