When is Valentine's Day?
Only
//Set the two dates
var olympics=new Date("February 14,2014") //Month is 0-11 in JavaScript
today=new Date()
//Get 1 day in milliseconds
var one_day=1000*60*60*24
//Calculate difference btw the two dates, and convert to days
document.write(Math.ceil((olympics.getTime()-today.getTime())/(one_day)) + " days until Valentine's Day 2014.")
Valentine's Day 2013 - Thursday
Valentine's Day 2014 - Friday
Valentine's Day 2015 - Satuday
2014 - When Valentine's Day is on a Friday.
Happy Valentine
The Legend of St Valentine
St Valentine
Valentine Day Crafts and
Customs
Happy Valentine
With the proliferation of smart phones, tablets and the like it's now
possible to get apps that will do almost anything for you. 'Send a sexy
text' offers pre-written romantic texts to knock your partner off his/her
feet. I liked this example quoted in 'The Guardian' (UK).
My Love
1st time I saw u I was scared 2 touch u.
1st time I touched u I
was scared 2 kiss u.
1st time I kiss u I was scared 2 love u,
But
now dat I love u im scared 2 lose u.
A Romantic Moment?
It was Valentine's Day. Diana was feeling romantic but her husband,
Harvey, was away from home at a business conference, so she sent him a text
message:
"If you are sleeping, send me your dreams. If you are laughing, send me
your smile.
If you are eating, send me a bite. If you are drinking send me a sip. If
you are crying, send me your tears. I love you!"
Harvey, a typical down-to-earth, non -romantic male, replied,
"I am on the toilet. Please advise."
The Legend of St Valentine
St
Valentine's day history goes back to Roman times. The emperor Claudius II was a student of human nature and way back in AD 287 he calculated that single men made braver soldiers than married men.
Therefore, as Claudius had absolute power, he dictated than no soldier should marry. A Roman called Valentinus thought that this was rough justice and secretly married soldiers who had a sweetheart.
When Claudius discovered that Valentinus had defied his decree he threw Valentinus into jail. Whilst incarcerated, Valentinus fell in love with the gaoler's
daughter and sent her the first ever card -
from your sweet Valentine.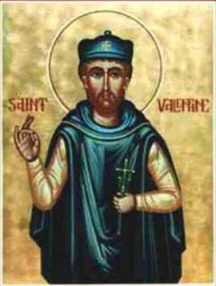 St Valentine
Much later, in AD 496 Pope Gelasius, chose 14 February as the day to honour
and remember Saint Valentine. Unfortunately, tantalisingly little is known
about these early origins of St
Valentine.
In the history of St Valentine's day, it is the 17th century which was the most important
and truly romantic era. The 14th of February
became important as a day to exchange love notes by sending poems and gifts. Sometimes dances and small festivals were held.
In modern times, 1416, Charles, Duke of Orleans, sent one of the earliest
Valentines, from his imprisonment in the Tower of London after the Battle of Agincourt. He sent several Valentine poems to his wife in France.
Valentine Shock
St Valentine 'Not the saint of love'
Britain's Roman Catholic Church is advising lovelorn singles to direct
their 14 February requests for love to St Raphael, rather than St Valentine.
Over the years St Valentine has come incorrectly to be associated with
finding love, the Church says. He is the patron saint for those who
have already found their soul mate. St Raphael is the patron saint for
happy encounters and it is to him those fearing the Valentine's post should
properly direct their prayers.
Valentine Day Crafts and Customs
In Guy's
home country of Wales wooden love spoons are made and given as presents on 14 February. Hearts, keys and keyholes feature as decorations on these carved spoons as and invitation to 'unlock my
heart'.

Valentines day history in Medieval times saw the youth of the time wearing names drawn from a hat on their sleeves. Hence the modern expression 'to wear your heart on your sleeve'
. This means that other people can easily see
what you are feeling.
If a young lady sees a sparrow on February 14th flying overhead it means that she will marry a poor man and be extremely happy. If she saw a robin she would marry a mariner. A goldfinch
seen by a woman meant that she would marry into riches.
St Valentine's
commercialisation probably began with the making and selling of cards in the 18th century. Women in the 18th century would
write men's
names on paper, roll them in clay and place them in a bowl of water. The first paper to rise to
the surface would contain the name of a woman's
true love.
Wise Words
Never have children, only grandchildren.
Gore Vidal
The
Heart is the Most Common Symbol of Romantic Love
Ancient cultures believed the human soul lived in the heart. Others
thought it to be the source of emotions and intelligence. Some believed
the heart embodied a man's truth, strength and nobility. The heart may
be associated with love because the ancient Greeks believed it was the
target of Eros, known as cupid to the Romans. Anyone shot in the heart
by one of Cupid's arrows would fall hopelessly in love. Because the
heart is so closely linked to love, its red colour is thought to be the
most romantic.
P.S. If you have a St Valentine's Day 2014 story, then please send
it to us.
See more St Valentine's Day jokes, funny stories,
poems, sayings and pictures
Valentine's Day
Valentine's Day jokes
Valentine's Day trivia
History
Funny Valentine pics
Love token
Funny Valentine card
Valentine food
Chocolate
Valentine quotes
Home
Funny Valentine places
Valentine's hearts pictures
Love in animal kingdom
Ideas for a boy