Will and Guy believe that cats and dogs get more pampering than many men
and even some women.
Valentine Cat - My, What a Big
Heart You Have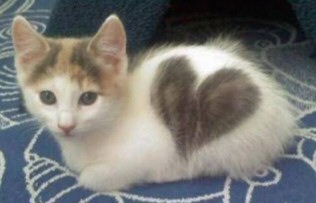 True Story
- Bakery for Dogs Opens in Paris
An
award-winning pastry chef has opened a bakery in Paris which caters only for dogs. Mon Bon Chien sells bacon biscuits in the shape of a cat and
also bone-shaped cookies made of foie gras, reports the BBC.
The
owner is Harriet Sternstein who moved to Paris from the US with her dog
Sophie-Marie. Sophie-Marie provided the inspiration for the new business
for her owner, who decided the best way to make a living was to combine her
biggest enthusiasms - pastries and pets.
'Everything is made in the back of the boutique', said Ms Sternstein, 'Every
day, I make 200 to 300 biscuits and special orders are taken on a daily basis.'
'The Parisians come - and the first time they think it's very funny and they
look at it, and buy the ones that they think are the cutest. Then the dogs
come back and choose which flavours they like the best.
'I change
flavours, based on what's going on, I will be creating a special biscuit for
Valentine's Day.'
Kitten For Valentine's Day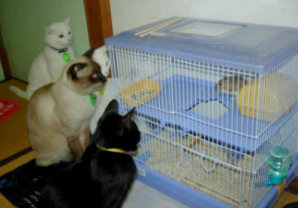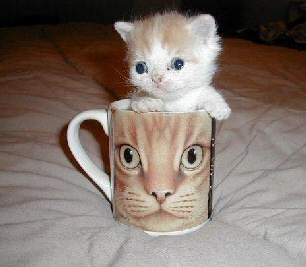 Mr Mouse, can you get out of that without moving!
See more funny cat
pictures.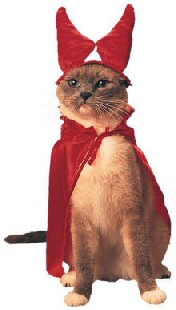 Valentine Chihuahua Puppy
This Chihuahua puppy literally wears its heart on its sleeve. The cute male pooch, born with a
perfect heart-shaped patch on its side, has been suitably named Heartkun by its
owner in northern Japan. The one-and-a-half-month-old pup was born as
one of a big litter, but is the only new arrival to sport such a
heart-warming coat.
According to owner Emiko Sakurada, and reported in the Daily Mail, this is
the first occasion a puppy with such marks had been born out of the more
than one thousand Chihuahuas she has bred.
Will and Guy's Valentine's
Day Trivia
Some of these Valentine's Day Statistics are funny, many are interesting,
and all are informative in their own way.
Only the USA, Canada, Mexico, France, Australia and the UK, celebrate
Valentine's Day on February 14th - Will and Guy think it may also be
celebrated in other countries, for example China on the 7th day of the 7th
month of their lunar calendar.
Valentine's Day Card Trivia
Teachers will receive the most Valentine's Day cards, followed by
children, mothers, wives, and then, sweethearts. Children ages 6 to 10
exchange more than 650 million Valentine's cards with teachers,
classmates, and family members.
Approximately 1 billion Valentine's Day cards are exchanged on
February 14th each year -
the largest seasonal card-sending occasion of the year, next to Christmas
.
According to the Greeting Card Association, an estimated one billion
valentine cards are sent each year, making Valentine's Day the second
largest card-sending holiday of the year. [An estimated 2.6 billion cards
are sent for Christmas].
Hallmark has over 1330 different cards specifically for Valentine's Day.
Valentine's Trivia about Flowers and Chocolates

110 million roses, the majority colour red, will be sold and
delivered within a three-day time period.
The red rose was the favourite flower of Venus, the Roman goddess of
love. Red stands for strong feelings
California produces 60 percent of
American roses, but the vast number sold on Valentine's Day in the United
States are imported, mostly from South America.
15% of U.S. women send themselves flowers on Valentine's Day.
73% of people who buy flowers for Valentine's Day are men, while
only 27 percent are women.
More than 35 million heart-shaped boxes of chocolate will be sold
for Valentine's Day.
While 75% of chocolate purchases are made by women all year long, during
the days and minutes before Valentine's Day, 75% of the chocolate purchases
are made by men.
Over $1billion USD worth of chocolate is purchased for Valentine's Day.
One-third of all Valentine cards are accompanied by gifts.
An estimated 25% of Valentine's Day cards are humorous.
70% of those celebrating the holiday give a card, followed by a telephone
call [49%], gift [48%], special dinner [37%], candy [33%] restaurant meal
[30%], and flowers [19%].
The Italian city of Verona, where Shakespeare's lovers Romeo and Juliet
lived, receives about 1,000 letters addressed to Juliet every Valentine's
Day.
About 3% of pet owners will give Valentine's Day gifts to their
pets. (Probably chocolate.)
The most fantastic gift of love is the Taj Mahal in India. It was built
by Mughal Emperor Shahjahan as a memorial to his wife.
Dating Agency for Parrots
An ornithologist who set up a dating agency for lonely parrots says it has
been a huge success.
Rita Ohnhauser has already brought 1,300 lonely
hearts together in Berlin and unlike other matchmakers she knows her pairs
will never split - because the birds mate for life.
'In the wild parrots search out a life partner and then spend every minute of the day with them, but when they are kept as pets they are
mainly alone and get very depressed, 'said Ohnhauser.
She added that
parrot owners across Germany had started bringing their feathered friends to
the sanctuary to find a mate, and she currently had 150 parrots busy
'getting acquainted' with other birds.
'Birds experience love at first
sight just like humans. But others make a really careful choice before
entering a relationship. It can take up to three months', she said.
Footnote:
Please send us your Valentine cats
pictures, jokes and stories.
See more St Valentine's Day jokes, funny stories,
poems, sayings and pictures
Valentine's Day jokes
Valentine's Day trivia
History
Funny Valentine pics
Love token
Funny Valentine card
Valentine food
Chocolate
Valentine quotes
Home
Funny Valentine places
Valentine's hearts pictures
Love in animal kingdom
Ideas for a boy