Here is Will and Guy's collection of romantic Valentine poems from the
Victorian era to the present day.
At the touch of love, everyone becomes a poet. Plato
I've
Often Wished to Have a Friend
I've often wished
to have a Friend
With whom my sweetest hours to spend
To whom I safely might impart
Each wish and weakness of my heart
Who might in every sorrow share
And mingle with my grief a tear
For whom
alone I wish to be
And who would only wish for me
And to secure my bliss for life
I'd wish that friend to be my Wife.
My Own Sweet Valentine
Like the sweetly budding rose,
Freshened
by the gentle rain
Like the Evening Star that glows,
Brightest of the starry train
Like a well arranged Bouquet,
Where the fairest flowers combine,
Odours rich and colours gay,
Is my own
Sweet Valentine
'I Thee Wed'
- Romantic Valentine Poem by
Charles Dickens
'Come, let's
be a comfortable couple and take care of each other!
How glad we shall be, that we have somebody we are fond of always, to talk to
and sit with.
Let's
be a comfortable couple.
Now do, my dear!'
Martyrdom by John Keats
I have been astonished that men could die martyrs for their religion -
I have shudder'd at it.
I shudder no more.
I could be martyr'd for my religion
Love is my religion
And I could die
for that.
I could die for you.
I Wish You Were My Valentine
I wish you were my Valentine
Though I may not be yours,
And I may, in my ignorance,
Be speaking to closed doors.
I have no inkling of your heart,
No hint what you might say;
But when I think of you the sun
Will just not go away.
There is in you a loveliness
That makes my darkness shine,
And so I'll wait, if wait I must,
To be your Valentine.

Forget-me-not -
Classic Victorian Romantic Valentine Poem
Forget me not
No other heart
Can ever be more true than mine
Though many loving friends surround
Thy
sunny path, my Valentine
My So Nearly Valentine!
I'm going to tea at the Reasons
Such an elegant up market affair.
I've scrubbed me hands
Face and neck and brushed me 'basin' cut hair!
I skip down the hill to his big posh house
Heading for tasty
treats
He lives in the shop next the flicks
The one that sells
chocolates and sweets.
Terry wants me to be his Valentine
His red velvet card told me so
This evening he waits on my answer
But will I say yes or no?
Their house is the best there's none finer
Silk curtains held back
with a frill
There's always fresh fruit on the sideboard,
Even
when nobody's ill!
I sit at their sumptuous table
Look in wonder on bone China plates
Drinking tea from a matching cup
Eating cake made with nuts and
dates.
We said a prayer before we began
Though his posh mam called
it 'grace'.
And I dabbed my lips as the adults did
On a napkin of
flowers and lace.
Their sugar came in tiny cubes!
That was such a surprise to me,
Used the real silver sugar tongs
And dropped some in my tea!
I've
made up my mind and wink at him
he's the Valentine I want.
He
blows me a kiss
Across the cheese and salmon vol au vent!
He's blonde and wears blue plastic glasses
They call him four eyes
at school
He woos the girls with Mars Bars and Kit Kats
'cos this
lad is nobody's fool.
Christine Dunn wants him all to herself
But
she's far too old at aged ten.
But then that's Christine all over
Always going for much younger men!
But I had a trick up my sleeve
And captured my beau fair and
squareI
I did what the other girls couldn't
I taught the lad how
to swear!
Now I've seen the way he looks at me
And I know I have made him
mine
Though I have not quite yet turned eight
he's that a bit
older, he's nine!
Stuffed to the gills I'm so happy
As we stroll arm in arm up the
hill
Me pockets filled with toffees
And the tanner he's nicked
from the till.
In our entry he stops to give me a kiss
- I blush
cos it's my first!
But our noses crashed, his glasses smashed
Our
affair was sadly cursed.
Only friends now with no spark of romance
Though I got the
odd Mars bar or three
Christine Dunn got all his attention
She
steamed his glasses not me.
I saw him a few years ago
He asked how I was I said 'Fine!'
Now
as wide as he once was tall
He was so nearly my first Valentine!
Footnote:
This is an original poem by
Joy James, it's not
for reprinting without permission.
More Romantic Valentine Poems
My Funny Valentine - By
Chet Baker
My Funny Valentine
Sweet Comic Valentine
You Make Me Smile
With My Heart
You're Looks Are Laughable,
Unphotographable
Yet You're My Favorite Work Of Art
Is Your Figure Less Than Greek
Is Your Mouth A Little Weak
When You Open It To Speak
Are You
Smart
Don't Change A Hair For Me
Not If You Care For Me
Stay
Little Valentine Stay
Each Day Is Valentine's Day
Cupid - Valentine Day Poem /
Song

Cupid, draw back your bow
And let your arrow go
Straight to my
lover's heart for me
for me
Cupid, please hear my cry
And let your arrow fly
Straight to my
lover's heart for me
Now I don't mean to bother you
But I'm in distress
There's danger
of me losing all of my happiness
For I love a girl who doesn't know I
exist
And this you can fix
So, Cupid, draw back your bow
And let your arrow go
Straight to my
lover's heart for me
Nobody but me
Cupid, please hear my cry
And let your arrow fly
Straight to my
lover's heart for me
Now, Cupid, if your arrow makes his love strong for me
I promise I
will love him until eternity
I know between the two of us his heart we
can steal
Help me if you will
So, Cupid, draw back your bow
And let your arrow go
Straight to my
lover's heart for me
Nobody but me
Cupid, please hear my cry
And let your arrow fly
Straight to my
lover's heart for me
Now, Cupid, don't you hear me calling you, I need you,
Cupid, help me.
Words by Sam Cooke.
The Magic Of Love - Another Romantic
Poem for Valentine's Day
Love is like magic
And it always will be.
For love still remains
Life's sweet mystery.
Love works in ways
That are wondrous and strange
And there's nothing in life
That love cannot change.
Love can
transform
The most commonplace
Into beauty and splendour
And
sweetness and grace.
Love is unselfish,
Understanding and kind,
For
it sees with its heart
And not with its mind.
Love is the answer
That everyone seeks...
Love is the language,
That every heart speaks.
Love can't be bought,
It is priceless and free,
Love, like pure magic,
Is life's sweet mystery.
Written by Helen Steiner Rice
If You Love
a Vegetarian - Unusual Valentine Day Poem
Cabbage always has a heart;
Green beans string along.
You're such a
Tomato,
Will you Peas to me belong?
You've been the Apple of my eye,
You know how much I care;
So Lettuce get together,
We'd make a perfect
Pear.
Now, something's sure to Turnip,
To prove you can't be Beet;
So, if you Carrot all for me
Let's let our tulips meet.
Don't Squash
my hopes and dreams now,
Bee my Honey, dear;
Or tears will fill
Potato's eyes,
While Sweet Corn lends an ear.
I'll Cauliflower shop
and say
Your dreams are Parsley mine.
I'll work and share my Celery,
So be my Valentine.
Author Unknown
One More Valentine's Love Poem
You've Touched My Heart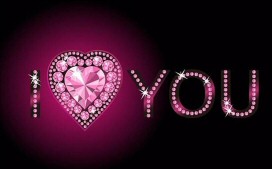 You've given me a reason
For smiling once again,
You've filled
my life with peaceful dreams
and you've become my closest friend.
You've shared your heartfelt secrets
And your trust you've given
me,
You showed me how to feel again
To laugh, and love, and see.
If life should end tomorrow
And from this world I should part,
I shall be forever young
For you have touched my heart
P.S. If you have a
Romantic
Valentine Day Poem for 14 February, then please send it to us.
See more Valentines jokes, funny stories,
poems, sayings and pictures
Valentine's Day jokes
Valentines sayings
Valentine card
Valentine angel
Valentine's Day kiss
Romantic Valentine poems
Kids Valentine jokes
Cynical Valentines
Valentine stories
Valentine love stories
Chinese Valentine's Day
Romantic one-liners