Here is a collection of pictures showing a plane near, formation flying,
optical illusions, and possibly some faked photos.
Aircraft Optical Illusion
My first suggestion is to click on this picture and enlarge the image. You should see what looks like a faked picture, but I assure you it's
no fake. See if you can make out 'Lufthansa'
on one
plane and '
United Airlines'
on the other. Read on when you have examined the two
planes in the picture.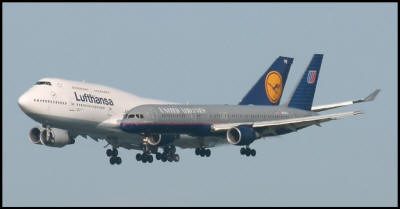 Here above is a great optical illusion photo taken of a Lufthansa 747-400 and a United Airlines 757-200 that were on simultaneous approaches to runways 28L and 28R at San Francisco (SFO).
The separation requirement for
flying parallel and simultaneous approaches is 225 meters (738 feet). These two aircraft are at a safe distance for the approaches they
are each flying.
Due to the Lufthansa 747 being three times larger than
the 757 plane and being slightly behind , gives us this incredible optical illusion.
Formation Flying
Classic old and new planes.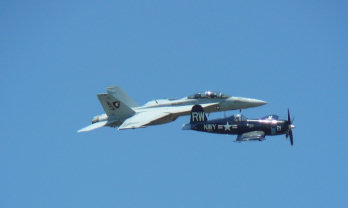 Will and Guy asked if you can identify the planes and the following people
kindly responded.
Shelby wrote saying their dad identified the jet
plane as an F-18 Hornet.
Andrew Gruff wrote saying the WWII plane is
Grumman F6F Hellcat, and the plane at the back is indeed a Hornet.
Tom
says the older plane in front is actually a Vought F4U "Corsair".
Plane Near Miss? - Too Near
Miss?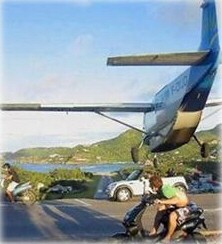 Is that a runway that we can see in the middle just to the left of the
car. Do the shadows confirm that it is indeed a near collision?
Guy thought this was a near mess, rather than a near miss.
Clever Air-show Picture or a Cut and Paste Illusion?
Here is Another Plane Near Miss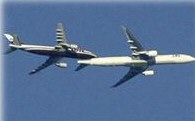 Plane
Illusion - Or Narrow Escape?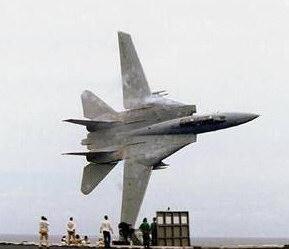 Not an Illusion - Just a Globemaster Releasing
Flares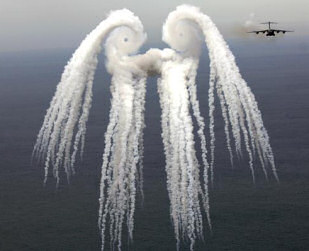 The United States Air Force C-17 Globemaster III Military Transport with the 14th Airlift Squadron located at
Charleston Air Force Base in South Carolina flies away after releasing flares over the Atlantic Ocean.
Smoke from the flare salvo reveals a crisp, dramatic, startling, and beautiful visual of the
turbulent air - including two vortices each with an "eye" - created by the plane as it flies through the air.
Parachute Dilemma
There were three passengers in a light aircraft but only two parachutes.
The first, Seamus, was the Irish Master Mind Champion.
The second, Larry, was an American Hall
of Footballer.
The third, Bruce, was an Australian dual Olympic Games Champion.
The conversation went thus, Seamus said, 'There have been many American Hall of fame footballers and
several people have won Olympic Gold medals, but there has only ever been one Irish Master Mind Champion. So I'll take the first parachute and you two can fight it out for the last one'. With that
Seamus took a parachute and leapt out of the plane, which incidentally, by now was in considerable distress.
'How shall we decide who has the last parachute?', Larry asked Bruce.'
No worries', Bruce said, 'Yonder
Irish Master Mind Champion has jumped out with my rucksack'.
Footnote:
Please send us your plane illusions.
See more funny plane pictures and videos. Also
aircraft and pilot jokes
•
Planes and Pilots Home •
Low Flying •
Plane Illusion •
Plane, Lucky Escape • F-15
Hoax
•
Flight 1549 Rescue •
Airports & Airstrips •
Will's Plane Landing? •
Typhoon F2 Approach
•
Helicopter Crashes Video •
Grandma Flying •
Yorkshire Airlines •
Russian Air Show •
Home