We have selected this video to get you in the mood for your summer
holiday flight. Here is Will returning from his trip to Paris. You
can just about make out Will waving at the window of the fourth cabin from the front.
A reminder - This plane is supposed to be landing - not taking off.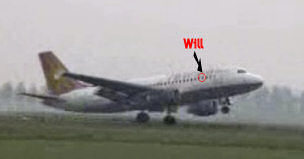 Nearly down on it's nose. Sparks fly - but will the plane land?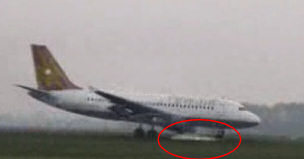 Check out the video and see that this plane really is trying to land.
Difficult Landing Video
Check out our plane landing video clip. As Will said to the captain: 'Did we land or were we shot down?'
N.B. With some browsers you need to click twice on the Play arrow

to start the video.
N.B. Help for Mozilla browsers
If Only The Pilot Had Known About The
Dancers Crossing The Runway.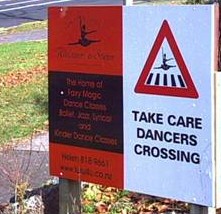 Will's experience with luggage at Gatwick Airport
After his return flight from Rome, Will couldn't
find his luggage in the
London Gatwick airport baggage area. So he went to the lost luggage office and told the woman there that his bags hadn't
shown up on the carousel. She smiled and told him not to worry because they were trained professionals
and he was in good hands.
'Now', she asked Will, 'has your plane arrived yet?'
See more funny plane pictures and videos. Also
aircraft and pilot jokes
•
Planes and Pilots Home •
Low Flying •
Plane Illusion •
Plane, Lucky Escape • F-15
Hoax
•
Flight 1549 Rescue •
Airports & Airstrips •
Will's Plane Landing? •
Typhoon F2 Approach
•
Helicopter Crashes Video •
Grandma Flying •
Yorkshire Airlines •
Russian Air Show •
Home