Here we have two stories about co-operation between animal species. One can just about imagine dogs and pigs getting along, but a hippo and a tortoise does seem amazing.
 Sponsored Links
∇
Hippo and Tortoise (Owen and Mzee) - PowerPoint Presentation
Here we have a series of photographs which tell the story of the baby hippo (Owen), saved from the 2004 tsunami, and adopted by a male giant tortoise (Mzee).  Much of life can never be explained but only witnessed. We hope you enjoy this pictorial story.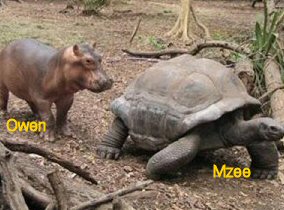 It is incredible, a less-than-a-year-old hippo has adopted a male tortoise. (In Swahili, Mzee means old man)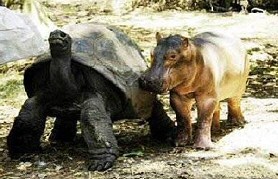 Mzee seems to be very happy being a 'mother'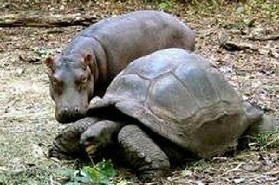 Hippos are social animals that like to stay with their mother for as long as four years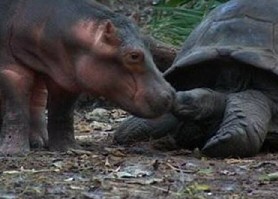 PowerPoint Presentation featuring Hippo and Tortoise (Owen and Mzee)
Hippo and Tortoise Free Download of PowerPoint Presentation (Right click Save Target As)
The Tale ofOwen and Mzee
These photographs tell the story of the baby hippo (Owen), who was saved from the 2004 tsunami.  In order to survive, he was adopted by a giant tortoise (Mzee).  These pictures were taken at an animal facility in the port city of Mombasa , Kenya, East Africa. This is a true story that shows that our differences don't matter much when we need the comfort of another. Share Owen and Mzee's story with a friend.  A-less-than-a-year-old hippo has adopted a male tortoise.  After it was swept away and lost its mother, the hippo was traumatized.  Mzee seems to be very happy being a 'mother'.  The hippo is a young baby, he was left at a very tender age. 'Life is not measured by the number of breaths we take, but by the moments that take our breath away'
The Dachshund and Pink the Pig
Here is another inspirational story about animals.  The situation is a a Dachshund is fostering this pig for another mother who has just died. Originally his eyes were closed, but now they are open. He is just a little bigger than her other puppies. Mum appears to love him as much as the other puppies and she is nursing him back to health. He is also the cleanest pig-puppy ever because she licks him all the time. Unsurprisingly he is named, Pink.

Funny dachshund races
How to Create a PowerPoint Presentation
Making presentations in PowerPoint is satisfying, moreover, it's easy to get started. The PowerPoint program is intuitive to learn and easy to create your own PPT slides and build them into a slide show.  If you have Microsoft Office you may find that you already have PowerPoint along with Word and Excel. One way to begin is simply to open any example presentation.  Just download one of our free PPT files and open it with PowerPoint.  As you examine the slides, so it will become obvious how to add pictures and titles, if you do get stuck, ask the wonderful built-in 'Help'.  To make an amazing slide show requires these skills;
Imagination - Think an idea, then build a themed slide set
Artistic - An eye for a good picture
Wordsmith - Choose a catchy title for each slide
Humour - Your viewers will appreciate a funny PowerPoint Presentation
PowerPoint mechanics - Actually, this is the easiest skill of them all, the program is so intuitive.
Good luck with creating your PowerPoint Presentation Will and Guy
Free inspirational stories about life, business, children and animals
•
Free inspirational stories
•
Red Marbles
   • Wishes   • Kindness story   •
Sisterly love
   • Pot proverb • Inspirational stories for kids   • Chinese proverb   • Cookie parable   • Inspirational philosophy • Eagle Rebirth   • Inspirational short stories   • Good Karma   • Inspirational story • Uplifting story