Sisterly Love - Inspirational Children's Story
Will and Guy were touched by this example of sisterly love. We hope that you will be moved by the pictures and video demonstrating a sister's love for her brother.
1) A little girl picks up, then empties her wash bag.


(Note her longish hair in this picture)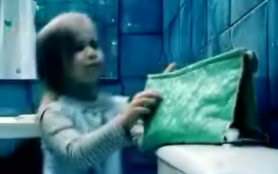 2) The little girl cuts her own hair. How can this be sisterly love?
3) This is the result of her do-it-yourself haircut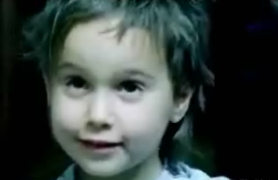 4) The little girl's
parents look horrified, especially her mother.


Note, for the first time we see her brother. How can this possibly be an act of sisterly love?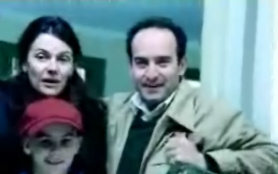 5) This is the crucial scene, the little girl gives brother the hair which she has just cut.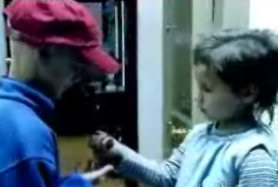 6) Normally we would leave you in suspense, but in this touching example of sisterly love we simply have to include the final scene.
We can reveals that the brother has cancer and has just returned from
hospital where he has received chemotherapy. One side-effect is that the poor brother has gone bald. What more poignant way for the sister to demonstrate her love than to cut off her hair and give
it to him.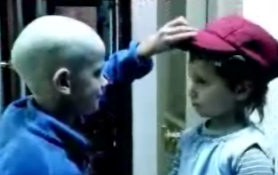 Inspirational Children's Story - Video Clip
Check out our free video clip. You will be amazed at the power of sisterly love.
N.B. With some browsers you need to click twice on the Play arrow

to start the video.
Free video clip of Sisterly Love (Right click Save Target As..)
The Eyes of Love-
Inspirational Life Story
A grandmother and a little girl whose face was sprinkled with bright
red freckles spent the day at the zoo. The children were waiting in
line to get their cheeks painted by a local artist who was decorating
them with tiger paws.
'You've got so many freckles, there's no place
to paint!' a boy in the line cried.
Embarrassed, the little girl dropped her head. Her grandmother knelt
down next to her. 'I love your freckles,' she said.
'Not me,' the
girl replied.
'Well, when I was a little girl I always wanted
freckles,' she said, tracing her finger across the child's cheek.
'Freckles are beautiful!'
The girl looked up. 'Really?'
'Of course,' said the grandmother. 'Why, just name me one thing
that's prettier than freckles.'
The little girl peered into the old
woman's smiling face. 'Wrinkles,' she answered softly.
Three More Inspirational Children's Stories
Lesson 1 - A Child Learns
If a child lives with criticism,
he learns to condemn.
If a child
lives with hostility,
he learns to fight.
If a child lives with
ridicule,
he learns to be shy.
If a child lives with shame,
he
learns to feel guilty.
If a child lives with tolerance,
he learns to
be patient.
If a child lives with encouragement,
he learns confidence.
If a child lives with praise,
he learns to appreciate.
If a child
lives with fairness,
he learns justice.
If a child lives with
security,
he learns to have faith.
If a child lives with approval,
he learns to like himself.
If a child lives with acceptance, and
friendship,
he learns to find love in the world.
Author unknown
This is one of Will and Guy's favourite inspirational poems. As a young
teacher and a father, Will can remember reading this poem often.
Lesson Two - Nails
This is the story of a little boy who had very bad character. His
father gave him a bag of nails and told him that each time he would lose
his patience, he should nail a nail behind the door. The first day the
boy nailed 37 nails behind the door. The following weeks, as he learned
to control his temper, each time he would nail less nails behind the
door. He discovered that it was easier to control his temper than to
nail behind the door.
A day came when he could control his character during all the day.
After informing his father, this one suggested that he should remove a
nail each day he could control his character. The days passed and the
youth could announce his father that there were no more nails to remove
from the door.
His father took him by the hand and led him to the door. He told him,
'You have worked hard, my son, but look all those holes in the door.
Never more it will be the same. Each time you lose your patience, you
leave scars exactly as the ones you see here.'
Lesson Three - The
Visit A Most Inspirational Story
One day, the father of a very wealthy family took his son on a trip
to the country with the express purpose of showing him how poor people
live.
They spent a couple of days and nights on the farm of what would be
considered a very poor family.
On their return from their trip, the
father asked his son, 'How was the trip?'
'It was great, Dad.'
'Did you see how poor people live?' the father asked.
'Oh yeah,'
said the son.
'So, tell me, what did you learn from the trip?' asked the father.
The son answered, "I saw that we have one dog and they had four. We
have a pool that reaches to the middle of our garden and they have a
creek that has no end. We have imported lanterns in our garden and they
have the stars at night. Our patio reaches to the front yard and they
have the whole horizon.
We have a small piece of land to live on and they have fields that go
beyond our sight.
We have servants who serve us, but they serve others. We buy our
food, but they grow theirs.
We have walls around our property to protect us, they have friends to
protect them."
The boy's father was speechless.
Then his son added, 'Thanks Dad for showing me how poor we are.'
Footnote:
Please send us your inspirational children's story.
See another short love story:
• Short love stories
• Chinese love stories • Love in the animal kingdom •
Animal love stories
•
Stories about people •
Love story •
Best of love quotes •
Valentine love •
Valentine love story
•
Funny short stories
• Sisterly love •
Very short stories
• Unlikely animal friends •
Home