Will and Guy have collected funny medical jokes from the disciplines of
dentistry, podiatry and surgery.
Doctor jokes
Funny Dentist Horror Stories
Funny
Mental Health Jokes
Other Joke Sections
Funny Medical Jokes (On this page)
What should you give a man who has everything? Penicillin.
Framed
An old gentleman, whose name was Anil, thought his eyesight was
deteriorating, so he decided to go to see an optometrist and have them
tested.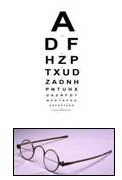 Corinne, the optometrist, speaks to Anil, saying, 'All right, let's check
you out. You sit down here on this stool. You put your right hand over your
right eye and read that chart on the wall over there.'
Anil puts his left hand over his left eye. The optometrist says, 'No, no,
no. Put your right hand over your right eye.'
Poor old Anil puts both hands over both eyes. Corinne is, by now, becoming annoyed.
Anil continues to do things badly and Corinne becomes angry and says,
'All right, I'll fix you!' she mutters. She takes a paper bag out of the cupboard, cuts one hole in it, puts it
over Anil's head, and demands, 'Now, read that chart!'
Anil reads it perfectly. The optometrist takes the bag off, and Anil
begins to cry like a baby. Corinne then barks, 'Now, what's the matter with
you?'
'Well,' sobbed Anil, 'when I first came in here, I had my heart set on
wire frames.'
An Ear Full - Or Not?
Hazel went to her family physician with her crying baby. Doctor Cassidy
diagnosed right away that the baby had an earache and he wrote a
prescription for ear drops. In the directions he wrote, 'Put two drops in
right ear every four hours', and he abbreviated "right" as an R with a
circle around it.
Hazel returned to the doctor after several days and complained that the
baby still had an earache, but his bottom was getting really greasy with all
those drops of oil.
Dr Cassidy was amazed and looked at the bottle of ear drops and realized
immediately what had gone wrong. The Pharmacist had typed the following
instructions on the label:
'Put two drops in R ear every four hours.'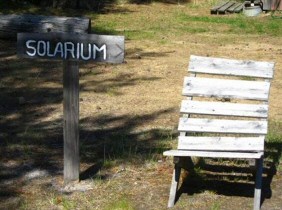 New Will to Live
An elderly gentleman named Morris had had considerable hearing problems
for a number of years. Naturally, Morris went to his doctor and the doctor
was able to have him fitted for a set of hearing aids that enabled Morris to
hear perfectly.
Morris returned in a month to the doctor for his check up and was told,
'Morris, your hearing is perfect. Your family must be really pleased
that you can hear again.'
Morris grinned, 'Oh, I haven't told my family yet. I just sit around and
listen to the conversations. I've changed my will three times, already.'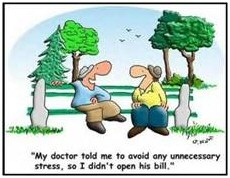 The Diagnosis
Peter, an 82 year-old man, went to see Doctor Lucan to have a full
physical check-up.
A few days later, Dr Lucan saw Peter walking through the village with a
stunning young woman on his arm. The doctor turned to Peter and spoke
quietly, but clearly, 'You're really doing well, aren't you?'
Peter smiled happily, 'Oh yes, but I'm only doing what you said, Doc, "Get a hot mamma and be cheerful."
'
Dr Lucan grimaced and retorted, 'I didn't say that, Peter. I said, "You've got a heart murmur; be careful."
'
Call a Doctor
It was a stifling hot day and Mr Ryan fainted in the middle of a busy
intersection.
Traffic quickly piled up in all directions, and a well dressed woman
rushed to help him. When she knelt down to loosen his collar, a man
emerged from the crowd, pushed her aside, and said, 'It's all right honey,
I've had a course in first aid.'
The woman stood up and watched as he took the ill man's pulse and
prepared to administer artificial respiration.
At this point she tapped him on the shoulder and said, 'When you get to
the part about calling a doctor, I'm already here.'
Funny Medical Jokes (Snippets from other pages)
Funny Doctor Quote
The best doctor in the world is the veterinarian. He can't ask his patients what is the matter - he's got to just know. Will Rogers
Doctor Makes a Pig's
Ear of Operation
Earlier this year Winston lost his ear. Luck would have it that it was replaced, with a pigs ear, by
doctors. They cut it to size and made it look more human before sewing it, invisibly, in place.
Several weeks passed before Winston felt it necessary to return to his surgeons.
When he did, Winston complained bitterly, 'Doctor, I keep hearing this noise and its doing my head in. 'The
doctor,
totally unconcerned answered, 'Don't
worry, its just a bit of crackling.'
A Good Medical Joke
While working as a radiology technician in a hospital emergency room, I took some X-rays of a trauma patient and took the results to the senior radiologist, who studied the multiple fractures of the femurs
and pelvis.
'What on earth happened to this patient?' he asked in astonishment.
'He fell out of a tree,' according to the report.
The radiologist wanted to know what the patient was doing up a tree.
'I'm not
sure, but his paperwork states he works for Mark's Expert Tree Pruning Service.'
Gazing intently at the X-rays, the radiologist blinked and said, 'Cross out 'expert.'
Patient Care
An element of the admission procedure in the hospital where Doctor Tim Westwood worked, was to ask the new patients if they suffered from any allergies.
If they did, Tim got it
printed on a special 'allergy band' which was then placed on the patient's wrist as a reference for all other hospital employees.

On one particular occasion Tim asked an elderly woman if she had any
allergies. The old dear responded by saying that she was unable to eat bananas.
Tim received a considerable surprise later in the day when a very irate son came out of the ward demanding, 'Who's
responsible for labelling my mother 'bananas'?'
That Killed Him - Heartbreaking Tale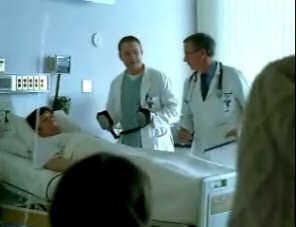 What did the doctor mean by 'That killed him?'
See the heartbreaking story on video.
Check-out what actually happened
Choosing the Right Dental Filling
A little boy called Josh was taken to the dentist. Examination
revealed that Josh had a cavity, which needed filling.
'Now, young man,' asked the dentist, 'what kind of filling would you like
for that tooth, amalgam or composite, ?'
'I would prefer chocolate, please,' replied Josh.
Guy's Own Medical Stories (Factual rather than funny)
Sadness depresses the immune system as well as the mood.
Happiness acts in the opposite way. Therefore being healthy sure
beats being unhealthy. In fact, happiness and health are a two-way causal
street.
How I Cope with
RSI (Repetitive Strain Injury)
Guy's Battle with Gallstones
Footnote:
Please send us your examples of funny
medical jokes and stories.