What kind of streets do zombies like to haunt the best?
Dead end streets.
Collection of Short Halloween Stories
Spooky Halloween
Story - Zombie Mistaken for Murder Victim
Bad Segeberg, Hamburg - Germany
Passengers on a train thought that a Halloween reveller, who was dressed up as zombie, was actually a murder victim. They were alarmed because his hands and
face were smeared with what looked like blood. Because they suspected foul play, fellow passengers on the train called the police and also alerted the ambulance service.
When paramedics arrived they soon realized that the 24-year
old man was in a drunken slumber rather than dead. A little later the police boarded the train, questioned man and asked him to remove his frightening make-up. He was then allowed him to continue his
train journey home.
An official police spokeswoman said:
'Bad Segeberg is in a rural area and Halloween isn't very well known there; so people weren't expecting anyone to be dressed up in the train.'
An un-attributed acquaintance said:
'I was on that train, and my friend looked just the same as normal. I don't understand why they called the authorities'.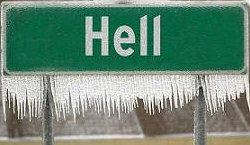 Hell Freezes Over at Halloween
Hell in Michigan USA seems happy to promote its name in the cause of
Halloween. For example, local entrepreneurs cash-in with signs
proclaiming 'Coffee from Hell', or 'Caters from Hell'

In October 2008 there was an advertisement on the M-36, east
of Lemen Road which declares:
Go to Hell
'A little town on its way up.'
Fire-fighters'
Halloween Story
Notice:
County Community Burn Ordinances
Pertaining to recreational fires and burning of yard and household waste.
All outdoor burning is prohibited in the City except for those
parcels described in ordinance. Recreational fires are allowed, but not
during the hours of 6:00 p.m. to 6:00 a.m.
At 8.00pm on October 31st two fire-fighters could see a fire raging
in the back yard. I was clearly in breach of the rule on burning
leaves after dark. One of the fireman knocked on the door, and they
both waited each holding their helmet in their hand. The little old
woman opened the door and promptly dropping a bar of candy into each helmet.
She then told them, 'Aren't you boys are a little old for trick and treat,
and closed the door'. The fire-fighters left open mouthed.
Tall Tale from Vienna Graveyard
Chris Cross, a tourist in Vienna, is going passed Vienna's
Zentralfriedhof graveyard on October 31st. All of a sudden he hears
some music. No one is around, so he starts searching for the source.
Chris finally locates the origin and finds it is coming from a grave with a
headstone that reads: Ludwig van Beethoven, 1770-1827. Then he realizes that
the music is the Ninth Symphony and it is being played backward! Puzzled, he
leaves the graveyard and persuades Tim Burr, a friend, to return with him.
By the time they arrive back at the grave, the music has changed. This
time it is the Seventh Symphony, but like the previous piece, it is being
played backward. Curious, the men agree to consult a music scholar. When
they return with the expert, the Fifth Symphony is playing, again backward.
The expert notices that the symphonies are being played in the reverse order
in which they were composed, the 9th, then the 7th, then the 5th. By
the next day the word has spread and a throng has gathered around the grave.
They are all listening to the Second Symphony being played backward.
Just then the graveyard's caretaker ambles up to the group. Someone in
the crowd asks him if he has an explanation for the music.
"Oh, it's nothing to worry about" says the caretaker. "He's just
decomposing!"
Halloween Aliens
Out in the Andromeda galaxy is a newly discovered comet. The C/2007 L1 is one of the most unusual structures that astronomers have ever seen.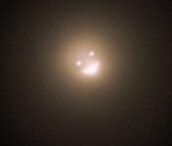 On October 31st, 2007, astro-photographer Pedro Torres of Puebla, Mexico, took a close-up
picture of the comet's core. Pedro used a combination of two 120-second exposures obtained using a 30-cm reflector, a Sigma 6303 CCD camera, and a blue filter.
The photograph was taken at a
perihelion distance of 1.07 AU. What it reveals is startling new structure in the center of comet C/2007 L1. The whole of the coma is very brilliant and unusually, the nucleus containing two extra bright eyes.
The comet's tail was not curved thus producing a circular effect.
Pedro has applied to the International Astronomical Union (IAU) for the official name of comet C/2007 L1 to be called 'Halloween'. See picture to the right:-
More Research on the Halloween Aliens:
Guy is an amateur astronomer, he focused his ancient 'Corgi' telescope on the Andromeda galaxy. This is what he saw when zooming in on Comet C/2007 L1, and switched from medium to high magnification:-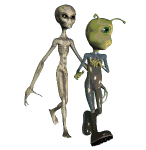 More funny Halloween stories
Funny Halloween Short Tale
Nora Bone was delivering a new plastic skeleton to the doctor's office.
As she waited at the main desk Nora was aware that the waiting room full of
patients was staring at her. So she smiled and said," I am bringing
him in to doctor Henderson."
An old lady said sympathetically, "My
dear! Isn't it a bit late for the doctor?"
See our Halloween poems.
Funny Halloween Story - Stanley Spitfire
Daredevil pup Stanley attracts more than a few stares when he goes for a 'walk' in his miniature Spitfire. Passers-by might think the four month old wire-haired fox terrier is crazy, but he loves donning his
flying hat, goggles and jacket for a spin reports the Metro.
Owners Phil and Sharon Cook, both in their 40s, mocked up the miniature plane for a Halloween party, but Stanley enjoyed it so much that they can
be seen trundling around the streets near their home in Leigh, Essex. Mrs Cook added, 'Stanley loves it. We decided to go for a Spitfire as a nod towards Remembrance Day. He is content to sit in the cockpit and
watch the world go by.'
The plane is made from an old holdall attached to a skateboard, while Stanley's flying hat is fashioned from an old cuddly toy.

Tall Tale?
On 1st of November a motorist called Sutton Council in Surrey England
to ask if a car park was haunted. She thought her vehicle was in a
different place from where she left it the previous evening.
Bear
Tries Trick or Treat
October 31st 2007 - Sussex County, New Jersey, USA. A bear tried his version of 'trick or treat'. Detectives discovered an abandoned van in Vernon; it contained paw prints, black bear hair, and the
crucial evidence - Tootsie candy wrappers. In a television interview, police said that the bear broke into a van because it was attracted by the Halloween
candy. Police believe the bear nudged the hand brake, causing the vehicle to roll down the street. Fortunately, the van stopped after 20 yards when it gently hit the curb.
A police lieutenant
said: 'Our patrolman followed the trail of candy wrappers into the Wawayanda woods, but the
suspect got away'.
What people outside America may not realise is that Vernon, New Jersey is on the edge of the Wawayanda State Park. Moreover, there are so many black bears in the park that
in 2005 they had to have an organised bear hunt to reduce their numbers from an estimated 3,000 bears.
Will and Guy have created the following re-construction of the bear's get-away following his 'trick
or treat':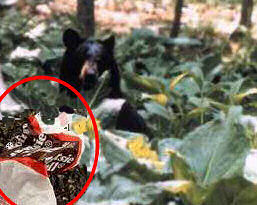 See more of
our bear stories
Arachnophobe Terrified At
Halloween Time
A True Scary Tale
John Stafford, 54, of Scarborough, Yorkshire, England suffers from
debilitating arachnophobia Will and Guy have discovered. We have learned
that he is so scared of spiders that he is forced to stay indoors on
Halloween.
He claims the condition is so bad that his doctor has told him even fake
rubber spiders displayed in shop windows could give him a fatal heart
attack. Describing his reaction when he sees a spider, he said, 'I stop
breathing and pass out, it's just terrifying.' Mr Stafford added that he had
tried everything from hypnosis to pills to cure his lifelong fear, but
without success.
His wife Maria, 44, described the moment she feared for her husband's
life after he saw some spiders in a shop window display, saying he passed
out and slumped against her before she was able to bring him round. She
added, 'I've known my husband since I was four years old and I don't want to
bury him now.'
A New and Different
"Ghost Train" Short Story
This young fellow,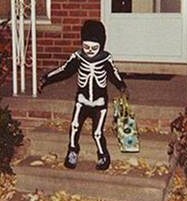 ... is about to ride the escalator into the dark at the top where he may
find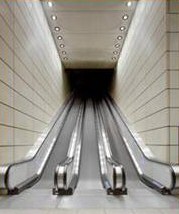 These partying ladies.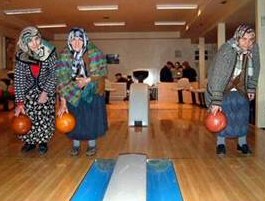 See more Halloween ghost stories
A Witch on a Broomstick -
School Logo
The flying witch appears on the pupils' sports kit and uniforms of Warboys
Community Primary School and has been used for the last 60 years. However, Will
and Guy have discovered that some pupils and even some teachers have avoided the
school because of this 'scary' logo. Opinions in the village are running high
and over 1000 signatures have been obtained on a petition to keep the historic
emblem.
The historical background to the witch motif is that Warboys is the last
recorded place in England where witches were hanged. Apparently Alice Samuels,
her husband John and her daughter Agnes were executed in 1593 after being
accused by a 10-year-old girl, her four sisters and servants of causing them to
have fits.
A spokesperson has stated, 'Witchcraft and Hallowe'en does not form part of
the school curriculum and is something schools go out of their way to avoid. The
school is aware that some parents choose not to send their children to Warboys
and cite the witch as one of the reasons why.'
Martin Kelsey, the head teacher responsible for improving standards at the
school, admitted, 'From the villagers' point of view, it's an emotive issue,
because they are very, very proud of their history.'
However, we have learned that the school governors seem determined to get rid of
the logo as part of measures to give it a 'fresh start' after poor inspection
reports.
Interesting.
The Old Witch by The
Brothers Grimm
There was once a little girl who was very wilful and who never obeyed
when her elders spoke to her - so how could she be happy?
One day she said to her parents, 'I have heard so much of the old witch
that I will go and see her. People say she is a wonderful old woman, and has
many marvellous things in her house, and I am very curious to see them.'
But her parents forbade her going, saying, 'The witch is a wicked old
woman, who performs many godless deeds - and if you go near her, you are no
longer a child of ours.'
The girl, however, would not turn back at her parents' command, but went
to the witch's house. When she arrived there the old woman asked her:
'Why are you so pale?'
'Ah,' she replied, trembling all over, 'I have frightened myself so with
what I have just seen.'
'And what did you see?' inquired the old witch.
'I saw a black man on your steps.'
'That was a collier,' replied she.
'Then I saw a gray man.'
'That was a sportsman,' said the old woman.
'After him I saw a blood-red man.'
'That was a butcher,' replied the old woman.
'But, oh, I was most terrified,' continued the girl, 'when I peeped
through your window, and saw not you, but a creature with a fiery head.'
'Then you have seen the witch in her proper dress,' said the old woman.
'For you I have long waited, and now you shall give me light.'
So saying the witch changed the little girl into a block of wood, and
then threw it on the fire. When it was fully alight, she sat down on the
hearth and warmed herself, saying:
'How good I feel! The fire has not burned like this for a long time!'
See more scary Halloween
stories »
Footnote:
Please send us your funny Halloween story
See more children's short stories:
•
Short stories •
Short stories for kids •
Funny short story •
Scary Halloween stories
•
Stories about people •
Funny true story •
Very short stories •
Amazing exhibit •
Lost baggage
•
Classic short stories •
Children's tree stories •
Passport •
Red Riding Hood •
Assorted stories