Located on the shoreline of Galendzhik lake, some three hours drive from
downtown Moscow, Zhukovsky Airport, once a secret test airport, is the
perfect location to host the Russian Air Show: the reason is that flying
boats are a major concern for Russians designers, so a large mass of water
to display their impressive performances was considered a must.
Antanov An-70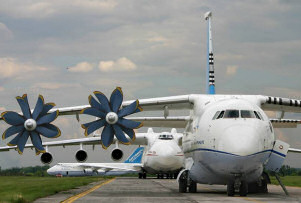 Not only is this a chance to see the extremely refined stage of Russian
aircraft design, but also to watch live and much closer than you could ever
do in the west, since European safety regulations concerning flight displays
over civilian audiences do not apply in Russia. So get ready for the noise
and the blast, and be welcome to Zhukovsky for the 2007 Russian Industry Air
Show.
Antanov An-225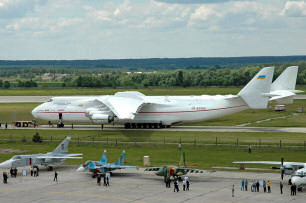 Beriev Be-976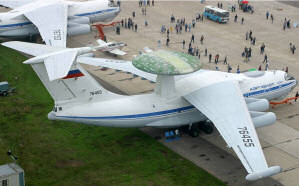 Myasischev VM-T Atlant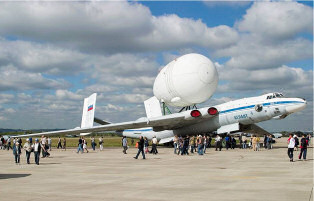 PowerPoint Presentation of the 2007 Russian Air Show
Here is more information
about the 2009 Russian Air Show
Russian Air Show
(Right click Save Target As)
How to Create a PowerPoint Presentation
Making presentations in PowerPoint is satisfying, moreover, it's easy to get
started.
The PowerPoint program is intuitive to learn and easy to create your own PPT
slides and build them into a slide show. If you have
Microsoft Office you may find that you already have PowerPoint along with Word
and Excel.
One way to begin is simply to open any example presentation. Just
download one of our free PPT files and open it with PowerPoint. As you examine the slides, so it will become obvious how
to add pictures and titles, if you do get stuck, ask the wonderful built-in 'Help'. To
make an amazing slide show requires these skills;
Imagination - Think an idea, then build a themed slide set
Artistic - An eye for a good picture
Wordsmith - Choose a catchy title for each slide
Humour - Your viewers will appreciate a funny PowerPoint Presentation
PowerPoint mechanics - Actually, this is the easiest skill of them all, the
program is so intuitive.
Good luck with creating your PowerPoint Presentation
Will and Guy
See more funny military jokes, army stories and sea adventures
• Funny
military pictures •
Funny army stories •
Suisse army knife? •
Beware shooting
• Funny army pictures
• Funny navy pictures •
Funny air force pictures •
WW2 PPT •
Home
•
Sea adventure story •
Selkirk Settler •
Russian airshow •
Trafalgar Day •
Mayday sinking