We have put together a page of pilot jokes and funny
aircraft photos. We hope that you never travel on one of these planes!
Beware Low Flying Aircraft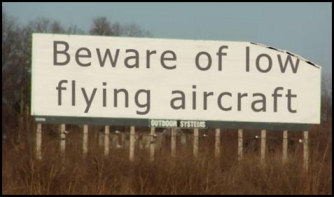 Photo Showing Cause of Low Flying Problem
We tracked down a
possible cause of the broken sign.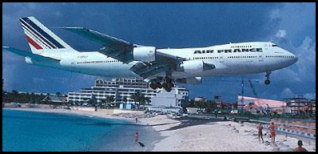 This is Where These Pilots Learn to Fly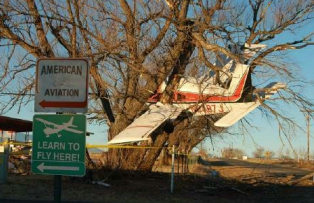 If you click on the above funny aircraft photo you will see a bigger picture of the aircraft and that sign: Learn To Fly Here!
Qantas Pilot Jokes
After every flight, Qantas pilots fill out a form, called a 'gripe
sheet', which tells mechanics about problems with the aircraft. Here
are some actual maintenance complaints submitted by Qantas' Pilots and the
solutions recorded by maintenance engineers.
Pilots: Number 3 engine missing.
Engineers: Engine found on right
wing after brief search.
Pilots: Aircraft handles funny.
Engineers: Aircraft warned to
straighten up, fly right, and be serious.
Pilots: Target radar hums
Engineers: Reprogrammed target radar with
lyrics.
Pilots: Mouse in cockpit.
Engineers: Cat installed.
See more Qantas pilot jokes.
Advanced Lessons: Aerobatics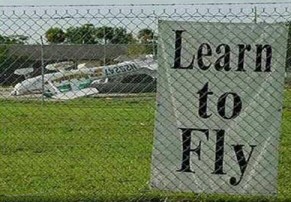 Pilot Joke
Taxiing down the tarmac, the 747 abruptly stopped, turned around and returned to the gate. After a two hour delay, it finally took off.
Barry, a worried passenger asked the steward, 'What was the problem?'
'The pilot was bothered by a noise he heard in the engine,' explained the flight attendant, 'and it took us a while to find a new
pilot.'
Result of Finding a New American Pilot

(See Above)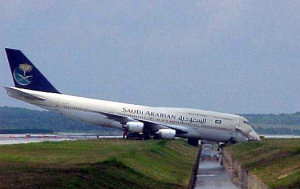 Do You Know Which Day It Is?
...(vidFL2)
An American pilot was flying the above plane over Australian when his plane malfunctioned and overshot the runway. When the pilot awoke, he
found himself in bed, in an Australian hospital.
So, the American pilot asked the doctor, 'Did I come here to die?' **
'No,' said the Australian doctor. 'You came here yesterday.'
** In Australian 'Today' sounds like 'To die'
Another Funny Pilot Joke
We have a friend who is an airline pilot. Her name is Helga and she is a woman. It is interesting to note that in English there is no female word for pilot.
Actress yes, but pilotess no.
Anyway, one day Helga boarded the plane and was sitting in the cockpit with the door open. A man climbed onto the plane and was just
taking his seat when he looked up and saw Helga. She saw that his face turned a shade of green and she heard him say to the air steward, 'Blimey, is that a woman I see in the cockpit?'
Waiting a while
Helga then heard the man say, 'Well, I suppose it's
alright as long as they don't
let her touch anything.'
Airline to Avoid!
Sri Lankan Airlines 'lost'
its chief executive when his own staff put him on the wrong plane at Colombo.
Footnote:
Please send us your pilot jokes and funny aircraft photos
See more funny planes, pilot jokes and cabin crew humour:
•
Funny Planes •
Pilot Jokes •
Cabin Crew Stories •
Cabin Crew Announce
•
Qantas Jokes •
Flight 1549 Rescue •
Low Flying •
Plane Jokes
•
Pilot Jokes & Funny Photos •
Airports & Airstrips •
Planes in Difficulty •
Home