The following article was written anonymously by a mother who lives in Austin, Texas, USA.  It is about things that she has learned from being the mother of small boys.
A Mother of a Small Boy Says
A king size waterbed holds enough water to fill a 2000 sq. ft. house, 4 inches deep.
If you spray hair spray on dust bunnies and run over them with roller blades, they can ignite.
A 3-year old boy's voice is louder than 200 adults in a crowded restaurant.
If you hook a dog leash over a ceiling fan, the motor is not strong enough to rotate a 42 pound [3 stone] boy wearing batman underwear and a superman cape. It is strong enough, however, if tied to a paint can, to spread paint on all four walls of a 20x20 foot room.
You should not throw baseballs up when the ceiling fan is on.  When using a ceiling fan as a bat, you have to throw the ball up a few times before you get a hit.  A ceiling fan can hit a baseball a long way.
The glass in windows (even double-pane) doesn't stop a baseball hit by a ceiling fan.
When you hear the toilet flush and the words 'uh oh', it's already too late.
Brake fluid mixed with Clorox makes smoke, and lots of it.
A six-year old boy can start a fire with a flint rock even though a 36-year old Man says they can only do it in the movies.
Certain Lego's will pass through the digestive tract of a 4-year old Boy.
Play dough and microwave should not be used in the same sentence.
Super glue is forever.
No matter how much Jell-O you put in a swimming pool you still can't walk on water.
Pool filters do not like Jell-O.
VCRs do not eject 'PB & J' sandwiches even though TV commercials show they do.
Garbage bags do not make good parachutes.
Marbles in gas tanks make lots of noise when driving.
You probably DO NOT want to know what that odour is.
Always look in the oven before you turn it on; plastic toys do not like ovens
The fire department in Austin, Texas has a 5-minute response time.
The spin cycle on the washing machine does not make earthworms dizzy.
It will, however, make cats dizzy.
Cats throw up twice their body weight when dizzy.
80% of men who read this will try mixing the Clorox and brake fluid.
Women will pass this on to almost all of their friends, with or without permission.
Also Girls and Their Mothers
When a baby is born it affects a mother profoundly.  However, as you have baby 2 ... then baby 3, the way in which you deal with the child also changes considerably.
Your Baby's Clothing:
1st baby: You begin wearing maternity clothes as soon as your pregnancy is confirmed.
2nd baby: You wear your ordinary clothes for as long as you are able.
3rd baby: Your maternity clothes are your ordinary clothes.
Getting Ready for the Day of the Birth:
1st baby: You practice your breathing as often as possible
2nd baby: You don't bother practicing your breathing because you remember that last time, breathing didn't help at all.
3rd baby: You accept an epidural injection as soon as it is offered.
See more parenting advice....
Mother's Good Advice
Over many centuries mothers have given their children plenty of good advice; here are some examples which Will and Guy find quite amusing.  It must be noted that their authenticity cannot be verified, nevertheless 'Mother knows best'.
MONA LISA'S MOTHER: After all that money your father and I spent on braces, Mona, that's the biggest smile you can give us?
HUMPTY DUMPTY'S MOTHER: Humpty, If I've told you once, I've told you a hundred times not to sit on that wall. But would you listen to me? No!
PAUL REVERE'S MOTHER: I don't care where you think you have to go, young man. Midnight is past your curfew.
COLUMBUS'S MOTHER: I don't care what you've discovered, Christopher. You could have written.
BABE RUTH'S MOTHER: Babe, how many times have I told you: quit playing ball in the house! That's the third broken window this week.
MICHELANGELO'S MOTHER: Mike, can't you paint on walls like other children? Do you have any idea how hard it is to get that stuff off the ceiling?
NAPOLEON'S MOTHER: All right, Napoleon. If you aren't hiding your report card inside your jacket, then take your hand out of there and prove it.
CUSTER'S MOTHER: Now, George, remember what I told you: don't go biting off more than you can chew.


ABRAHAM LINCOLN'S MOTHER: Again with the stovepipe hat, Abe? Can't you just wear a baseball cap like
the other kids?
MARY'S MOTHER: I'm not upset that your lamb followed you to school, Mary, but I would like to know how he got a better grade than you.
BATMAN'S MOTHER: It's a nice car, Bruce, but do you realise how much the insurance is going to be?
GOLDILOCKS'S MOTHER: I've got a bill here for a broken chair from the Bear family. You know anything about this, Goldie?
LITTLE MISS MUFFET'S MOTHER: Well,
all I've got to say is if you don't get off your tuffet and start cleaning your room there'll be a lot more spiders around here.
ALBERT EINSTEIN'S MOTHER: But, Albert, it's your senior picture. Can't you do
something about your hair? Styling gel, mousse, something...?
GEORGE WASHINGTON'S MOTHER: The next time I catch you throwing money across the Potomac, you can kiss your allowance good-bye!
JONAH'S MOTHER: That's a nice story, but now tell me where you've really been for the last three days.
SUPERMAN'S MOTHER: Clark, your father and I have discussed it, and we've decided you can have your own telephone line. Now will you quit spending so much time in all those phone booths?
THOMAS EDISON'S MOTHER: Of course I'm proud that you invented the electric light bulb, Thomas. Now turn off that light and get to bed!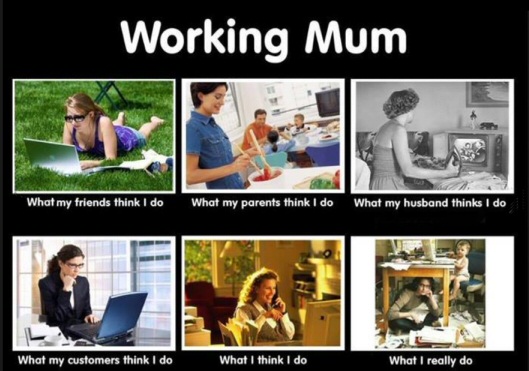 Here are 25 more examples of 'Mother Knows Best', kindly sent in by Ephraim Kahana
Subject: What My Mother Taught Me
My mother taught me TO APPRECIATE A JOB WELL DONE. "If you're going to kill each other, do it outside. I just finished
cleaning."
My mother taught me RELIGION. "You'd better pray that will come out of the carpet."
My mother taught me TIME TRAVEL. "If you don't straighten up, I'm going to knock you into the middle of next week!"
My mother taught me LOGIC. " Because I said so, that's why."
My mother taught me MORE LOGIC. "If you fall out of that swing and break your neck, you're not going to the shops with me."
My mother taught me FORESIGHT. "Make sure you wear clean underwear, in case you're in an accident."
My mother taught me IRONY. "Keep crying, and I'll give you something to cry about."
My mother taught me about the science of OSMOSIS. "Shut your mouth and eat your supper."
My mother taught me about CONTORTIONISM. "Will you look at that dirt on the back of your neck!"
My mother taught me about STAMINA. "You'll sit there until all that spinach is gone."
My mother taught me about WEATHER. "This room of yours looks as if a tornado went through it."
My mother taught me about HYPOCRISY. "If I've told you once, I've told you a million times. Don't exaggerate!"
My mother taught me the CIRCLE OF LIFE. "I brought you into this world, and I can take you out."
My mother taught me about BEHAVIOUR MODIFICATION. "Stop acting like your father!"
My mother taught me about ENVY. "There are millions of less fortunate children in this world who don't have wonderful parents like you do."
My mother taught me about ANTICIPATION. "Just wait until we get home."
My mother taught me about RECEIVING. "You are going to get it when you get home!"
My mother taught me MEDICAL SCIENCE. "If you don't stop crossing your eyes, they are going to get stuck that way."
My mother taught me ESP. "Put your sweater on; don't you think I know when you are cold?"
My mother taught me HUMOUR. "When that lawn mower cuts off your toes, don't come running to me."
My mother taught me HOW TO BECOME AN ADULT. "If you don't eat your vegetables, you'll never grow up."
My mother taught me GENETICS. "You're just like your father."
My mother taught me about my ROOTS. "Shut that door behind you. Do you think you were born in a barn?"
My mother taught me WISDOM. "When you get to be my age, you'll understand."
My mother taught me about JUSTICE. "One day you'll have kids, and I hope they turn out just like you".