Here is a PowerPoint Presentation dealing with the art of
team management. Why not show this motivational presentation at your next team meeting?
1) Here is the start of the project. Taken from the PowerPoint slides below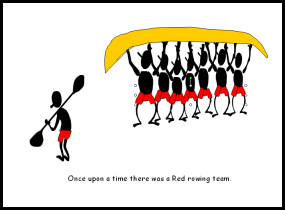 2) Here is a glimpse of the problem
How many people are actually rowing?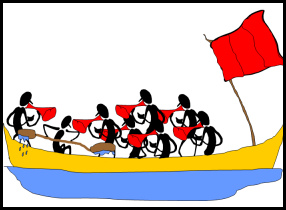 The Management Rowing Race - Free Motivational PowerPoint Presentation
Free PowerPoint Presentation of Management Rowing Race
Another from our Collection of Inspirational Business Stories
A Japanese company and an American company decided to have a canoe race on the Missouri River.
Both teams practiced long and hard to reach their peak performance before the race.
On the big day, the Japanese won by a mile.
The Americans, very discouraged and depressed, decided to investigate the
reason for the crushing defeat. A management team made up of senior management was formed to investigate and recommend appropriate action. Their conclusion was the Japanese had 8 people rowing and 1 person
steering, while the American team had 8 people steering and 1 person rowing. So American management hired a consulting company and paid them a large amount of money for a second opinion.
They advised that
too many people were steering the boat, while not enough people were rowing. To prevent another loss to the Japanese, the rowing team's
management structure was totally reorganized to 4 steering supervisors, 3
area steering superintendents and 1 assistant superintendent steering manager. They also implemented a new performance system that would give the 1 person rowing the boat greater incentive to work harder. It
was called the '
Rowing Team Quality First Program'
, with meetings, dinners and free pens for the rower. There was discussion of getting new paddles, canoes and other equipment, extra vacation days for practices
and bonuses.
The next year the Japanese won by two miles.
Humiliated, the American management laid off the rower for poor performance, halted development of a new canoe, sold the paddles, and cancelled
all capital investments for new equipment. The money saved was distributed to the Senior Executives as bonuses and the next year's
racing team was outsourced to India.
Footnote:
Please send us your inspirational business
stories
Meanwhile, please try our River Test
How to Create an Inspirational PowerPoint Presentation
Making presentations in PowerPoint is satisfying, moreover, it's easy to get
started.
The PowerPoint program is intuitive to learn and easy to create your own PPT
slides and build them into a slide show. If you have
Microsoft Office you may find that you already have PowerPoint along with Word
and Excel.
One way to begin is simply to open any example presentation. Just
download one of our free PPT files and open it with PowerPoint. As you examine the slides, so it will become obvious how
to add pictures and titles, if you do get stuck, ask the wonderful built-in 'Help'. To
make an inspirational slide show requires these skills;
Imagination - Think of a motivating idea, then build a themed slide set
Artistic - An eye for a good picture
Wordsmith - Choose a catchy title for each slide
PowerPoint mechanics - Actually, this is the easiest skill of them all, the
program is so intuitive.
Latest techique - Use Skydrive. Import to your public folder,
embed in your web page.
Good luck with creating your inspirational PowerPoint Presentation
Will and Guy
Footnote:
We are always trying to extend or range of
inspirational business stories, so please send in any tales that you have.
Free inspirational stories about life, business,
children and animals
• Free inspirational stories
•
Red Marbles •
Wishes •
Kindness story •
Sisterly love •
Pot proverb
•
Inspirational stories for
kids •
Chinese proverb •
Cookie parable •
Inspirational philosophy
•
Eagle Rebirth •
Inspirational short stories •
Good Karma •
Inspirational story
• Uplifting story