Amusing, Short and Funny Tales of Impostors, Bluffers, Cheats,
Charlatans, Tricksters, Pretenders and Mountebanks.
Robert Hendy-Freegard - MI5
Robert Hendy-Freegard
impersonated a secret agent [MI5] in order to convince people he met to do
ridiculous and strange things and sometimes to give him large sums of money.
One particular time involved going to Manchester, England, to buy a £1.25
[$2.04 USD] can opener from a particular shop. Mr Young was given detailed
instructions about which buses and trains to catch, the doors and escalators
to be used, and warned he would be under constant surveillance. Next he was
ordered to buy a copy of the Gay Times and read it openly on the train to
London. Sheffield coach station had sold out of the magazine, but Mr Young
headed for the capital anyway, armed with the can opener.
Following his
orders to the letter, he went to a West End pub and asked the barman for a
particular person. Told there was no one of that name there, but thinking it
was all part his MI5 evaluation, Mr Young handed the surprised barman the
can opener and said, 'Well, when you see him, give him this.'
His
suspicions were only aroused when Hendy-Freegard failed to hide his
amusement on hearing Mr Young's account of his mission.
Double Take at the Psychiatrist's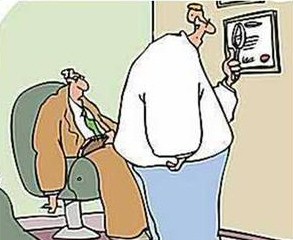 Yes, they're fake. I'm not really a shrink. But that's not why we're
here, is it? The real issue is your paranoia.
Mary Baker, the Princess Caraboo
from the Island of Javasu

In 1817, a cobbler in England, met an
apparently disoriented young woman with exotic clothes who was speaking a
language no one could understand. Locals brought many foreigners who tried
to find out what strange language the lady was talking, until a Portuguese
sailor "translated" her story: she was Princess Caraboo from the island of
Javasu in the Indian Ocean. She had been captured by pirates, then jumped
overboard in the Bristol Channel and swam ashore.
For the next ten weeks, this representative of exotic royalty was a
favourite of the local dignitaries. She used a bow and arrow, fenced, swam
naked and prayed to God, whom she termed Allah Tallah. She acquired exotic
clothing and a portrait made of her was reproduced in local newspapers.
Eventually the truth came out: she was actually a cobbler's daughter,
Mary Baker, from Devon. She had been a servant girl in various places all
over England but had not found a place to stay. She had invented a
fictitious language out of imaginary and gypsy words and created an exotic
character.
She continued her role in the USA, France and Spain without the same
luck. Her story was the basis of the 1994 movie "Princess Caraboo", written
by John Wells.
More Imposter Stories
The classic impostor or hoaxer is a person who pretends to be somebody else,
often to try to gain financial or social advantages.
Wilhelm Voight - Transforms the Role of Imposter to an Art
Form
Wilhelm Voight impresses Will and Guy for putting on the uniform of a
Prussian military officer in 1906 and using this ruse to gain the allegiance
of a pack of soldiers, then raiding the treasury of Köpenick on the pretence
of investigating tax irregularities.
The Kaiser was so embarrassed at the ineptitude of his military that he
pardoned Voigt [who'd been caught trying to flee with the cash], who later
made a career out of re-enacting the adventure on the American stage.
Stephen Weinberg -
Versatile Imposter
Stephen Weinberg, was equally as daring. He posed as the U.S. Consul
Delegate to Morocco, as a Serbian militia attaché, an American navy
lieutenant, the envoy of the Queen of Romania, an army air corps lieutenant,
a doctor [on several occasions], as head of protocol for the U.S. State
Department, and[(after serving some time for these put-ons] as an expert on
prisons.
Mystery Student
An unnamed British college student was surprised to find himself invited
to China to deliver a series of economics lectures.
He was particularly
surprised since he was an engineering student.
However, he carried on,
delivering the lectures based on a book he'd read during the flight over. He
guessed that maybe they thought he was a New York University professor with
the same name who is a leading authority on international financial markets.
Virginia
Woolf Impersonates Emperor of Abyssinia
On February 10, 1910, six friends [including the young Virginia Woolf -
English novelist] boarded H.M.S. Dreadnought disguised as the Emperor of
Abyssinia, his Abyssinian cohorts, and an interpreter.
The British Navy came out in full colours to receive their distinguished
guests, who were dressed in costumes, with dyed skin and hair, and speaking
a language they were inventing as they went.
Virginia Woolf (circled), Duncan Grant, Horace Cole, Anthony Buxton
(seated), Adrian Stephen, Guy Ridley
Modern Day Imposter Story
There are thousands of stories
and tales to be retold regarding tricksters and impostors. Will and Guy have
selected a few more to entertain you.
Medal Hoax - From the Times January 11th
2006
This
man won a medal for rescuing people from a
burning plane. Yesterday he admitted telling a pack of lies By Simon de Bruxelles and Lewis Smith FOR a year Nigel Gallimore was hailed as a hero for his daring rescue of two men from a blazing
plane.
Yesterday the window cleaner was forced to admit in a coroner's
court that he had lied about his exploits, having stolen his rescue story from the real rescuer who had preferred to keep his bravery
quiet. Mr Gallimore, 41, now faces the ignominy of having to return his Queen's
Commendation for Bravery, which was awarded after his boasts of a dramatic rescue.
In fact, he had arrived on the
scene too late to do much more than help to move one of the badly burnt victims on to a grass verge. But he claimed in a statement and on television that he had helped them from the blazing wreckage seconds
before the aircraft exploded in a ball of flame.
The real hero, Mike Winstanley, who risked his life to save the pilot and one of his passengers, called for Mr Gallimore to be stripped of the medal awarded
by the Queen.
Mr Winstanley, a former corporal in the Royal Green Jackets, dived into the flames without a thought for his own safety when the light aircraft crashed soon after taking off from Bournemouth
International Airport in 2004.
At the inquest into the death of a third man on the plane Mr Gallimore admitted that he had '
embellished'
the account, which appeared on local television and in the local
press. He had repeated his tale in a statement to the Air Accident Investigation Branch, which led to him being awarded the highest award available to civilians after the George Medal.
At the inquest on
Andrew Anderson, 41, a financial adviser who was on his way to an air show with friends from Guernsey, Mr Gallimore admitted: 'In the heat of the moment I probably said things that didn't
happen.'
Mr
Winstanley, who also attended the inquest at Bournemouth Town Hall, said: 'If he was decent, he would have handed the award back. I am not saying I am a hero or that I deserve an award, but I was in the right
place at the right time and just did what any normal person would do. The police have statements from witnesses and they all confirm that I did it.'
According to Mr Winstanley, Mr Gallimore, who had been at
an amusement park with his wife and child, arrived after the survivors had been rescued from the wreckage. The men whose lives Mr Winstanley helped to save - Rob Le Page, the pilot, and Dave Bougard, a
passenger - were both on fire when he helped them from the crash and he beat out the flames with his hands.
The coroner asked Mr Winstanley whether anyone else helped him. 'No one,' he replied.
The story
of the rescue almost exactly mirrors the plot of Accidental Hero, the 1992 film in which Dustin Hoffman rescues passengers from a crashed airliner only to see Andy Garcia claim the credit - and a $1 million
reward.
In his summing up Sheriff Payne, the Bournemouth, Poole and East Dorset Coroner, made no mention of Mr Gallimore's
admission, but he said: 'This has been slightly unusual in some aspects. I will not
comment any further.'
Last night Mr Gallimore insisted that he did deserve the award and would not be handing it back. He said that the contradictory statements were the result of him forgetting some of the
details of what had happened. However, he admitted exaggerating his role.'
It was a little bit embellished but I did go to help, 'he said.'I am not bothered about what has been said. I felt a bit guilty but I
did help.
I told the people who gave out the medal that others should have got them and I only went because my name was put forward.'
A spokeswoman for the Cabinet Office, which is responsible for the
Queen's
Commendations, said the award could be taken back. She said: 'Forfeiture may be considered if evidence on which an award is given turns out not to be true.'
Dorset Police are considering
investigating Mr Gallimore's
original claims.
A verdict of accidental death was returned on Mr Anderson
How Ziggy
the Parrot Gave a Cheating
Girlfriend the Bird
Times 17th January 2006
By Alan Hamilton
When the African grey said: 'I love you Gary'
in his partner's
voice, Chris Taylor became suspicious. When Chris Taylor's
best friend repeatedly mentioned
the name Gary, his suspicions were aroused. He didn't
know a Gary.
And, when the best friend made slurpy kissing noises every time he heard the name Gary on television, Chris wondered if Ziggy was
trying to tell him something about some other pretty boy. The penny dropped when, one romantic evening as Mr Taylor cuddled his girlfriend Suzy Collins on the sofa, Ziggy blurted out: 'I love you, Gary.'
What gave the game away was that Ziggy spoke the fatal phrase in Ms Collins's
voice. Even by the standards of African grey parrots, Ziggy is a mimic and a half, and from his cage in the corner he had heard
every bill and coo of a secret love affair.
A chill ran down Mr Taylor's
spine. He turned to Suzy, whose cheeks had flushed to beetroot. As she dissolved in tears she was forced to admit to a month-long
fling with Gary, some of their intimacies conducted in Mr Taylor's
home while he was out at work, but Ziggy wasn't. She could not deny it; every time her mobile phone had rung, Ziggy had piped up in perfect
imitation of her: 'Hiya Gary.'
Feathers flew, the relationship was over, and Ms Collins, 25, a call-centre worker, was sent packing that very night from the house in Headingley, Leeds, she had shared with
man and bird for a year. That was sad enough, but what is even more heartbreaking is that Mr Taylor has had to part with Ziggy. Hearing the bird constantly squawking the hated name of Gary in the voice of an
ex-girlfriend was just too much.
Ziggy has found a new home thanks to the good offices of a local parrot dealer; Mr Taylor, 30, a computer programmer, is adjusting to life on his own. 'I wasn't
sorry to see
the back of Suzy after what she did, but it really broke my heart to let Ziggy go, 'he said yesterday.
'I love him to bits and I really miss having him around, but it was torture hearing him repeat that name
over and over again.'
He believes Ziggy was looking after his master's
interests as the bird never really took to Ms Collins, nor she to him. It might have been jealousy, which can flare so easily in a
household of two males and one female.
'Ziggy was one in a million; he was a loyal friend, and I have no doubt he was looking out for me, 'Mr Taylor said.
The bird was nothing if not multi-talented. He
was, according to his former master, a better impressionist than Alistair McGowan, who could exactly imitate Chris's
friends, copy voices from television and radio, and do convincing impersonations of the
doorbell, microwave and alarm clock.
Mr Taylor acquired him as a chick eight years ago and named him after the David Bowie character, Ziggy Stardust. He taught the bird to dance while it sang: 'Put on your
red shoes and dance the blues.'
Ms Collins, who is staying with friends, admitted her fling yesterday but refused to identify Gary.
'I'm not proud of what I did but I'm sure Chris would be the first to
admit we were having problems. We had spoken about splitting up several times and I think it was inevitable.'
She added: 'I'm surprised to hear he's
got rid of that bloody bird; he spent more time talking to
it than he did to me. I couldn't
stand Ziggy, and it looks now the feeling was mutual.'
Not, in her view, a pretty boy, then.
Other Hoaxes
...(vidFL2)
Bruce Cotta, claimed
to have won the Distinguished Service Cross during the Vietnam War. A post office on Rhode Island was named after him. However it came to light, that Cotta bought the medal on the internet. The honour was rescinded
and the post office renamed.
Tom Carew, who sold 50,000 books of his account of service with the SAS in Afghanistan, was actually Philip Sessarego who failed selection for the service.
Ged
Slater from Newcastle was jailed for 3½ years after putting flashing lights on his car and dressing as a paramedic in order to conduct intimate examinations of women involved in accidents.
New York fire chief
Richard Picciotto claimed he rescued a woman in the World Trade Centre on 9/11. He actually fabricated his story from the statements of real rescuers
Footnote:
Please send us your hoax and imposter
story.
See more urban myths, hoaxes, imposters and fakers
•
Urban Myths •
Kilroy & Chad •
Grammy Gordon •
Smithsonian Barbie exhibit •
Piltdown Man
•
Spaghetti trees •
rand(200,99)
•
Aliens •
Traffic ticket •
April Fools day hoaxes
•
Greatest hoax •
Credit card scam •
Letter •
View space •
Military hoax