Why did the turkey cross the road? Because he wasn't
chicken.
Turkey Surprise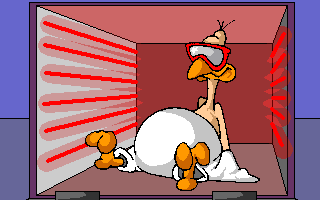 Another Funny Turkey Cartoon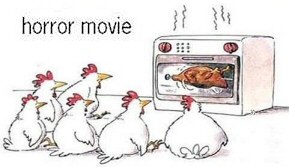 The Secret of Stuffing a Turkey
How many cooks
does it take to stuff a turkey?
Only one, but you REALLY have to
squeeze to get him in.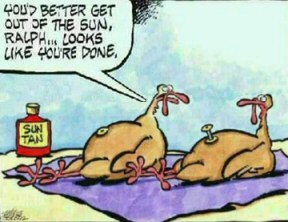 Where's
The Christmas Turkey?
I know the wife bought a turkey. But where on earth did she put the
bird?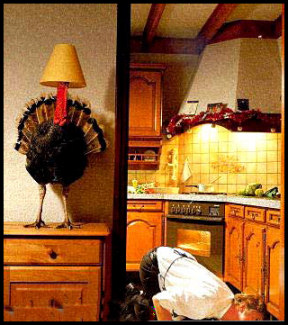 Perhaps the question should be: 'Who is
the
Christmas Turkey?'
Whilst the above Christmas turkey picture works if you put either the 'Christmas' or 'Thanksgiving'
in the caption; it is not nearly so funny if you substitute 'chicken'
for 'turkey'.
How Was the Christmas Turkey for You?
We had grandma for Christmas dinner.
Really?
We had turkey.
Funny Christmas Turkey Pictures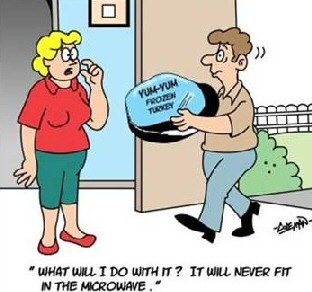 Short Funny Turkey Stories
Six Legged Turkey
An industrious turkey farmer
was always experimenting with breeding to perfect a better turkey. His family was fond of the leg portion for dinner and there were never enough legs for everyone. After many frustrating attempts, the farmer
was relating the results of his efforts to his friends at the general store get together. 'Well I finally did it! I bred a turkey that has 6 legs!'
They all asked the farmer how it tasted.
'I don't
know, 'said
the farmer, 'I never could catch it!'
Funny Turkey Yarns
Talking Turkey
A woman called 1-800-322-4337 to find out how long it would take to roast
her Christmas turkey. To answer the question, the Talk-Line home economist asked how
much the bird weighed.
The woman responded, 'How do I know, it's still running around outside.'
An Interesting Thought
It was Christmas Eve in Tesco and a woman was anxiously
searching through the last few remaining turkeys in the hope of finding a large one.
In desperation she called over a
shop assistant and said, 'Excuse me, do these turkeys get any bigger?'
'No, mam, 'he replied, 'they're all dead.'
Benjamin, Says 'Grace' Before Christmas
Lunch
The whole family bowed their heads in preparation. He began his prayer, thanking God for all his friends, naming them one by one. Then he thanked God for Mummy, Daddy, brother, sister, Grannie, Grampy,
and all his aunts and uncles. Benjamin then began to thank God for the food.
He gave thanks for the turkey, the chipolatas, the cranberry sauce, the bread sauce, the Christmas pudding, the Yule log, the
roast potatoes and even the brandy butter. Benjamin paused, and everyone waited .....and waited.
After a long silence, he looked up at his mother and asked, 'If I thank God for the Brussels sprouts, won't
he know that I'm lying?'
The Secret of Stuffing a Turkey
How many cooks does it take to stuff a turkey? Only one, but you
REALLY have to squeeze to get him in.
The Christmas Turkey - A
Most Difficult Bird to Cook
Martha was away from home on Christmas Day for the first time and she was missing her home and family desperately. Martha
decided to cook a turkey herself, just like her Mum used to, so that she could feel closer to her family.
Martha returned home for the New Year celebrations and recounted her experience to her Mum saying,
'Mum. it was so difficult to eat the turkey.'
'Why was that, dear' asked Mum in a concerned way, 'was it not cooked properly?'
'How would I know?' responded Martha, 'it wouldn't sit still.'
Real Questions Asked on the Turkey Cooking Hotline
How long should I cook my turkey on the car's radiator?
45
minutes at Mach 1 should do it!
Is it better to baste my turkey with Castrol or BP engine oil?
Could I leave the giblets in their plastic bag during cooking?
Should I carve my turkey with a 16in Black and Decker, or should I get out my
Stihl Electric Chain Saw?
How do I get my Shih Tzu out of the turkey. (Her dog jumped up
on the kitchen table.)
Giant Turkey Spared
A giant turkey has been spared from the Christmas dinner table after winning a national competition.
The bird, called Terence, will spend his life as a breeding stag [tom in the USA] after being rated as
the best bronze turkey in the country by the Poultry Club of Great Britain. The three-year-old bird, which weighs 16kg (35lb), is also something of a celebrity after moving from its owner's farm in South Devon
to the nearby Woodlands Leisure Park, where he is one of the star attractions.
Graveyard Humor
What did the mother hen tell
her naughty
chicks? If you your father could see you now he would turn in
his gravy.
Christmas Divorce
Richard in Boston calls his son in London the week before Christmas and
tells him, 'I am sorry to tell you but your mother and I are going to
divorcing. I just cannot take any more of her moaning. We can't
stand the sight of each other any more.' I am telling first, Richard,
because you are the eldest, please tell your sister.
When Richard calls his sister Jennifer, she says: 'No way are they getting
divorced, I will go over and see them for Christmas.'
Jennifer phones here parents and tells them both 'You must NOT get divorced.
Promise you won't do anything until I get over there. I'm calling
Richard, and we'll both be there with you tomorrow. Until then, don't
take any action, please listen to me', and hangs up.
The father puts down the phone and turns to his wife and says. 'Good
news' he says, 'Richard and Jennifer are coming to see us at Christmas and
unlike last year, they are
each paying their own way.'
See another Funny Christmas Turkey Picture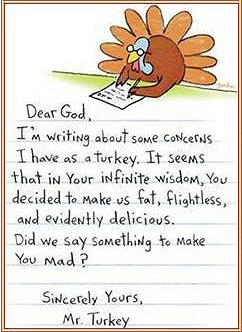 A True Christmas Silly Story
Home alone one Christmas, a Maine woman was in the doghouse when she
called the "Butterball Turkey Talk-Line".
Apparently found Will and Guy, while preparing the turkey, her Chihuahua
jumped into the bird's body cavity and couldn't get out. She tried pulling
the dog and shaking the bird, but nothing worked. She and the dog became
more and more distraught.
After calming the woman down, the Talk-Line home economist suggested
carefully cutting the opening in the cavity of the turkey wider.
It worked and Maxwell was free. Too silly to make up say Will and Guy.
17 Ways To Cook A Turkey
Go buy a turkey
Take a drink of whisky
Put turkey in the oven
Take another 2 drinks of whisky
Set the degree at 375 ovens
Take 3
more whiskys of drink
Turk the bastey
Whisky another bottle of get
Ponder the meat thermometer
Glass yourself a pour of whisky
Bake the
whisky for 4 hours
Take the oven out of the turkey
Floor the turkey up
off of the pick
Turk the carvey
Get yourself another scottle of botch
Tet the sable and pour yourself a glass of turkey
Bless the dinner and
pass out
Do Turkeys
Love Christmas?
Wilbur Does
A turkey has been spared ending up on the dinner plate this Christmas
because he is too ugly, Will and Guy have discovered.
Wilbur is underweight, has no tail feathers, a misshapen body and walks
with a limp. He's the only bird remaining at the pick-your-own turkey farm
in Totnes, Devon, England.
The turkey is in for a treat this Christmas as Farm owner Peter says he
and his wife Jackie plan to keep Wilbur as a pet. Wilbur will become one of
the family. 'He might be an ugly old thing,' Peter told us, 'but we think
he's lovely.'
Lost Turkey Avoids Christmas
Chop
A lost turkey has been named after The Great Escape star, Steve McQueen,
after it avoided the chop this Christmas. Queenie was taken to the
RSPCA's "Stubbington Ark",
near Fareham, Hampshire, England, animal shelter after the creature was seen
strolling along a busy road locally.
It is unclear whether Queenie escaped from a private coop or a farm.
The bird will be ready to be re-homed, with staff insisting Queenie goes to
a loving home with no chance of ending up as dinner next Christmas.
Will, who lives very close to the Stubbington Ark, has been told by staff
that Queenie had settled in well and was fit and healthy. One helper told
him, 'After a few checks she will be ready for re-homing but her new owners
need a good-sized garden, a run and have experience keeping poultry.
Will's wife's cat, Butser, also came from this same animal sanctuary
after being rescued as a stray.
Turkey Funnies

The turkey is a funny bird
Its head goes bobble-bobble;
And all he
knows is just one word...
And that is gobble-gobble.
'Don't assume you're always going to be understood. I wrote in a column
that one should put a cup of liquid in the cavity of a turkey when roasting
it. Someone wrote me that: "The turkey tasted great, but the plastic cup
melted." ' - Heloise.
One More Funny Christmas Turkey Picture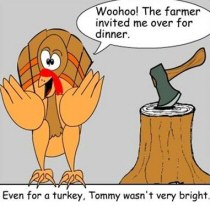 We believe this very funny cartoon, which was sent in by Greta, is by Tony Sarrecchia
Tired of Turkey? Try Camel for Christmas!
Marmaduke (right) has come from Welsh Mountain Zoo One Bactrian
camel certainly did not get the hump this Christmas when he received the
perfect present - a new friend.
The arrival of Marmaduke the camel at Marwell Zoo, in Hampshire, England,
means long-serving resident Wacker is no longer alone.
Wacker's keepers' had been trying to find him a companion after Tabitha,
his friend of 17 years, passed away. Welsh Mountain Zoo answered
the call and Marmaduke arrived at the zoo near Winchester in time for
Christmas.
See more turkeys
Footnote:
Please send us your funny turkey
pictures, and amusing stories.
See more amusing Christmas pictures and funny cartoons:
∗ Funny Christmas cartoons
∗ Snow pictures
∗ Funny Christmas riddles
∗ Funny turkey
pictures
∗ 'Feel good'
Christmas pictures ∗
Snowmen pictures ∗
Funny Christmas pictures
∗
Home
∗ Traditional Christmas food
∗ Nativity
animation ∗ Funny advent calendar
∗
Funny Santa sleigh