Passenger Complaint -
Funny Train Story
The following is allegedly an exchange of correspondence between a customer and the Irish Railway Company [Larnrod Eireann]. Kindly sent in by John Morris
I
have been riding your trains daily for the last two years, and the service on your line seems to be getting worse every day. I am tired of standing in the aisle all the time on a 14-mile trip. I think the
transportation system is worse than that enjoyed by people 2,000 years ago.
Yours truly,
Patrick Finnegan
---
Reply from Larnrod Eireann Railways
Dear Mr. Finnegan,
We received your
letter with reference to the shortcomings of our service and believe you are somewhat confused in your history. The only mode of transportation 2,000 years ago was by foot.
Sincerely,
Larnrod Eireann.
---
Last word from Mr Finnegan

Gentlemen,
I am in receipt of your letter, and I think you are the ones who are confused in your history If you will refer to the Bible and the Book of
David, 9th Chapter, you will find that Balaam rode to town on his ass. That, gentlemen, is something I have not been able to do on your train in the last two years!
Yours truly,
Patrick Finnegan
All Tickets Please!
- Classic Funny Train Story
It's
the third week in January, three engineers and three accountants are travelling by
train to a conference in Brighton. At the station, the three accountants each buy tickets and watch as the three engineers buy only a single ticket.

'How are three people going to travel on only one ticket?'
asks an
accountant. 'Watch and you'll see', answers an engineer.
They all board the train. The accountants take their respective seats but all three engineers cram into a toilet and close the door behind them.
Shortly after the train has departed, the conductor comes around collecting tickets. He knocks on the toilet door and says, 'All tickets please.'
The door opens just a crack and a single arm emerges with a
ticket in hand. The conductor takes it and moves on.
The accountants saw this and agreed it was quite a clever idea. So after the conference, the accountants decide to copy the engineers on the return trip
and save some money. When they get to the station, they buy a single ticket for the return trip. To their astonishment, the engineers don't
buy a ticket at all.
'How are you going to travel without a
ticket?'
says one perplexed accountant.'
Watch and you'll see, 'answers an engineer.
When they board the train the three accountants cram into a toilet and the three engineers cram into another one
nearby.
The train departs.



Shortly afterward, one of the engineers leaves his toilet and walks over to the toilet where the accountants are hiding. He knocks on the door and says, 'All tickets please.'
Mad or
What?
A 17-year-old boy surnamed Liang almost died when he tried to use a kung fu movement to stop a train in Laibin Railway Station in South China's
Guangxi Zhuang Autonomous Region on Tuesday reports China
Daily.
Liang was pushed to safety by a railway policeman just as he was about to be knocked down. Liang jumped down to the tracks and wanted to use Xianglongshibazhang, a famous kung fu posturing described in
many swordsman fictions, to stop the running train.
He was taken into custody for breaking railway rules and said he wanted to test whether or not he could use kung fu to stop the train. Liang is a great fan of
swordsman fiction and has also learnt martial arts.

Train
Stories - Facts are often stranger than fiction

Here is a train report from
Indonesia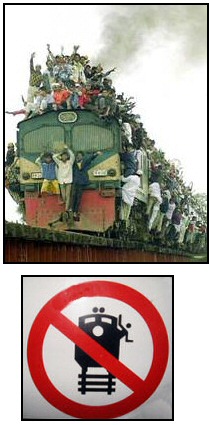 Security officers from Jakarta will spray commuters riding on the roofs of
trains with a brightly coloured liquid so that they can be identified and
arrested.
Trains linking Jakarta and its neighbouring towns are packed with passengers
during the rush hour. As a result youngsters sit on the roofs to avoid
paying.
For travelers staying in
Jakarta hotels it is important to remember that just because they do it
doesn't mean it's okay. After several attempts to discourage roof riders, the state owned railway
company PT Kereta Api will spray them with a coloured liquid so that officers can
identify them when they get off the train, the Jakarta Post said.
'We will confiscate their IDs and give them a ticket,' Kereta Api regional
spokesman Akhmad Sujadi was quoted as saying.
'We will send a copy of the ticket to their family, their local neighbourhood
unit head, their employer, or, if they're students, their headmasters,' added Sujadi, who described the move as
'unique'.
Although illegal, roof riding is popular because of a lack of efficient and
affordable means of transport for commuters in the greater Jakarta area.
Unfortunately, 55 roof riders have been killed in the past two years.
Footnote:
Please send us your funny train stories