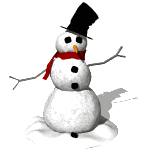 Will and Guy have collected these amusing stories of snowmen and snow
women.
Saga of
Bus Mowing Down Snowman
A HAPLESS bus driver in the US has resigned after his bus was videoed
colliding with a 1.2 metre snowman standing in the road.
The hit-and-run was captured in the University of Illinois campus and
posted on YouTube on Dec 4, along with the title "Insane Bus Driver Brutally
Murders Snowman."
In the video clip, a car carefully swerves the snow-clad obstacle on the
icy road, whereas the public transit bus veers onto the wrong side of the
road and annihilates the unwanted object. The video has been watched more
than 66,000 times since its release, and the number of hits is likely to
rise.
According to Champaign-Urbana Mass Transit District spokeswoman Jan
Kijowski, it is highly likely that the driver has quit after his deed became
known.
After the video had been posted and spread on the website, it stirred a
controversy over who is responsible -- the bus driver or the person who
deliberately made a snowman on the road.
The driver said he had seen two cars almost crash trying to avoid the icy
impediment, and decided to get rid of it. Amid the hot debate, more than 800
Facebook users insisted that the bus driver be restored to his former
position.
The Korea Herald/Asia News Network
HARVEY -Snowman Story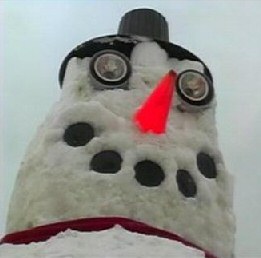 No one likes shoveling snow, but at one Marquette County motel, they've
found a way to make it fun for everyone.
At the Marquette Motor Lodge in Harvey, residents have pitched in to
create a giant snowman out of the snow from the motel's parking lot.
The snowman stands around 25 feet tall and is drawing a lot of attention.
"We've had people that look like travellers, out of state plates, doing
laps around, taking pictures and stuff," said Michael Guenther, a snowman
builder. "We're hoping that the kids will really enjoy it, that's the big
thing. Maybe the kids will come out and check it out, you know, a little
holiday drive, and that would be great."
It took several weeks to build and should be completed Wednesday complete
with eyes that light up. Those creating this monster plan on making an even
bigger snowman next year.

Woman Dials 999 (Would be 901 in USA) To Report Snowman Theft
A woman who dialled 999 to report the theft of a snowman from outside her
home has been branded "completely irresponsible" by Kent Police.
The force said the woman, from Chatham, thought the incident required
their involvement because she used pound coins for eyes and teaspoons for
arms.
The force said the call was made at the same time as operators fielded
thousands of other phone calls about the heavy snowfall and sub-zero
temperatures in the county.
During the conversation she said: "There's been a theft from outside my
house. "I haven't been out to check on him for five hours but I went outside
for a cig and he's gone."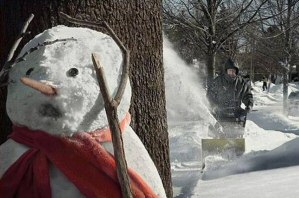 When she was asked who had gone, the woman replied: "My snowman. I
thought that with it being icy and there not being anybody about, he'd be
safe."
She was then asked whether it was an ornament, and answered: "No, a
snowman made of snow, I made him myself. It ain't a nice road but at the end
of the day, you don't expect someone to nick your snowman, you know what I
mean?"
The operator then told her she had rung an emergency line and she should
not be calling it to report the theft of a snowman.
Chief Inspector Simon Black Kent Police said: "This call could have cost
someone's life if there was a genuine emergency and they couldn't get
through. It was completely irresponsible. We have spoken to her and advised
her what is a 999 call, and this clearly was not."
Rabbit And Snowman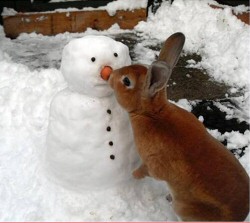 Annuska Arkovits told us, 'Here is a picture of my bunny Drex, the mini
rex, in my back garden in York, England. I think he thought he was helping,
but he just kept on eating the snowman's nose.'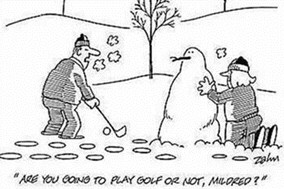 Snowman Joke:
A snowman has celery sticking out of one ear, lettuce out of the
other, and a zucchini up his nose..
He goes to the doctor and asks him what's wrong..
The doctor tells him, "Well, for one thing, you're not eating right."
See more snowman
jokes here
Christmas Tale: Santa Get's a Parking Ticket
In England a jobsworth was at work in Nottingham where Santa got a
parking ticket, a warden booked him after his sleigh stopped on yellow
lines. Richard Walters, pictured left, dressed in a Father Christmas costume
had towed the sleigh behind his Land Rover to a street in Nottingham
where the Round Table was making a charity collection and as he
unhitched it and pushed it on to the pavement the warden struck.
Furious Richard, 38, exploded, 'It's ridiculous. We are raising money
for a good cause at Christmas. I will be appealing.'
An Amusing Snow Story From Germany
A seven-year-old boy was stopped by police in northern Germany while
trying to plough snow with a front loader he borrowed from his parents'
business, authorities have told Will and Guy. Officers on patrol found the
boy atop the 3.5-meter-tall [11.5-foot-tall] excavator after he had cleared
the street in the town of Reinfeld and was driving back to the parking lot.
The child noticed the police car behind him and stopped immediately.
'He opened the door, got out and admitted immediately that he did not
have a driving licence,' the police report said. When asked why he had begun
ploughing, he said his father had complained about the state of the roads.
He saw the key in the ignition of the vehicle and set off.
Police retrieved the key to the loader from the child and returned it,
and the boy, to his mother.
See more snowmen »
Footnote:
Please send us your funny snowman stories.
See more funny snowman jokes and funny snow pictures.
∗ Funny Christmas snowman
pictures ∗
Snowmen
pictures ∗ Snowman jokes ∗
Snow women
∗ Funny snow
story
∗ Snowman with Rabbit ∗
Real Snowman Pictures
∗ Snowman carrot
noses
∗ Christmas pictures
∗
Horses throwing snowballs
∗ Snow cartoons
∗ Snow sculpture