Here are our amusing stories in and around airport lounges.
American in Paris
Harvey, an elderly American absentmindedly arrived at French immigration at Charles de Gaulle airport, Paris and fumbled for his passport.
'You have been to France before Monsieur?' the official asked in
an aggressive tone.
Harvey, smiled and admitted that he had been to France before.
'In that case you should know enough to have your passport ready for inspection,' barked the bad-tempered officer.
Harvey gently informed the man that the last time he came to France he did not have to show his passport or any other documents.
'Pas possible, old man. You Americans always have to show your passports on
arrival in 'la belle France.'
Harvey gave the Frenchman a long hard look. 'I assure you, young man, that when I came ashore on Omaha Beach in Normandy on D-Day
in 1944, there was no damned Frenchman on
the beach asking for passports.'
Batman Flies In
Hilarious, short conversation allegedly held between an US Immigration
Officer at Miami International Airport and an incoming passenger:
Immigration Officer: Your name, please?
Passenger : Batman.
Immigration Officer: What's your real name?
Passenger: My name is
Bat-man.
Immigration Officer: Are you trying to be funny? What's your surname?
Passenger: Superman.
Immigration Officer: So you're telling me your name is Batman Superman?
Passenger: Yes.
Immigration Officer [calling over to Passport Security]: Hey Bud, arrest
this guy.............
[See below for the passenger's ID card: ]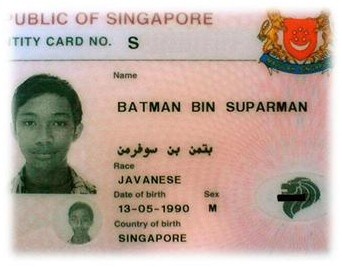 Footnote:
Suparman. is a common name in the Eastern
side of the Island of Java. However, there is no ready explanation of
why his parents called him Batman.
This
Is Allegedly a True Story
The name of a two-year-old boy was listed on the country's list of wanted suspects. He was briefly banned from getting on a plane bound for Turkey. The details on the toddler's passport had been the same as
those in an arrest warrant, even the date of birth.
'While going through the passport checking procedures to get on board, one of the officers on duty said they wanted to take Suhail,' Emirates Today quoted
the boy's father, Abdullah Mohamed Saleh, as saying. 'I thought he was kidding me and said 'Take him if you want'. He showed me a print-out of a document that said Suhail was wanted and there was an arrest
warrant for him.'
Officials said they would investigate the cause of the mix-up.
The Gates Are About to Close
By Charlene Wexler
I pace back and forth, sure that the gates will close and we will miss
our plane. As the other passengers board I am nervously waiting for my
sister to come back with her cup of Starbucks.
Of course we don't miss the plane. As usual, she manages to make it just
before the doors close. She smiles at me. "Oh, they're boarding already,"
she comments. I don't have to answer because the flight attendant announces,
"The gates are about to close" as we scramble onto the plane.
After we settle comfortably in our seats, she turns to me and says, "You
and dad would be the first ones in line at the concentration camps."
She hit the nail on the head; our differences in personality go way back.
I am like my father -- always early, doing everything yesterday; and she is
like my mother -- always late, doing everything tomorrow. Both equally
annoying habits.
We arrive at the Detroit Airport, Gate Number 10, and scurry down the
concourse to Gate Number 59. I'm in a panic; we have only 40 minutes before
our connecting plane takes off. Somewhere around Gate 40 she decides we have
time to stop for lunch. I'm nervously tapping my fingers while we wait for
the lunch to arrive.
When our sandwiches finally get to the table I pay the bill and make my
sister leave with sandwich in hand. "What a dumb idea to stop for lunch," I
say to her. "We have only ten minutes before the flight boards."
I run her down the concourse to Gate Number 59, anticipating a closed
gate. Of course I'm wrong. The plane is not even there yet. A 20-minute
delay is posted. She gives me a dirty look as she walks off to get another
cup of coffee. I just slink into a chair and wait.
We make it on the plane and to our destination with only one other
mishap. She almost left her suitcase in the airport. But as usual,
everything worked out for her. It always does, although I don't know why.
To her credit, she is a very efficient designer working two jobs, while I
am retired, with less pressure. On the other hand, she has set a pattern
whereby everyone expects her to be late, and would be shocked if she wasn't.
And her last-minute-itis has been passed down to the next generation. I've
heard her son say, "Mom, we have ten minutes. Do you want to go see a
movie?"
I guess it goes back to when she was a three year-old stage performer
singing, "I'm a slow poke now."
I guess nobody told her that it wasn't supposed to be a lifetime project!
The Irish Police
Force (Garda and Gardaì)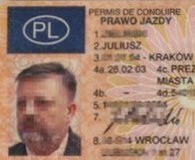 This is more of a driving licence than a passport story.
To be sure, your man Prawo Jazdy is a slippery fellow. He's wanted
for 50 different driving offences all over Ireland. Now, Prawo is clever
because every time we book him, his driving licence has a different address.
All the Gardaì in Ireland have a different theory about how this 'Scarlet
Pimpernel' escapes the clutches of the law. Finally, the penny
dropped, Prawo Jardy is not a Hungarian name, but the Polish words for
Driving Licence.
The Garda had caught 53 different Polish drivers, but thought they were
dealing with the same man. Naturally, the Polish community in Ireland are having a good
laugh about Mr Prawo Jazdy.
*Garda is the Irish Police force, it also means one policeman.
GardaƬ is the plural.
Footnote:
Please send us your funny passport story.
See another funny short story:
•
Funny short stories •
Short story •
Assorted stories •
Wheelbarrow •
Bells •
Old age is a gift
•
Stories about people •
Funny true story •
Very short stories •
Amazing exhibit •
Lost baggage
•
The best short stories •
Administratium •
Passport •
Hell •
Doreen •
Red Riding Hood •
Home