On a Jacksonville, Florida, bookstore:
"Rare, out-of-print, and
nonexistent books."
Funny
Library Stories - Record Fine
Reported in The Guardian on Thursday 9 February, 2006: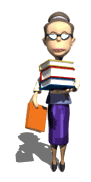 A public library book issued in 1945 has amassed an overdue fine of NZ $9,000 ie [£3,500 GBP; $ 6,101USD]
'The Punch Library of
Humour'
book was borrowed from the library in Rotorua, 288 miles north of the capital, Wellington, 61 years ago, but was recently found among family belongings in Marie Sushames'
attic. Ms Sushames was
presented with the fine on her 85th birthday, Rotorua's
Daily Post newspaper reported yesterday. The library's
manager, Jane Gilbert, said she would be delighted to waive the charges in return for the privilege
of displaying a book which had been 'out for 61 years'.
Funny Things Found in
Returned Books: by Librarian Jan Bild
The Guardian newspaper is to be thanked for bringing this article to our
attention having interviewed former librarian, Jan Bild, in Worthing after a
30 year career working in libraries.
The following strange articles were found in the books returned to the
library:
A rasher of uncooked bacon [presumably a book mark]
A £10 note
A shoelace
One large feather
A bag of hashish in a hole gouged in the book's centre pages
A Pension book
Love letters to Edith
Vomit [sorry]
Photos
Page where every letter 'O' had been coloured in
Excrement [sorry again]
Bank statements
Spaghetti
The Librarian's Voice

The more you read, the more you know.
The more you know, the smarter
you grow.
The smarter you grow, the stronger your voice.
When
speaking your mind or making your choice.
Author unknown
Library Book Returned: 99
Years Late
The book returned to the New Bedford Public Library in Massachusetts,
USA, this week wasn't overdue by a week, a month or even a year. It was
nearly a century overdue, and the fine came to $361.35.
"Facts I Ought
to Know about the Government of My Country" was supposed to have been
returned by May 10, 1910. Stanley Dudek told a local news reporter newspaper
that he came across the book while going through things that had belonged to
his mother, who had died some 10 years earlier. He decided that returning
the book to the city was the right thing to do.
The overdue book fine was a penny a day in 1910. However, Mr Dudek wasn't
asked to pay it. The library plans to display the book in its special
collection Will and Guy have discovered.
Washington's Overdue Book
Returned
A New York library has finally been recompensed for a library book that
George Washington took out 221 years ago and never returned.
Earlier this year, it was revealed that the first US president had failed
to bring back a copy of Emer de Vattel's, "Law of Nations" , that he checked
out from New York Society Library on October 5th, 1789.
Last month, head librarian Mark Bartlett joked that he was 'not actively
pursuing' an overdue fine of $300,000 (£209,000), but wanted to receive a
replacement copy.
Now Will and Guy have found that in a statement, the library said, 'A few
days after learning of the situation, staff at Washington's home in
Virginia, Mount Vernon, offered to replace Vattel's "Law of Nations" with
another copy of the same edition.'
New York Society Library held a special ceremony which saw the
replacement volume taking its rightful place on shelf.
Library that lets you take out people who are left on the shelf
Funny library story by David Rennie (Filed: 25/08/2005
- Daily Telegraph)
A
public library in Holland has been swamped with queries after unveiling plans to 'lend out'
living people, including homosexuals, drug addicts, asylum seekers, gipsies and the physically handicapped.
The
volunteers will be borrowed by users of the library, in Almelo, who can take them to a cafeteria, and ask them any questions they like for up to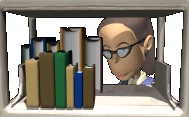 an hour, in a scheme designed to break down barriers and combat
prejudice. The library's
director, Jan Krol, said yesterday he had been deluged with requests from prospective borrowers after his project was reported in the Dutch media.
Almelo, a prosperous town of 72,000
people in the Twente region of east Holland, is not known as a hotbed of Amsterdam-style liberalism. The people-lending scheme was conceived as a local project, designed to encourage the solid burghers of
Almelo to make contact with members of ethnic minorities and other marginalised members of society but caught the imagination of the Dutch press.
'It has caused a lot of interest, a lot of people have
already called with questions like: do I need a library card?'
said Mr Krol. Borrowers of people will not need a card, he said, though one will remain necessary for more prosaic items, such as books. There will
be no fines for returning people late, he added.'
Most meetings will last 45 minutes, we imagine. You can ask anything you like, but racist or strong language is not allowed. To avoid unpleasantness, all
meetings must take place in the library café.'
Mr Krol, who said he was inspired by a similar scheme in Sweden, has already filled many of his volunteer slots, and hopes to launch the project next month. He
said: 'I've got several gay men, a couple of lesbian women, a couple of Islamic volunteers, I've got a physically handicapped woman, and a woman who has been living on social security benefits for many years in
real poverty.'
Mr Krol said he was especially keen to find members of Holland's
small Roma gipsy community after a recent attack on two gipsy families in the city of Enschede.
Under the scheme, photographs
and short biographies of the volunteers will appear in the library, and on its website. Library users who wish to take a person out can apply for an appointment. Mr Krol said he had not cleared the scheme with
his municipal bosses.'
Oh, I never ask the council before I do anything, 'he said.'
And there are no costs at all, only two cups of coffee.'
By David Rennie in Brussels (Filed: 25/08/2005
- Daily Telegraph)
5 Shortest Books Ever Written
Americans' Guide to Etiquette
Bedouin Olympic Swimmers
One-Legged Folk Dances
Advanced Subtraction
Arctic Water Polo
See 10
More Shortest Books
The Plot Thickens
A blonde stormed up to the front desk of the library and said, 'I have a complaint!'
'Yes, Ma'am?' said the librarian looking up at her.
'I borrowed a book last week and it was horrible.'
Puzzled by
her complaint the librarian asked, 'What was wrong with it?'
'It had way too many characters and there was no plot whatsoever,' said the blonde.
The librarian nodded and said, 'Ahhh. So you must be the
person who took our 'phone book.'
Footnote:
Have you
noticed how one story reminds you of another, well, here is another funny
library story.
Circus Strongwoman - Can you help her?
Sylvia Brumbach, a circus strongwoman who rips up telephone directories as part of her act has launched an appeal for 500 '
phone books to ensure her show can go on. German-born Sylvia, also known as 'The
Woman of Steel'
, says she is about to run out of books after destroying over 100 at Blackpool Tower Circus in Lancashire, UK.
'I just brought 200 over from Germany ... I've used over half of them
already, 'she told a reporter from the LA Times. Brumbach, who says she can tear a directory in half in around 30 seconds, has placed ads in local newspapers appealing for more books.'
You have to find the
right point to rip, the book must not be too old and the spine must be tough, not wobbly', she said. M/s Brumbach also is known to juggle with bowling balls and steel bars.
See more
Library Jokes
Circus Strongman?


(Not a library story, but follows on nicely)
Barney, the strongman, in the Circus Amsterdam squeezed the juice from an orange between his hands.
Barney, then said to the audience, 'I will offer £200 to
anyone in the audience who can squeeze another drop from this orange.'
A thin, scholarly looking woman came forward, picked up the orange, strained hard and managed to get a drop of liquid.
Barney, the
strongman, was stunned and he paid the woman and asked her, 'What is the secret of your strength?'
'Practice,' the woman replied smiling. 'I was the treasurer of the local church restoration fund for
twenty-five years.'
Will and Guy's Top Twenty of
Funny But "Less
Successful" Children's Book Titles
You Are Different and That's Bad
Curious Ricky and the High-Voltage Fence
The Boy Who Died From Eating All His Vegetables
Strangers Have the Best Candy
Whining, Kicking, and Crying to Get Your Way
Pop Goes the Gerbil and Other Great Microwave Games
Some Kittens Can Fly
Fun Four-Letter Words to Know and Share
The Pop-Up Book of Human Anatomy
Eggs, Toilet Paper, and Your School
Dad's New Wife Bernard
The Children's Guide to Hitchhiking
The Little Sissy Who Snitched
You Were an Accident
Things Rich Kids Have, But You Never Will
Daddy Drinks Because You Cry
The Man in the Moon is Actually Satan
Your Nightmares Are Real
Why Can't Mr. Fork and Mrs. Electrical Outlet Be Friends?
Places Where Mummy and Daddy Hide Neat Things
Footnote:
If you have any funny library stories, then please email
them to us.