Will hopes that these funny dentist stories will take your mind off
toothache. Guy said that his incisors started to jangle after he read
these tales.
Droitwich
Dentist Peter Davis
Thomas and Olive At the Dentist
Olive, from County Westmeath, Ireland, arrives in England to live with her daughter and son in law. She is moving because of her poor health and brings with her most of her treasured
possessions. These include a small piece of tissue paper in which she has secreted what appear to be five teeth which have broken off her denture.
Having settled in she asks Thomas, 'Do you know where I
can get my dentures mended?'
Of course, 'replies Thomas, 'If you give them to me I'll take them to a dental technician.'
Olive duly hands over the rather tired piece of paper which contains some very grubby
looking teeth.
He drives to Waterlooville to the dental laboratory. 'How long will it take?'
Thomas asks the technician.
'Oh, about an hour, 'smiles
the dental expert.' Then I'll wait in the car', says Thomas, 'and read my newspaper.'
An hour passes and the technician appears at the car window holding a plastic bag and the piece of tissue paper. 'That'll be £80, 'requests the specialist, 'but I
could only fit four of the teeth to the denture. I'm sorry.'
'That's a pity', comments Thomas, 'what happened to the fifth one?'
'I have it here in the tissue', answers the techie, showing it to Thomas.
'The thing is, he said, 'it's
easy to fit the teeth but nigh on impossible to fit this peanut.'
Footnote
We know this was a true dentist story because Will was there.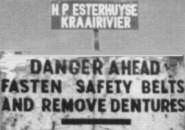 Avoid Dentures
An Argentinian robber was caught after he lost his false teeth during a raid on a house. Senor Juan Navarro, from Cordoba, saw one of the three masked men
who held him up lose his dentures, reports Terra Noticias Populares. In his hurry to escape with
jewellery and cash, the robber left the false teeth behind and Senor Navarro handed them over to the police.
Two days after the robbery, Senor Navarro noticed his own nephew suddenly seemed to have lost his teeth.
A police spokesman said: 'Senor Navarro came straight to us and we had the denture analysed.
It turns out it belongs to his nephew. What a funny thing to happen. Caught by a denture! Unbelievable!'
Funny Dentist Jokes
'Hello, Mary, how's your new false teeth?' asked Bridget. 'I'm leaving
them out till I get used to them!' said Mary.

'That's my lot,' said M

cCarthy leaving the dentist's. 'I've just had all
my teeth out - never again!'
Bullet Lodges in Man's False Teeth
Couple Escape Death:
A traumatised couple survived being killed when
the bullet fired at them ricocheted off the wife's cheek, and the husband
amazingly caught it in his false teeth. This totally miraculous escape
happened in Zagreb, Croatia.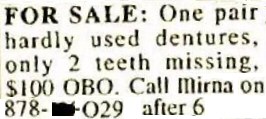 Two men were fiercely arguing about an
overdue debt, Will and Guy have learned from police sources. Seconds later
one of them produced a pistol and fired at the couple at point blank range.
Amazingly the bullet just grazed the cheekbone of Mirna Cavlovic and carried
straight on towards her husband Stipe who caught it in his dentures.
'I thought I was dead for sure,' Stipe informed us, 'I didn't even
see the bullet hit my wife. I just saw the flash of the gun's barrel.
The next thing I knew was something hit my false teeth and I spat out
the hot lead. It hurt like hell but we're both still alive.'

Guy is of the opinion that he was
probably saved because so much of the bullet's speed had been lost when it
first struck his wife's cheek. While Will feels that Stipe may turn it into
a circus act.
The perpetrator of the crime ran from the scene but we
have learned that he is now in police custody awaiting trial.
More Funny Dentist Stories
Lying Through His Teeth?
A suspected car thief was tracked down by police after he left his false teeth at the crime scene. Police say Wojtek Lekowsky, 54, broke into a car in Czarna Dabrowka in northwest Poland and stole a
stereo, but lost his teeth when he tried to make a quick getaway after the car alarm went off reports the Digital Journal.
He was tracked down using dental records and police charged him with robbery. Police
spokesman Roman Krakowiak reported, 'He tried to tell us that while the false teeth were his, they had been stolen from him. He had not been anywhere near the car at the time of the theft, but we knew he was
lying through his dentures.'
The Pastor's New Teeth
A preacher goes to the dentist for a set of dentures. The first Sunday
after he gets his new teeth, he could only talk in the pulpit for five
minutes.
The second Sunday, his sermon lasted for ten minutes. The following
Sunday, he talked for an hour and 30 minutes. The congregation had to mob
him to get him down from the pulpit and they asked him what happened.
The Pastor explains the first Sunday his gums hurt so bad he couldn't
talk for more than five minutes. The second Sunday his gums hurt too much to
talk for more than 10 minutes. But, the third Sunday, he put in his wife's
teeth by mistake and he couldn't shut up.
[Kindly sent by Ken Green]
Marvellous and
True Elephant Dentist Story
Devidasan, a 27-year-old bull elephant from the state of Kerala in India
has had his toothache removed much to his relief Will and Guy have learned.
Dentists say they have successfully repaired a working elephant's cracked
tusk in the first operation of its kind. They performed the procedure on
Devidasa by filling the 50cm (19.6in) long, 4cm (1.5in) deep crack with 47
tubes of a special resin.
Amazingly, it appears that Devidasan was not tranquilised during the
two-and-a-half-hour operation and he was totally cooperative throughout the
procedure.
'It was literally an elephantine task, because we had to find specialist
equipment and modify it,' Dr Pradeep told us. Dr Pradeep, a professor at the
PSM dental college in the town of Trichur, said that if the crack remained
untreated dirt would have gathered inside it and potentially caused a deadly
infection.
Devidasan's owner was eager to get the operation carried out because the
crack in the tusk meant that the animal could not be used in Hindu
festivals.
Now Devidasan has made a full recovery he has already made his comeback
in temple festivals throughout Kerala state.
Photos: Bronek Kaminski
Phil Goes
to a Dentist: A Clever and Silly Story
Phil Gilliland,
from Northern Ireland, visits his dentist in Southsea, Portsmouth because he
feels something is not quite right in his mouth.
Dr Ansari, his dentist
examines him and says, 'Phil, that new upper plate I put in for you six
months ago is eroding. What have you been eating?'
Phil answers with a
slight frown, 'All I can think of is that about four months ago my wife made
some asparagus and put some stuff on it that was delicious - Hollandaise
Sauce, I think it was. I loved it so much I now put it on everything: meat,
toast, fish, vegetables, everything.'
'Well,' says Dr Ansari,' that's probably the problem. Hollandaise sauce
is made with lots of lemon juice, which is highly corrosive. It's eaten away
your upper plate. I'll make you a new plate, and this time use chrome.'
'Why chrome?' demands Phil.
To which Dr Ansari, the dentist, replies, 'It's simple. Everyone knows
that there's no plate like chrome for the Hollandaise.'
See a good Droitwich dental practice
This Will Rot More Than Your
Teeth
The hospital's
consulting dietician was giving a lecture to several community nurses from the Southampton area of Hampshire.
'The rubbish we put into our stomachs and consume should have killed most of us
sitting here, years ago. Red meat is terrible. Fizzy drinks attack your stomach lining. Chinese food is loaded with msg. Vegetables can be disastrous because of fertilisers and pesticides and none of us
realises the long-term damage being done by the rotten bacteria in our drinking water. However, there is one food that is incredibly dangerous and we all have, or will, eat it at some time in our lives.
Now, is
anyone here able to tell me what food it is that causes the most grief and suffering for years after eating it?'
A 65-year-old nursing sister sitting in the front row stood up and said, 'Wedding cake.'
Dentist Jokes
The six most frightening words in the world: 'Your dentist will see you
now.'
Booking Dental Appointments for Chinese Patients
What time do Chinese patients prefer for their dental appointments?
2:30.
(Sent in by Bernie MacLeod).
Lovers' Tryst?
Girl: 'Darling, your teeth remind me of the stars'
Boy: 'Because they
gleam and sparkle'
Man: 'No, because they come out at night!'
See more good dentist jokes here
Footnote:
Please send us your funny dentist stories and
jokes.