How you behave toward cats here below, will determine your status in heaven.
Robert A. Heinlein
Funny Cat Pictures and Stories
Cat Walks Through the Valley of
Death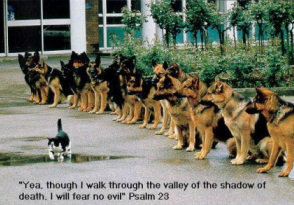 Marvellous picture, you can even see the moggie's shadow in the pool of water, hence
this is not a fake.
Who Let the Cat Out of the Bag?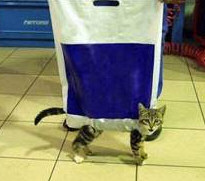 Cat Nap?
What a lovely image of innocence.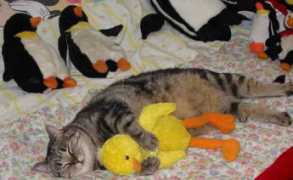 Cat
Adopts Bird


A cat has adopted a bird which hurt itself when it fell out of its nest in Brazil and cannot fly.
The cat, called Chiquita, has reportedly raised the bird as if it was its mother in Porto Alegre, Brazil. They eat from the same plate and the cat even uses the bird to catch other birds to eat.
Chiquita's
owner, Nair de Souza, has named the bird Pitico, reports Zero Hora.
Mrs Souza said: 'Pitico has even
started to eat meat, because the two of them only eat together.
'But Chiquita uses Pitico to help her catch other birds, it is really unbelievable!'
Funny Cat Pictures - Cat Gets the Cream #1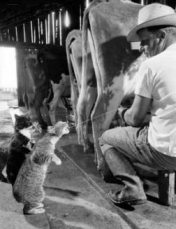 Sometimes a black and white photo says more than a color photo.
By the way, did you know: A cat has 32 muscles in each ear.
Cat Gets the Cream #2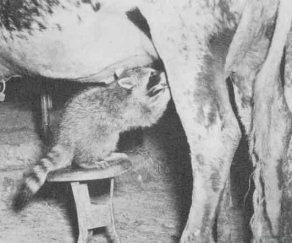 There is some debate as to whether this is another cat getting the cream, or whether the animal is a Raccoon. Vets say that you should not give Raccoons cows milk, so we don't know what to make of this
peculiar photo.
Greed
In front of the local butcher's, an art connoisseur noticed a mangy little kitten lapping up milk from a saucer. The saucer, he realised with a start, was a rare and precious piece of pottery. It was, in
fact, a collector's
item.
He strolled into the store and offered two pounds for the cat. 'He's
not for sale', said the butcher.
'Look', said the collector', that moggy is dirty and
scabby, but I'm an eccentric. I prefer cats that way. I'll raise my offer to ten pounds'. 'It's
a deal', said the proprietor, and pocketed the ten immediately.
'For that amount of money I'm
sure you won't
mind throwing in the saucer', said the connoisseur', 'The kitten seems so happy drinking from it.'
'I can't
do that', said the butcher firmly, 'That's
my lucky saucer. From that saucer,
so far this week, I've sold 18 cats.'
Tomcat, Bear or Godzilla?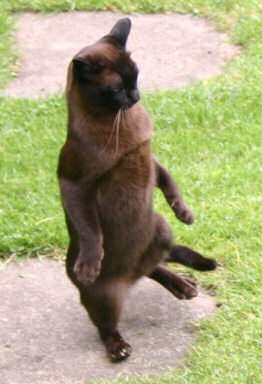 Picture kindly sent in by Jon Puckley.
A Cat's
Diary
Day 84 of my captivity.
My captors continued to taunt me with bizarre little dangling objects. They dine lavishly on fresh meat, while I am forced to eat dry cereal. The only thing that keeps me going is
the hope of escape, and the mild satisfaction I get from clawing the furniture. Tomorrow I may eat another house plant.
Today my attempt to kill my captors by weaving around their feet while they were
walking almost succeeded. Maybe I should try this at the top of the stairs.
In an attempt to disgust and repulse these vile oppressors, I once again induced myself to vomit on their favorite chair. I must
try this on their bed.
Decapitated a mouse and brought them the headless body in an attempt to make them aware of what I am capable of, and to try to strike fear into their hearts. They only cooed and
condescended about what a good little kitty cat I was. This is not working according to plan.
There was some sort of gathering of their accomplices. I was placed in solitary confinement throughout the event.
However, I could hear the noise and smell the food. More important, I overheard that my confinement was due to my powers of inducing something called 'allergies'.
Must learn what this is and how to use it to my
advantage.
I am convinced the other captives are flunkies and maybe snitches. The dog is routinely released and seems more than happy to return. He is obviously a half-wit.
The bird, on the other hand,
has got to be an informant. He speaks with them regularly, and I am certain he reports my every move. Due to his current placement in the metal room, his safety is assured. But I can wait.
It's
only a matter
of time.
Cat and Mouse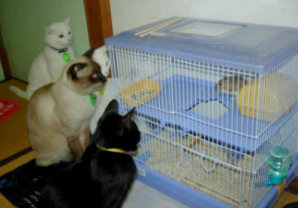 Mr Mouse, can you get out of that without moving!
More Very Funny Cat Pictures
Catfish? No, cat fish!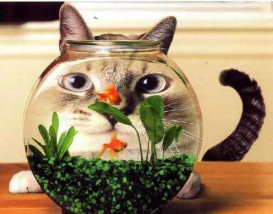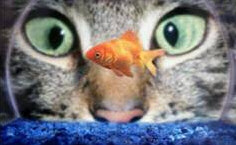 Every
cat picture tells a story.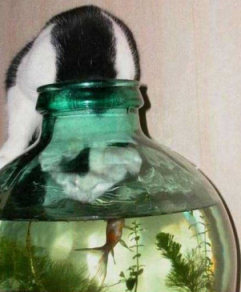 Let us hope that only lovers of funny cat pictures browse these pages and there are no goldfish aficionados around.
Drole Picture of a Guilty Cat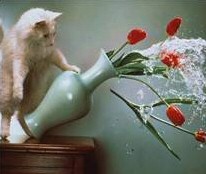 Cat's motto, "No matter what you"ve done wrong, always try to make it look
as if the dog did it."
See more funny cat sayings.
Cat Stuck in Jar
A feral cat in Bartlett, Tennessee, USA, survived for 19 days with a jar
stuck on its head. Tabitha Cain, 25, has fed the cat, which she has named Wild
Oats, for several years. The family saw the cat a number of times with the
peanut butter jar on its head and tried in vain to catch it. The Cain family
feared the worst after not seeing the cat for a week.
They found the, once-chubby, cat later, too thin and weak to flee. They
caught her with a fishing net and used some oil to get the jar off her head.
They gave her water and treated her wounds and on Friday she began to eat again.
'I've heard of cats having nine lives but I think this one has 19 because she
survived 19 days,' commented Tabitha's mother. Memphis vet, Gerald Blackburn,
added that the cat may have lived off of its excess fat.
Homing Cat
Michael really hated his wife, Patricia's cat. So he decided to get rid of
the feline for good. Michael put it in the car and drove 2 miles away and dropped it off. Just as he pulled in the driveway,
he noticed the cat sitting in the entrance the porch.
The next day he decided he would take the cat 5 miles away and drop it off. But again, the cat found it's way home. Each day Michael kept going
further and further away, but the cat would always find it's way home.
Michael was so furious that he decided to take the cat even further away, he turned right, then left, circled around, then right
again, another right, backtracked a couple of times, then left again. He then dropped the cat off.
Several hours later, he 'phoned Patricia, 'Darling, is the cat there?'.
'Yes,' she answered. 'Why?'.
Michael replied bitterly, 'Put that flippin' animal on the 'phone. I'm lost and need directions.'
See more funny cat stories.
True Story About a Welsh Cat
The Sun newspaper reports the story of a cat named Aslan who fell asleep under a car bonnet in the East Anglian town of Ipswich in the UK. The car's
owner and driver, a Mr Rob Hillier, then drove the car
some 260 miles to visit his relatives in Maesteg, Mid Glamorgan, Wales. The next day Aslan's
cries [surely 'miaows'
says Will] were heard and he was found unhurt and returned home. I imagine he travelled
more comfortably this time.
More Free, Funny Cat Pictures
Close Shave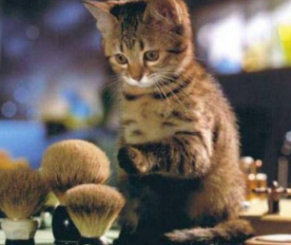 Close shave, or shadow boxing?
Washer One - Comical Cat Images
When I was his age, I felt like this about bathing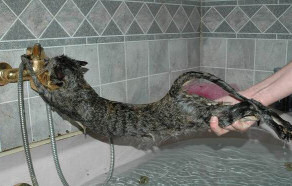 Washer Two
Washer, the tomcat, was heard running up and down the alley for hours. Ian, his neighbour 'phoned Alan [the cat's owner] and asked what was happening. Alan replied, "Well, I had Washer neutered
today, and he's going around cancelling all his engagements."
Washer Three - Another very funny cat picture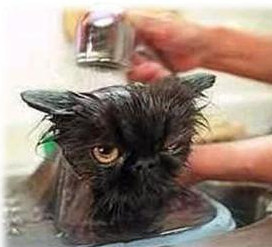 Washer Four - I just got caught in the rain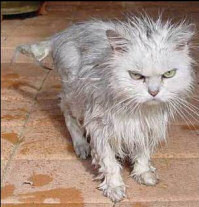 How
To Give a Cat a Pill Joke
1) Pick cat up and cradle it in the crook of your left arm as if holding a baby. Position right forefinger and thumb on either side of cat's
mouth and gently apply pressure to cheeks while holding pill in
right hand. As cat opens mouth pop pill into mouth. Allow cat to close mouth and swallow.
2) Retrieve pill from floor and cat from behind sofa. Cradle cat in left arm and repeat process.
3)
Retrieve cat from bedroom, and throw soggy pill away.
4) Take new pill from foil wrap, cradle cat in left arm holding rear paws tightly with left hand. Force jaws open and push pill to back of mouth
with right fore-finger. Hold mouth shut for a count of ten.
5) Retrieve pill from goldfish bowl and cat from top of wardrobe. Call spouse from garden.
6) Kneel on floor with cat wedged firmly
between knees, hold front and rear paws. Ignore low growls emitted by cat. Get spouse to hold head firmly with one hand while forcing wooden ruler into mouth. Drop pill down ruler and rub cat's
throat
vigorously.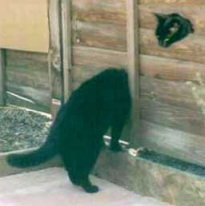 7) Retrieve cat from curtain rail, get another pill from foil wrap. Make note to buy new ruler and repair curtains. Carefully sweep shattered figurines and vases from hearth and set to one
side for gluing later.
8) Wrap cat in large towel and get spouse to lie on cat with head just visible from below armpit. Put pill in end of drinking straw, force mouth open with pencil and blow down drinking
straw.
9) Check label to make sure pill not harmful to humans, drink glass of water to take taste away. Apply band-aid to spouse's
forearm and remove blood from carpet with cold water and soap.
10) Retrieve cat from neighbour's
shed. Get another pill. Place cat in cupboard and close door onto neck to leave head showing. Force mouth open with dessert spoon. Flick pill down throat with elastic band.
11) Fetch screwdriver from garage and put cupboard door back on hinges. Apply cold compress to cheek and check records for date of last tetanus jab. Throw T-shirt away and fetch new one from bedroom.
12) Ring fire brigade to retrieve
feline from tree across the road. Apologise to neighbour who crashed into fence while swerving to avoid cat. Take last pill from foil-wrap.
13) Tie cat's
front paws to
rear paws with garden twine and bind tightly to leg of dining table, find heavy duty pruning gloves from shed. Push pill into mouth followed by large piece of fillet steak. Hold head vertically and pour 2 pints
of water down throat to wash pill down.
14) Get spouse to drive you to the emergency room, sit quietly while doctor stitches fingers and forearm and removes pill remnants from right eye. Call furniture
shop on way home to order new table.
15) Arrange for RSPCA to collect cat and ring local pet shop to see if they have any hamsters.
The Football Star 'Cat'
Cam, a local football star, is jogging down the street when he sees a building on fire. A woman is standing three floors up on ledge holding her pet cat in her arms.
'Hey, lady, 'yells
Cam, 'Throw me
the cat.'
'No, 'she cries, 'It's
too far.'
'I play football, I can catch him.'
The smoke is pouring from the windows, and finally, the woman waves to
Cam, kisses her cat goodbye, and then
tosses the moggy down
onto the street.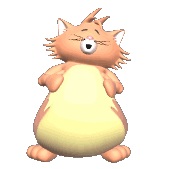 Cam keeps his eye on the cat as it comes hurtling down toward him. The feline, bounces off an awning and
Cam runs into the street and catches the cat. He jumps six feet into the air and makes a
spectacular one handed catch.
The crowd that has gathered to watch the fire, breaks into cheers.
Cam does a little dance, lifts the
feline above his head, wiggles his knees back and forth, then Cam 'spikes'
the cat
into the pavement.
The Infinite Cat Project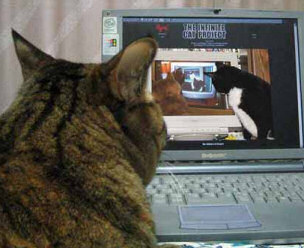 How many
images of cats can you see? Six, seven, or more?
More funny cat pictures and videos
Footnote:
Please write to Will and Guy if you have any
free funny cat pictures.
Joke of the Day Email
Get a clean joke delivered to your inbox every
day, no strings attached, just part of our service. Free
subscription to
our Funny Joke of the Day email.
We have over 1,500 pages of funny pictures, clean jokes, stories and amusing videos. Please use the Search below to find a topic of particular interest:
Thought of the Day Subscription
Our offer is to email you an inspirational
'Thought of the day'. Your subscription is completely free of cost and there
are no adverts. Sign up for our 'Thought of
the Day'.