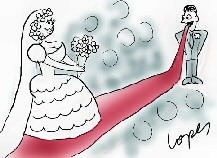 Here are amusing pictures showing how humour can make a great day funny and
memorable.
The Latest Way of Making
Wedding Vows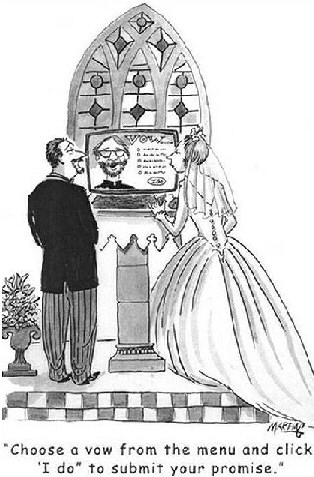 Choose a vow from the menu and then click 'I do' to submit your promise.
The Bride Was a Picture
A Texan woman had a wedding cake made into a life-sized model of herself. Chidi Ogbuta, 35, had the 5ft cake made to renew her vows after 10 years of
marriage to husband Innocent.
The £3,000 cake took five weeks to make, needed two gallons of amaretto,
50lbs of sugar, 200 eggs and weighed a whopping 400lb.
It needed four men to lift it into the wedding venue.
More Amusing Bride Cartoons and Stories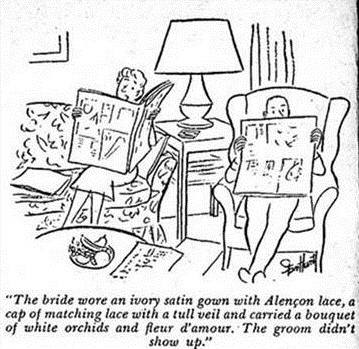 Happy Nuptials!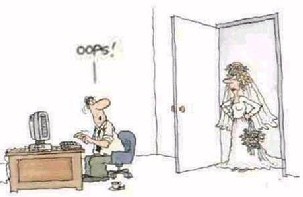 Not So Funny Bride Cartoons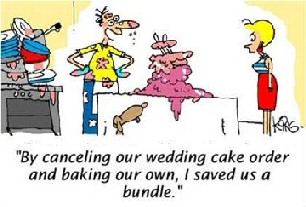 Cartoon by King.
Funny Wedding Vows
During the wedding rehearsal, the groom, John, approached the minister
with an unusual offer.
'I'll give you $100 if you'll change the wedding
vows. When you get to me and the part where I'm to promise to "love, honour
and obey and forsake all others," I want you to just leave that part out.'
John gave the puzzled minister the cash and walked away satisfied.
On the wedding day, when the minister came to the groom's vows, he looked
John in the eye and said, 'Will you promise to prostrate yourself before
her, obey her every command and wish, serve her breakfast in bed every
morning of your life and swear eternally before God and your lovely wife
that you will not ever even look at another woman, as long as you both shall
live?'
John exhaled, then gulped, looked around at the guests, and managed to
answer, 'I will.' Then he leaned toward the minister and hissed, 'I thought
we had a deal.'
The minister slipped the $100 into his hand and whispered back, 'She made
me a much better offer.'
The Most Popular Names for a Bridegroom:
David
James
Andrew
Richard
Mark
Paul
Matthew
Simon
Michael
Daniel
The Most Popular Names for a Bride
Sarah
Laura
Emma
Claire
Rebecca
Helen
Rachel
Victoria
Kate
Jennifer
Footnote:
The list was compiled by John Lewis in England October 2010.
Will and Guy muse, how many Saras (number 1 girls name) married Davids
(number1 boys name)? And so on down
the lists.
The New Bride: A Clean, Funny and Silly Story
Sarah new young bride calls her mother in tears. She sobs, 'Richard
doesn't appreciate what I do for him.'
'Now, now,' her mother comforted,
'I am sure it was all just a misunderstanding.'
'No, mother, you don't
understand. I bought a frozen turkey roll and he yelled and screamed at me
about the price.'
'Well, the nerve of that lousy cheapskate,' says her mum. 'Those
turkey rolls are only a few dollars.'
'No, mother it wasn't the price of the turkey. It was the aeroplane
ticket.' "Aeroplane ticket...." What did you need an airplane ticket for?'
'Well mother, when I went to fix it, I looked at the directions on the
package and it said "Prepare from a frozen state," so I flew to Alaska.'
Lovely Brides
The Bride Is Always White
Cindy was just 9 years old, this was the third wedding she had been
to that summer. She turned to her mother and asked:
"Mom, why is the bride always wearing a beautiful white dress?"
Oh, that baby, is because it's the happiest day of her life.
"In that case why is the groom wearing a black suit?"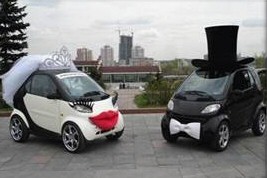 Footnote:
Please send us your funny bride cartoons.