Here is our collection of funny bike
signs.
Funny Bicycle Signposts
Sidewalk Ends - Trouble for
Bikes
Can you imagine what a cyclist says when they reach this sign (below)
- Sidewalk Ends?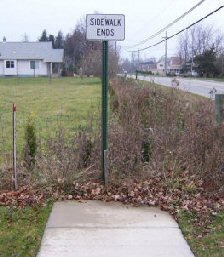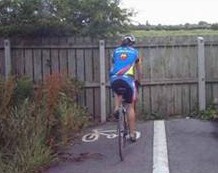 Then, just around the corner...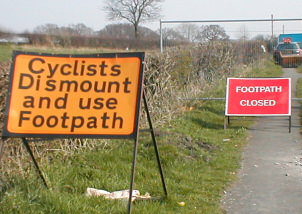 Cyclists dismount and use footpath - FOOTPATH CLOSED
Another Cycle Friendly Path?
Imagine little old grannies
peddling their bikes up that path.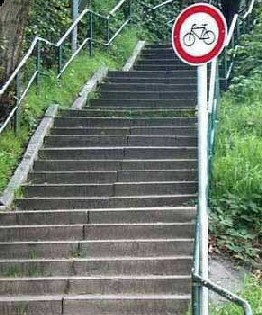 Jonathan points out that the sign with a white disc and a red border actually
means that cycling is prohibited. But Jonathan also points out not many
folks can cycle up, or even down, those stairs!
Welsh Cyclists - Strange But True

A road sign has appeared during August 2006 in road works being carried out in South Wales between Penarth and Cardiff. To English speakers the sign is quite clear and cyclists are happy to carry out its
instruction to dismount. However, to speakers of the Welsh language, the message is very different. Welsh speakers
have confirmed to Will that the road sign translates roughly as 'bladder disease has returned.'
You couldn't
make it up.
Officially this vehicle is a cycle, but my friends and I have always call them bikes.
Cycle Obstacle Course - Follow These
Bike
Signs!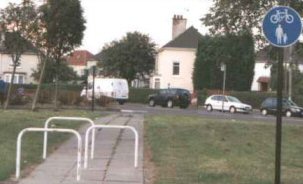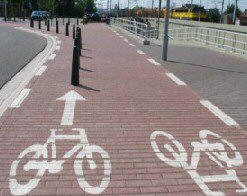 Recycle A Bicycle!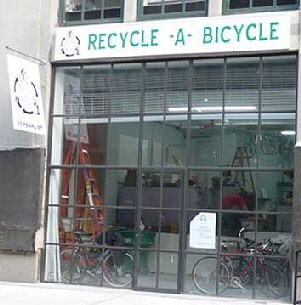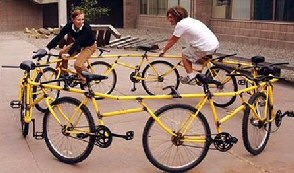 So You Think You've Had A Bad Day Cycling?
Robert Evans, 46, had a really bad day recently, Will and Guy have
learned. Read this short and hilarious [but not for him] account of his day.
Firstly, Mr Evans, from Boulder, Colorado, USA, was knocked down by a car
in a hit-and-run incident and was taken to hospital for his injuries, but
was released later that night only slightly hurt. Then, as he was
making his way back into town with his bicycle he was hit by a railway train
while crossing a bridge. Luckily he was found alive, in a creek, and taken
to hospital for a second time; once more his injuries were found not to be
life-threatening.

This tale of woe does not end there, Will and Guy have established;
because the 50ft long bridge on which Mr Evans was run over by the train
is only wide enough for the train, and is not for use by pedestrians.
Robert Evans, now, to add to all his problems, faces prosecution for
trespassing. You couldn't make it up!
Wheels of
Life - Where Are You?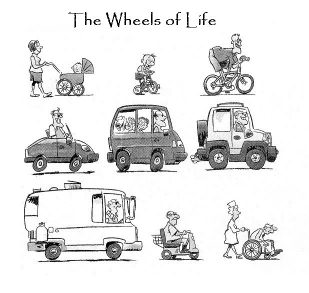 Footnote:
Please write to Will and Guy if you have any funny bike
signs.
Joke of the Day Email
Get a clean joke delivered to your inbox every
day, no strings attached, just part of our service. Free
subscription to
our Funny Joke of the Day email.
We have over 1,500 pages of funny pictures, clean jokes, stories and amusing videos. Please use the Search below to find a topic of particular interest:
Thought of the Day Subscription
Our offer is to email you an inspirational
'Thought of the day'. Your subscription is completely free of cost and there
are no adverts. Sign up for our 'Thought of
the Day'.