Here is our collection of humour featuring boozers, both people and places
where people like to enjoy a drink.
Funny Quotations About Drink
New Drink? - Crazy Drink
Humour
Naked Man
Arrested for Shouting at Trees
Drunk Man
Survives 50 Foot Fall - Twice
New Regular
at the Alexandra Hotel
Hilarious and
Very Funny Drunk Driver Test
Drink Drivers
Funny Quotations
About Drink

Sir, if you were my husband, I would poison your drink: Lady Astor to Winston Churchill
Madam, if you were my wife, I would drink it: Was Winston's reply.
Work is the curse of the drinking class:
Oscar Wilde.
When I read about the evils of drinking, I gave up reading: Henny Youngman.
He was a wise man who invented
beer: Plato.
He talked with more claret than clarity: Susan Ertz
One reason I don't drink is that I want to know when I am having a good
time: Nancy Astor
Beer is proof that God loves us and wants us to be happy: Benjamin Franklin.
You're not
drunk if you can lie on the floor without holding on: Dean Martin.
The problem with the world is that
everyone is a few drinks behind : Humphrey Bogart.
Why is American beer served cold? So you can tell it from urine: David Moulton.
You can't
be a real country unless
you have a beer and an airline; it helps if you have some kind of a football team, or some nuclear weapons, but at the very least you need a beer: Frank Zappa.
Always do sober what you said you'd do drunk.
That will teach you to keep your mouth shut: Ernest Hemmingway.
Always remember that I have taken more out of alcohol than alcohol has taken out of me: Winston Churchill.
I would kill everyone in this room for a drop of sweet beer: Homer Simpson
I drink to make other people interesting: George Jean Nathan.
The intermediate stage between socialism and capitalism is alcoholism: Norman Brenner
An intelligent man is sometimes forced to be drunk to spend time with his fools: For Whom the Bell Tolls, Ernest Hemmingway.
My Grandmother is over eighty and still doesn't need glasses. Drinks
right out of the bottle: Henny Youngman
There are two things that will be believed of any man whatsoever, and one of them is that he has taken to drink: Booth Tarkington
See more funny quotations.
New Drink? - Crazy Drink Humour
A guy walks into a bar and approaches the barman, 'Can I have a pint of Less, please?'
I'm sorry sir, 'the barman replies, looking slightly puzzled, 'I've not come across that one before. Is it a
spirit?'
'I've no idea, 'replies the guy, 'The thing is, I went to see my doctor last week and he told me that I should drink less.'
See
more Pub Jokes
Naked Man Arrested for
Shouting at Trees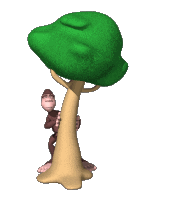 A German man has been arrested after a marriage guidance counsellor advised him to run around naked shouting at trees.
Dieter Braun, 43, from Recklinghausen said the stress release technique had worked
perfectly until he was arrested.
He told police that venting his anger on the trees had stopped him shouting at his wife.
'If I didn't
go to the woods and scream at the trees then my marriage would
probably be over, 'he said.
He added taking his clothes off at the same time made him feel more relaxed.
'For me it's
a type of relaxation therapy. Feeling the breeze on my naked skin really calms me
down.'
But local police said other visitors to the forest did not find his behaviour relaxing and have now charged him with causing a public nuisance.
A True Story of Campanology
A drunk man who fell asleep and got trapped inside a church rang out SOS in Morse code with the bell. When the man awoke in St Faith's Church in Havant, near Portsmouth, he found the doors locked. Reportedly
worried about ghosts, he started ringing out the Morse code for SOS on the church bell, reports Portsmouth Today.
As dusk began to fall, he was still ringing for his life but eventually a local resident
realised something was wrong. He alerted two Police Community Support Officers who, in turn, contacted church verger Vicki Mockford who came to the rescue. She said, 'I was called by police saying someone was
using the bell as a sign they were trapped. When we found him inside he told us he went into the church to have a sit down but fell asleep. He told the police he had been drinking which may have made him a bit
dozy. He looked quite embarrassed about the whole incident when we found him. Maybe after this he might consider taking up bell ringing as a hobby.'
See more stories about
Campanology
More Funny Drink Stories
Drunk Man Survives
50 Foot Fall - Twice

Have you ever wanted to jump out of the window because your wife is a
nag?
Will and Guy have discovered a Russian, Alexei Roskov, who survived not
only the drinking of three bottles of vodka, but also leaping from a fifth
floor window - not once but twice. We have learned that Alexei jumped the
second time because he couldn't take his wife's nagging about the first
time.
His wife, Yekaterina, had watched in horror as her drunken husband opened
the kitchen window of their Moscow apartment, and hurled himself out.
Astonishingly Mr Roskov, 22, survived and managed to stagger back upstairs
with barely a scratch after the 50ft fall. However, his wife phoned an
ambulance and began to scold him, so he jumped again.
Amazed medics treated Mr Roskov for minor cuts and bruises before
releasing him. Mr Roskov says he is now teetotal after giving up
drinking, told reporters, 'I have no idea why I jumped the first time but
when I came back up and I heard my wife screaming angrily at me I thought it
was best if I left the room again - out of the window.'
You just couldn't make it up.
Newspaper Cutting from the UK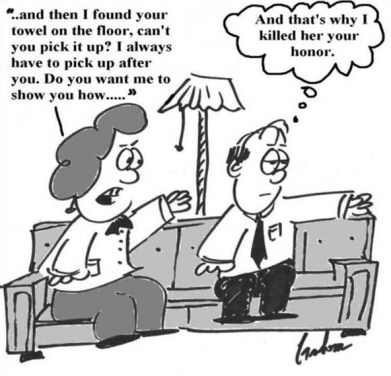 A woman drove me to drink and I didn't even have the decency to thank
her.
New Regular at the Alexandra Hotel
A new pub landlady got a shock when she discovered one of her regulars is a horse. Jackie Gray recently became landlady at the Alexandra Hotel in Jarrow, Tyneside. She
says she got a pleasant surprise when carthorse Peggy joined owner Peter Dolan for a pint. The 12-year-old's
tipple is a pint of John Smiths and pickled onion crisps.
Mrs Gray said, 'When I bought the pub a
few weeks ago I heard rumours that one of the regulars was a horse but I didn't
quite believe them. It was a hot day when the horse came in and I was shocked at first because I have never run a pub before.'
Mr Dolan, 61, from Jarrow, bought Peggy six years ago and discovered her fondness for the pub when she followed him inside. According to the BBC he said, 'Peggy's
no bother at all. Most of the regulars know
her as she's
been coming in here for years and for them Peggy's
a bit of a novelty. She's
a proper lady.'
This reminded Will of a horse which drank occasionally in the Clacton Arms, Paulsgrove
[demolished for housing] in the late 1960's when John Palmer was landlord.
Hilarious and
Very Funny Drunk Driver Test
Paul, an accomplished juggler was driving to his next performance in
Baltimore when he is stopped by the Highway patrol.
'What are these matches and lighter fluid doing in your car?' enquires
the cop.
'I'm a juggler and I juggle flaming torches in my act,' announces Paul
amiably.
'Oh yeah?' says the doubtful cop. 'Let's see you do it then.'
Sighing, Paul the juggler climbs out of his motor and starts juggling the
blazing torches masterfully.
A couple driving by slows down to watch. 'Wow,' says the driver to his
wife. 'I'm glad I quit drinking. Look at the test they're giving now.'
See more funny drunk signs
What's the difference between a drunk and an alcoholic?
Drunks don't
have to go to all those old meetings.
Drink Drivers
Jennie was sitting at the defendant's table while the state trooper was
being cross-examined on the witness stand.
The lawyer asked, 'When you stopped the defendant, Jennie, were your red
and blue lights flashing?'
'Yes, sir, they were.'
'Did the defendant say anything when she got out of her car?'
'Yes, sir, she did.'
'And,' looking at Jennie, 'what was it the defendant said?'
'She said, "What disco am I at?'' '
Ten Signs of a Hangover
You get it into your head that chirping birds are the Devil's pets.
Trying to gain control of the situation, you continue to tell your
room to "Stay still."
Looking at yourself in the mirror induces the same reaction as
drinking a glass of fresh paint.
The bathroom reminds you of the fairground cry, "Step right up and
give it whirl!"
You'd rather chew tacks than be exposed to sunlight.
You set aside an entire afternoon to spend some quality time with
your toilet.
You replace the traditional praying on your knees with the more
feasible praying in a fetal position.
Your catch phrase is, "Never again."
You could purchase a new fridge on the proceeds from recycling the
bottles around your bed.
Your new response to "Good morning," is "Be quiet!"
Footnote:
Please send us your funny drink jokes. For example,
Reality is an
illusion that occurs due to the lack of alcohol.
See more clean drunk jokes and funny bartender stories:
•
Funny drink jokes •
Irish video •
Funny Bartender •
Hillbilly jokes •
Funny drunk signs •
Home
•
Funny drinking stories •
Doctor's drinking advice •
Drunk stories •
Pub jokes •
Drinking guide
•
Beer Trivia •
Milkman stories •
Bus driver jokes •
Test for drunks •
Funny pub names